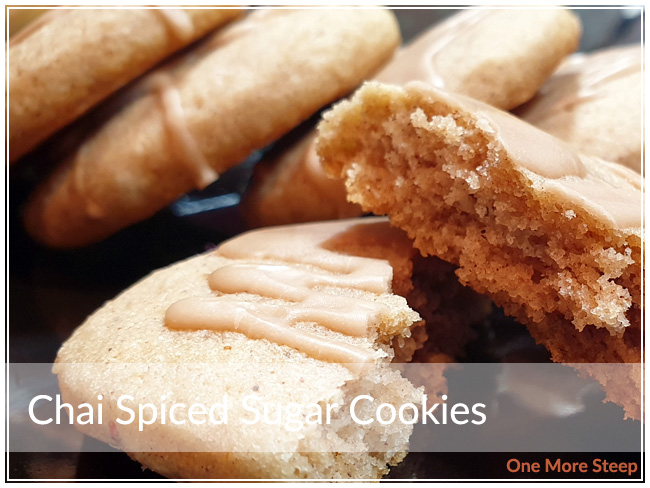 If you've been a One More Steep reader for a while, you'll know that I tend to share a new cookie recipe every December. I work in acute medicine with a fantastic group of nurses and other healthcare professionals. One of our annual holiday activities includes a cookie exchange among staff and ever since I started working there, I've brought in a tea related cookie. This holiday season is my last with this amazing group of individuals, so I've pulled out all the stops with my contribution to this year's cookie exchange: Chai Spiced Sugar Cookies.
My previous cookie recipes included: Earl Grey Shortbread Cookies, Matcha Sugar Cookies, and Matcha White Chocolate Chip Cookies.

Chai Spiced Sugar Cookies
Yields: 4 dozen.
Baking Time: 8 minutes.
Chai Spice Mix
2 tbs ground cardamom
1 tbs cinnamon
1 tbs ground nutmeg
1 tbs ground ginger
½ tbs ground black pepper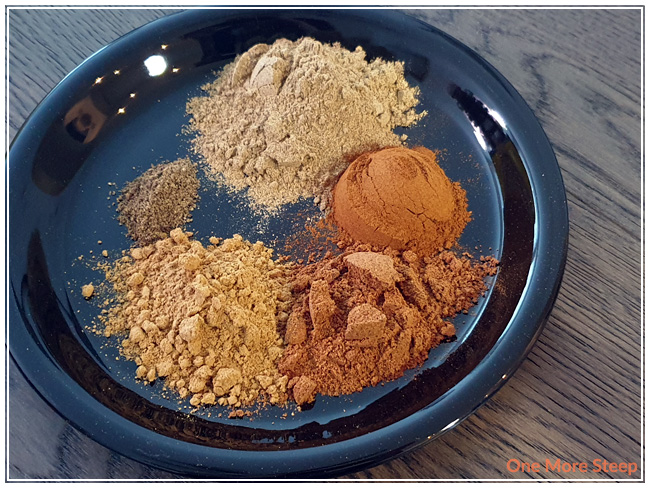 Cookie Dough
1½ cups powdered sugar
1 cup butter
1 tsp vanilla extract
2 eggs
2½ cups all-purpose flour
1 tsp baking soda
2 tbs Chai Spice Mix¹
Vanilla Glaze
1 cup powdered sugar
2 tsp vanilla extract
1-2 tsp water
¹ This is a great spice blend if you want to create some chai latte magic at home! You'll get bonus points if you make a chai spice blend from scratch with whole or freshly ground spices. If you buy ground spices, make sure they're in a dry, air-tight container so they can keep longer!
My Chai Spice Mix is a very similar blend to the Pumpkin Spice Mix that I shared earlier this year in my Pumpkin Spice Chai Latte recipe, but the ratios are a bit different as it's more cardamom heavy and it includes black pepper (which I do freshly grind because I've got a pepper grinder in my kitchen).

Prepare Chai Spice Mix
Mix all ingredients together.
Store in air-tight glass container.
Make Those Cookies
Beat powdered sugar, butter, vanilla extract, and eggs together until well blended.
Mix in flour, baking soda, and Chai Spice Mix.
Cover and refrigerate for approximately 2 hours.
Preheat oven to 375°F.
Roll out dough to approximately ¼" thick, cut into shapes with cookie cutters.
On cookie sheets, lay out cookies at least 1″ apart.
Bake 8 minutes or until edges are light brown.
Remove from cookie sheets to cooling racks after 2-3 minutes out of the oven.
Recipe adapted from Betty Crocker The Big Book of Cookies, "Sugar Cookies".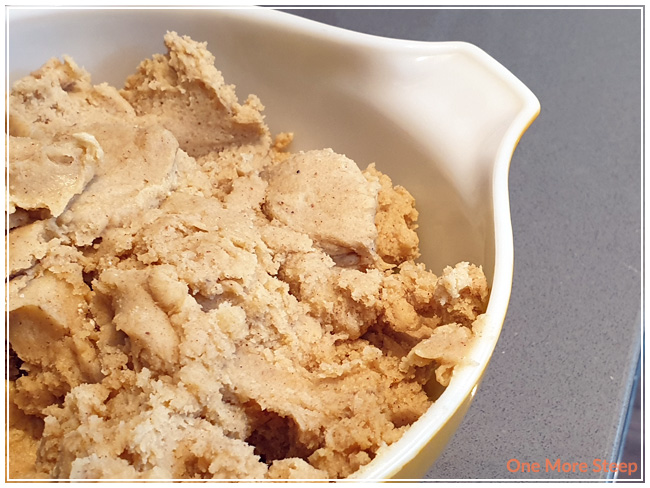 Vanilla Glaze / Decorate!
Mix powdered sugar, vanilla extract, and water together.
Add water slowly as you mix. You want it to be thin enough to drizzle, but not so thin that it'll just run off. (I'm so technical, I know.)
Drizzle icing on the cookies – you can use a fork or toothpick (or scoop the glaze into a zip-top bag and snip the corner and get really fancy).
Allow glaze to dry and set before you stack or package the cookies.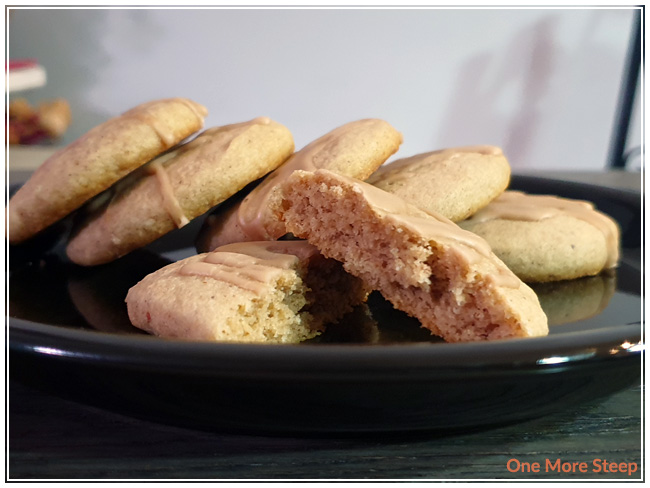 If you make these delicious Chai Spiced Sugar Cookies, I'd love to see your photos! Be sure to tag me on Instagram (@onemoresteep #onemoresteep) or comment below with a link to the photo!