Jingle Bell Berry by Dessert by Deb
Green Tea / Flavoured
$6.00 for 25g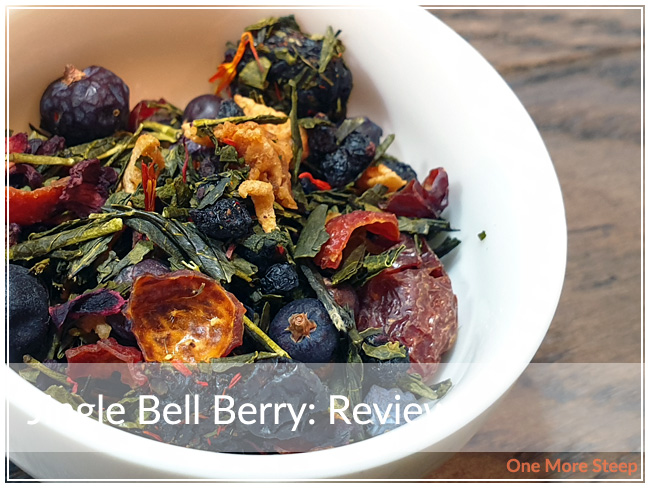 First Impressions
If you have been following my Instagam (@onemoresteep), you might have seen my unboxing video for the very first Dessert by Deb tea subscription box! For those who aren't aware, Dessert by Deb is created and curated by the same mastermind that was behind The Sugared Teacup (of which, I had also had a subscription to as well). Dessert by Deb features handblended organic teas from Toronto, Ontario (Canada) – created in partnership with Lemon Lily (also a Toronto-based tea company). Jingle Bell Berry is the first of the teas from the box that I'll be showcasing and reviewing here on One More Steep (and no, this is not sponsored – I'm just an enthusiast for trying out tea blends from a Canadian-based organic tea company).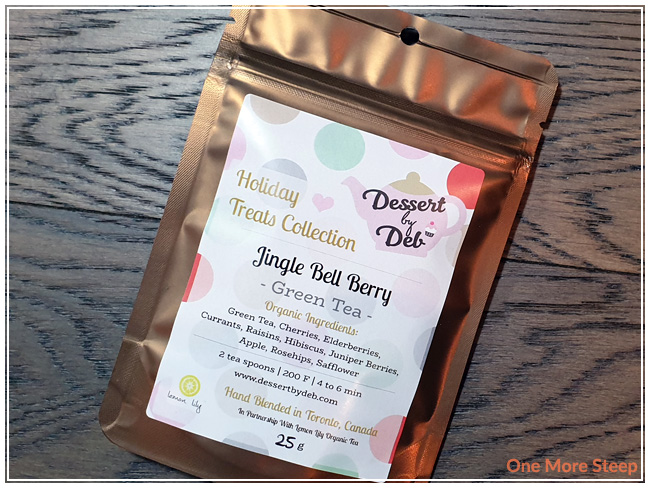 Jingle Bell Berry came in a matte copper pouch that was sealed and is resealable – which is always nice for keeping the tea from going stale. There are a lot of berries in this blend, which is the first thing that I smelled. It's quite fruity and sweet – I don't really smell the green tea base but with a name like Jingle Bell Berry, I'm not even mad about it. Jingle Bell Berry consists of organic: green tea, cherries, elderberries, currants, raisins, hibiscus, juniper berries, apple, rosehips, and safflower. That's six berries and two flowers, for anyone who's keeping track at home.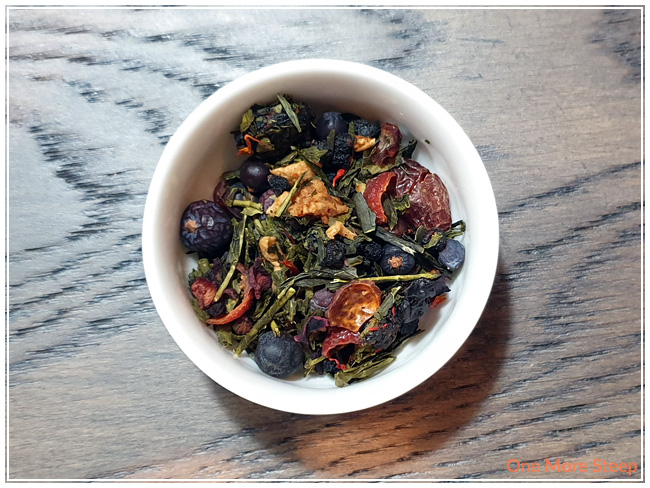 Preparation
Dessert by Deb recommends steeping Jingle Bell Berry in 200°F (93°C) water for 4 to 6 minutes. I opted to steep at a lower temperature (175°F/79°C) but did steep for the full 6 minutes.
First Taste
Jingle Bell Berry steeps to a curious golden red colour, it's not quite what I was expecting when I saw hibiscus in the list of ingredients (that often lends itself to a brighter pink colour). The aroma is mostly that of cherry to me, an overall nice fruitiness from it. The flavour is sweet, and I can taste berries. It's pleasant with surprisingly no tartness given the hibiscus in it. I didn't really taste the green tea base, as all the berries are much stronger in flavour strength.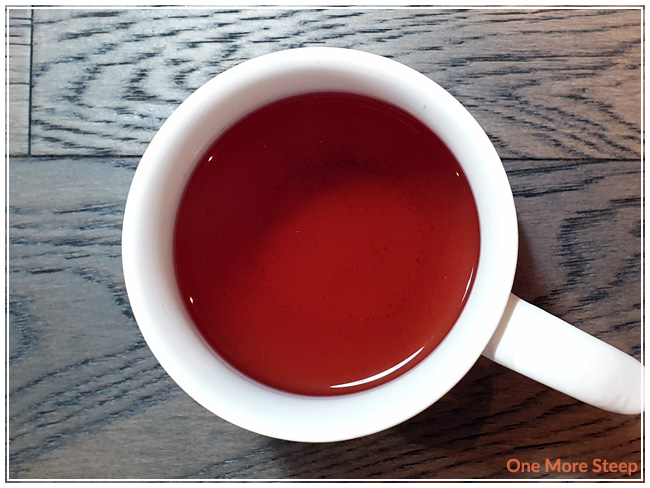 A Second Cup?
I attempted to resteep Jingle Bell Berry and found that the flavour just didn't quite match the initial steep (I think it's because most of the flavour of the berries and flowers were sapped in the first steep).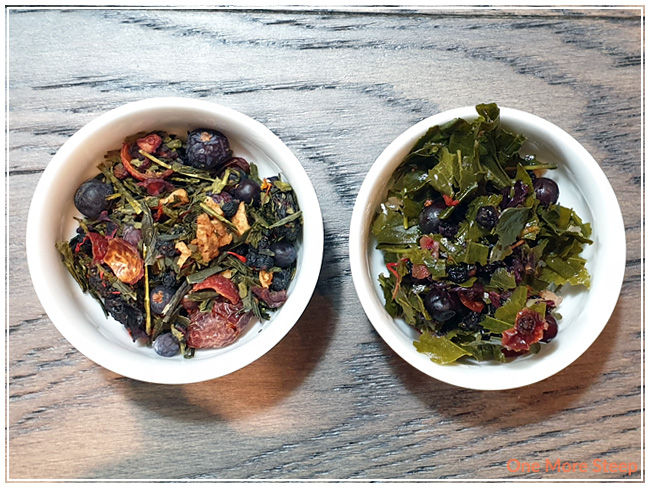 My Overall Impression

I liked Dessert by Deb's Jingle Bell Berry. I found that the fruity berry notes were really pleasant, and I did enjoy the colour. I was a bit surprised at how strong the cherry flavour and aroma was, given the presence of all the other ingredients, but it was quite tasty. I do wish that the green tea had been more present in the steeped tea, but I think it likely supported the other flavours. I would consider cold steeping Jingle Bell Berry in the future, as I think it might make a nice fruity iced tea.
Curious about the cup rating system? Click here to learn more.