Apple Pie Chai by Lemon Lily
Black Tea / Flavoured
$10.00 for 50g
I received Apple Pie Chai from Lemon Lily via the Dessert by Deb tea subscription box that I subscribe to.
First Impressions
Apple Pie Chai came in a clear plastic pouch that's resealable with some information about the tea itself on the label. One thing I did note is that there were steeping instructions lacking on the label. I was able to find that information on the tea's online product page, which is really awesome. If you're ever stuck and can't find that information, you can always find some general steeping information for the tea that you're wanting to make on the internet – like even here on One More Steep, I've got an article from 2016 titled Steeping Times for Different Teas that still gets used a lot by people for just giving you some general steeping guidelines.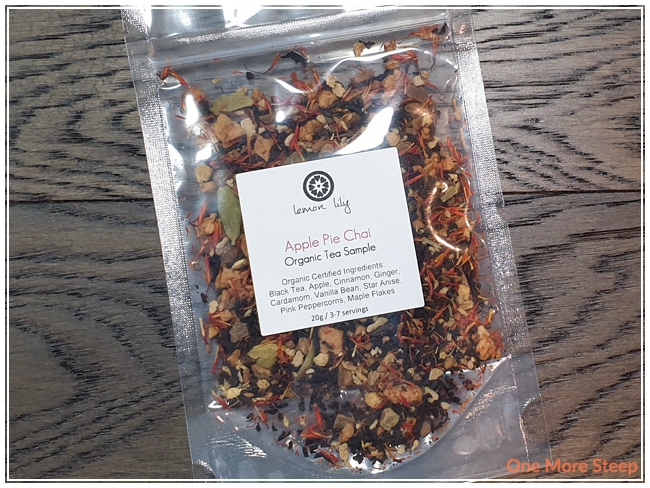 Apple Pie Chai has some great spice notes to it, I can smell the cinnamon, ginger, cardamom and star anise. Those are honestly the strongest aromas, with a nice warm apple aroma in the background. It reminds me of an apple pie, for sure. Apple Pie Chai consists of organic: black tea, apple, cinnamon, ginger, cardamom, vanilla bean, star anise, pink peppercorn, and maple flakes.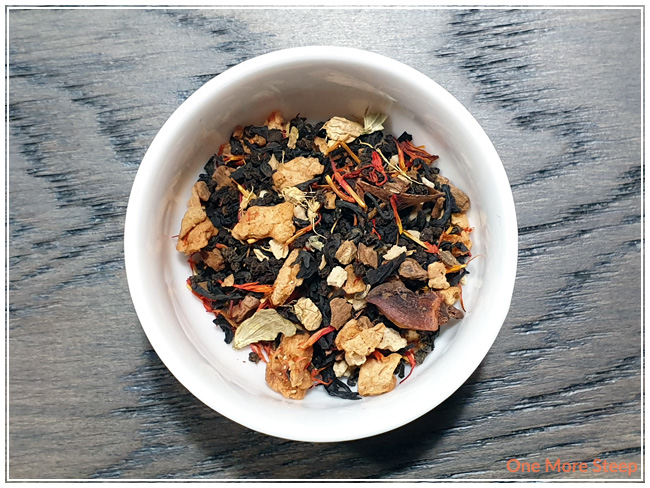 Preparation
Lemon Lily recommends steeping Apple Pie Chai in 212°F (100°C) water for 4 to 6 minutes. I followed the steeping instructions and did an initial steep of 5 minutes.
First Taste
Apple Pie Chai steeps to a lovely golden orange. I found that the aroma reminds me a lot of a chai – just gentle warming spices. I can smell the cinnamon, ginger, cardamom, and star anise. Those spices are very fragrant and I can smell them in the steeped tea, along with some sweet notes. I found that the flavour was pleasantly spiced, nice warming qualities in the flavour. The apple is very much in the background, with that fruity sweetness. I do wish that the apple had been stronger, but it's hard for a softer flavour like apple to really be present with all those strong spice flavours.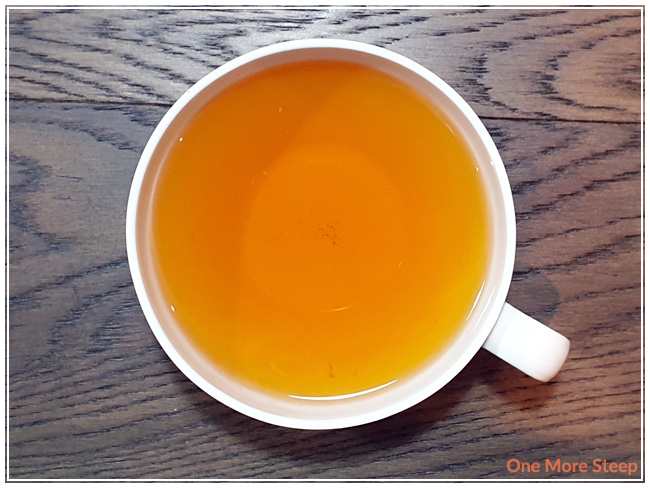 A Second Cup?
I attempted to resteep Apple Pie Chai and found the majority of the spice flavours were quite muted in comparison. I would recommend Apple Pie Chai for just one steep.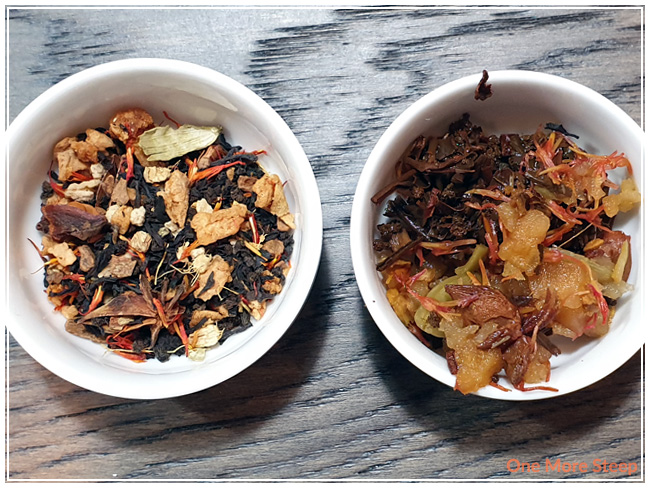 My Overall Impression

I liked Lemon Lily's Apple Pie Chai. I thought that the spices were fantastic and came together to make a wonderful spiced chai blend. I really enjoyed the balance between the ginger, cinnamon, and cardamom. Surprisingly, I didn't find the star anise to be overwhelming (which is nice, because I'm not that big of a fan of licorice flavours). While I do wish that the apple had been stronger in flavour, I do understand the difficulties it had with all those other stronger flavours in the ingredients list. I definitely think this is a contender for a nice hot latte, as the addition of milk would balance well against the spices.
Curious about the cup rating system? Click here to learn more.