Christmas Fruitcake by Dessert by Deb
Green Tea & Rooibos / Flavoured
$16.00 for 75g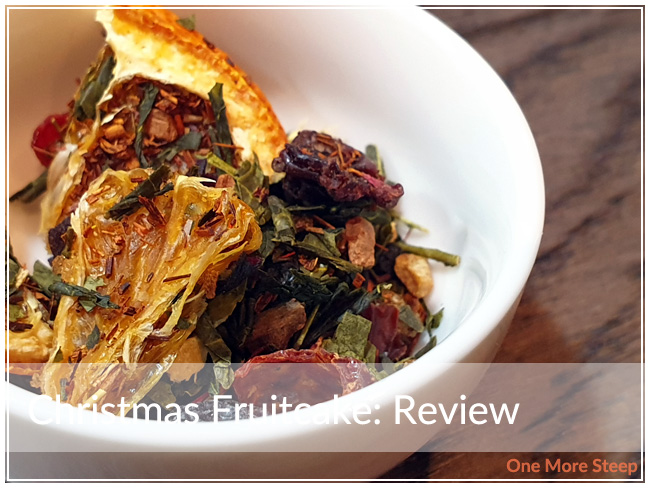 Christmas Fruitcake is an exclusive blend for Dessert by Deb subscription subscribers and is available for purchase by subscribers only at this time.
First Impressions
Christmas Fruitcake came in a sealed, resealable silver pouch and was part of my December box from Dessert by Deb – which was the very first box of the bimonthly year tea subscription. This is also one of two subscription exclusive blends – what a great incentive to join! I like being part of the super secret club.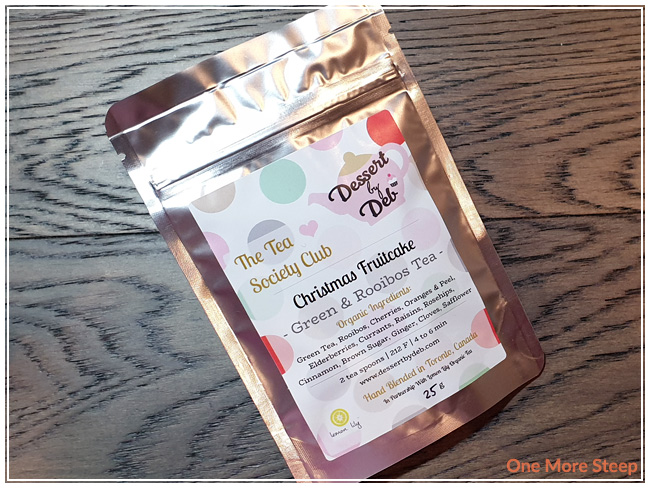 This blend smells really inviting – I get strong orange, cinnamon, ginger, and clove aromas. It's nicely mixed together and I didn't have to shake it up to get a little bit of everything in my spoon, which was nice. Christmas Fruitcake consists of organic: green tea, rooibos, cherries, oranges and peel, elderberries, currants, raisins, rosehips, cinnamon, brown sugar, ginger, cloves and safflower.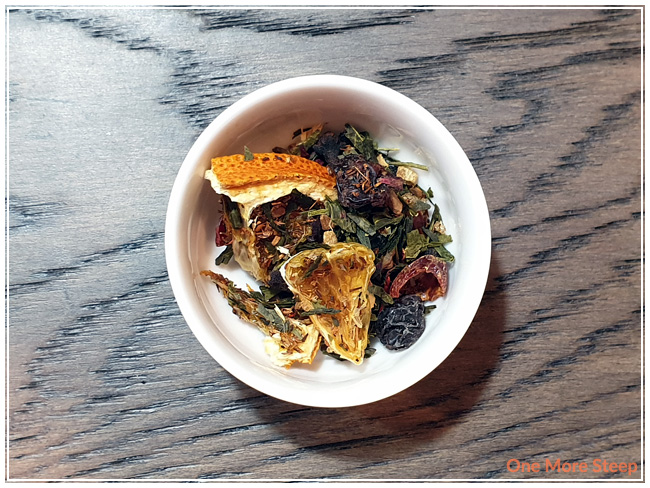 Preparation
Dessert by Deb recommends steeping Christmas Fruitcake in 100°C (212°F) water for 4 to 6 minutes. I followed the steeping instructions and did an initial steep for 4 minutes.
First Taste
Christmas Fruitcake steeps to a nice golden orange. I can definitely smell the cinnamon and ginger, I think those are the strong players in the blend of ingredients! On first taste, I notice that it has a nice sweetness. The flavour of Christmas Fruitcake is that one orange, cinnamon, ginger, and cloves. All the warming qualities of ginger make it a very pleasant drink. I did find that it reminded me of the flavours that you might find in a nice spiced pound cake. As for the base of the tea blend – I don't really taste either the green tea or the rooibos – which is both a plus and a minus because I don't typically enjoy rooibos blends. But I don't smell or taste the medicinal-like quality that rooibos often lends to blends.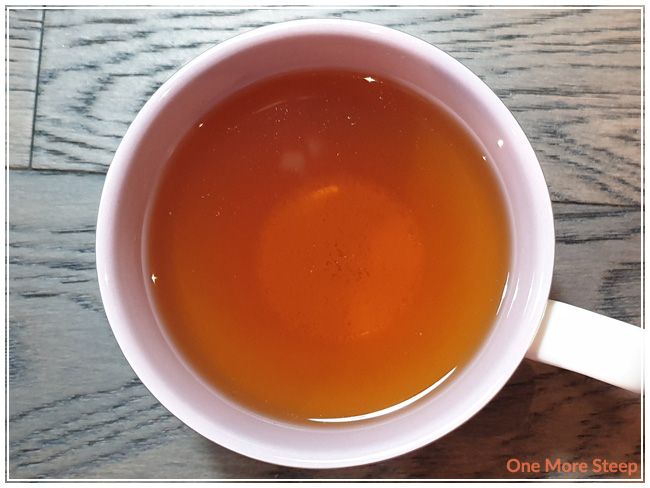 A Second Cup?
I attempted to resteep Christmas Fruitcake and found that it didn't hold up very well for a second steep. The rooibos was a touch more noticeable, and the ginger and orange were significantly weak compared to the initial steep. I would recommend Christmas Fruitcake for just one steep.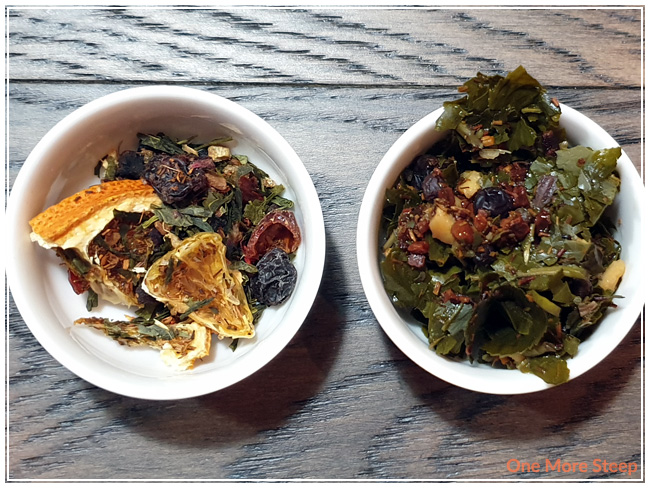 My Overall Impression

I loved Dessert by Deb's Christmas Fruitcake. I really enjoyed the flavours in the blend, and appreciated that I wasn't able to taste the rooibos because it's not my favourite thing in the world. The flavour of orange, cinnamon, and ginger really make me think of a spiced pound cake – mostly because I don't think I've really ever tried a fruitcake before (and if I have, I don't remember what it tastes like!). It's certainly a fantastic first look an exclusive tea blend for subscribers of Dessert by Deb.
Curious about the cup rating system? Click here to learn more.