Organic David's Chai by DavidsTea
Black Tea / Flavoured
$8.98 for 50g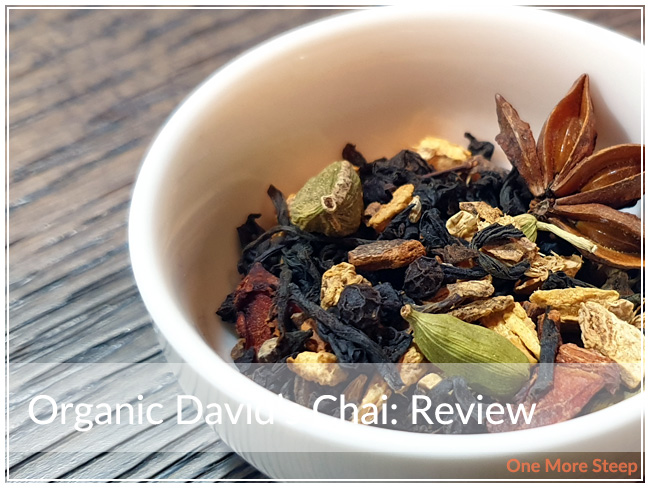 First Impressions
Organic David's Chai comes a fairly familiar looking bag by now – sealed, resealable, silver pouch. The dark blue label on the front helps to identify it at a glance as a black tea (not going to lie, I do like colour coding my teas because it just makes it easier to organize…). David's Chai is described as a warm & spicy classic. I'm as much of a fan of chai as the next girl, so lets get this started!
The aroma from the dry leaf is lovely – plenty of spicy notes and I can make out the majority of the ingredients. I can really smell the cinnamon and ginger. David's Chai consist of organic: black tea, ginger, cinnamon, anise, star anise, cardamom, black pepper and clove buds.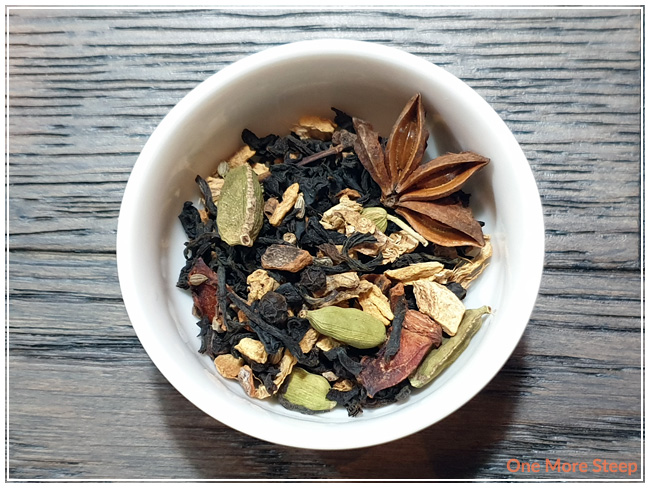 Preparation
DavidsTea recommends steeping Organic David's Chai in 95ºC (200ºF) water for 3 to 5 minutes. I opted to follow the steeping instructions and did an initial steep of 5 minutes.
First Taste
David's Chai steeps to a really pretty golden brown colour. The aroma is warming with all those spice notes wafting up from my fancy mug. It's quite inviting, which is one of the things I love about a nice chai. The flavour is a lovely blend of all the spices – although I can make out the ginger, cinnamon, star anise and cardamom specifically. It has a nice smooth texture to it, spicy notes and really warms me up from the inside out.
I could see this being a lovely chai blend candidate for getting that infamous double boil preparation on the stove top for a more traditional chai preparation method.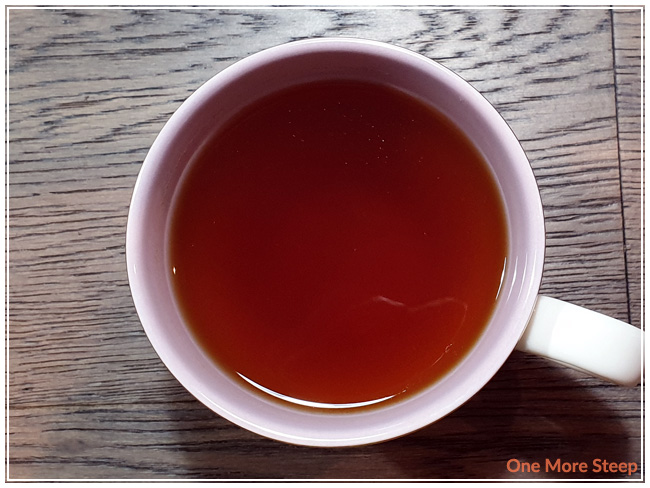 A Second Cup?
I resteeped David's Chai once, for 6 minutes. I found the flavour to be pleasant, but not nearly as warming as the initial steep. I would personally do just one steep of David's Chai but I could see some people enjoying a second steep of the same leaves.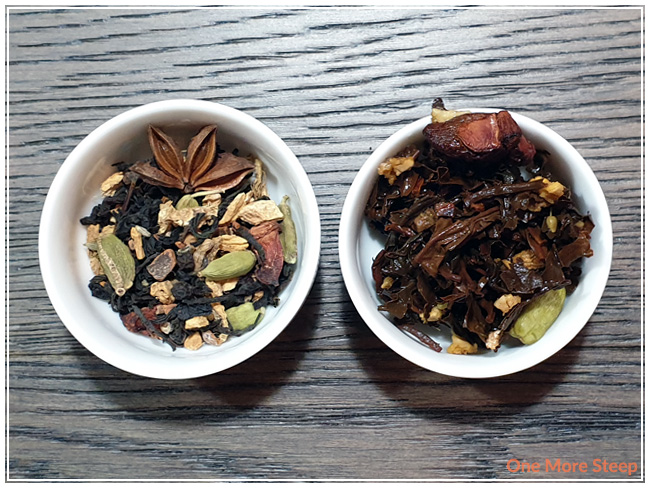 My Overall Impression

I loved DavidsTea's Organic David's Chai. I found to be quite a pleasant experience from the dry leaf, to inhaling the aroma of the steeped tea, to drinking it. The blend of spices was quite nice and enjoyable, which is what really made it delicious. I would recommend adding sweetener if you prefer your chai a bit more sweet as it isn't very sweet (I personally would use honey, but agave or granulated sugar would work just as well).
Curious about the cup rating system? Click here to learn more.