Thermal Tea Carafe by DavidsTea
1.9L (64oz) capacity
BPA-Free Plastic & Stainless Steel
$45.00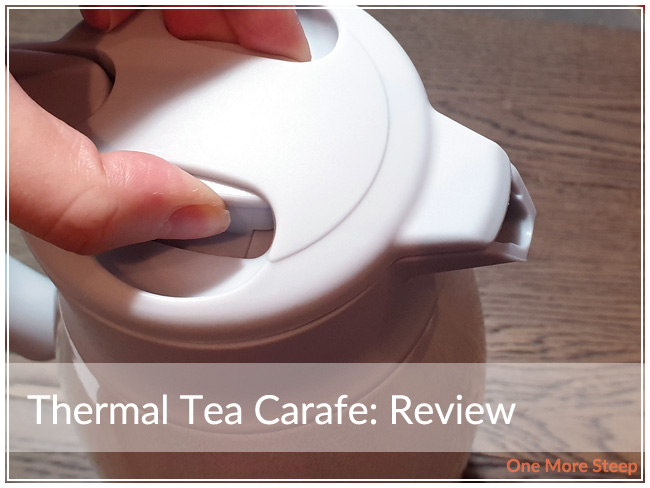 I purchased the Thermal Tea Carafe during one of the site-wide sales and got it for 30% off.
First Impressions
I bought the Thermal Tea Carafe partly because I wanted a hot water jug for my countertop so I could just heat up a lot of water at once in my kettle (review here of the IQ Kettle by Breville) and have it keeping warm without having to keep my kettle on, and also because I thought the holographic colour was gorgeous and necessary in my life (which it is).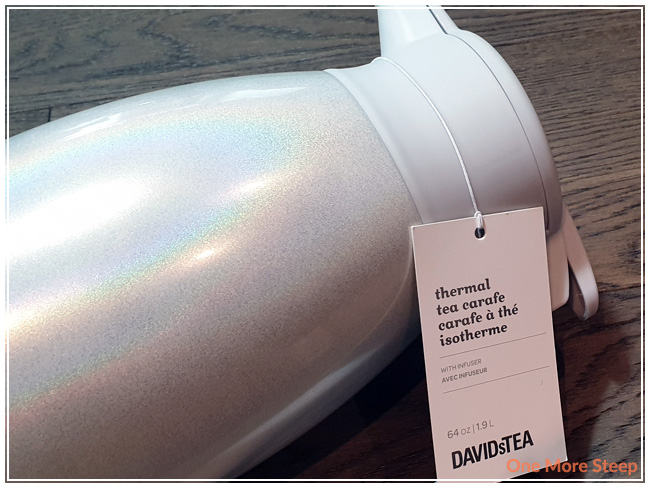 The Thermal Tea Carafe comes in one size – 1.9L capacity (64oz for my American friends). The tag states that it holds 8 servings at 240ml or 8oz per serving. The Thermal Tea Carafe has a double-walled, stainless steel body, with some BPA-free plastic (most noticeable in the handle, spout, and around the metal parts in the included infuser inside).
Preparation
DavidsTea recommends washing the Thermal Tea Carafe before the first, and each, use. This item is not microwave or dishwasher safe – I imagine that gorgeous holographic coating might not stand up well with dishwasher aggressiveness, and the double-walled stainless steel part might not fare so well either. If you do forget, it is mentioned on the bottom of the carafe on the rubber bottom that keeps it from slipping on smooth surfaces.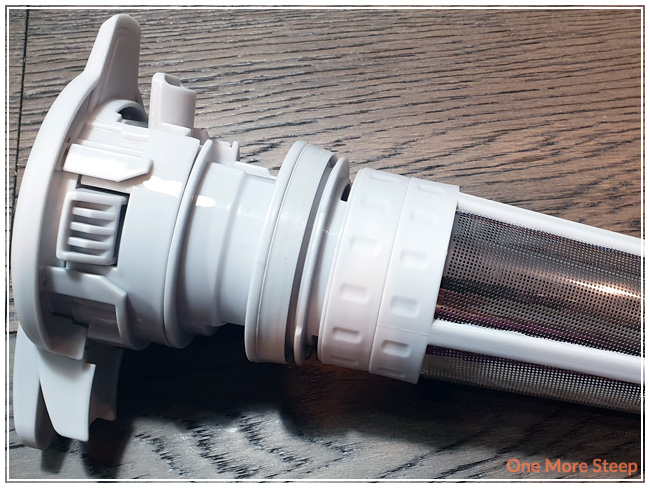 The lid comes out quite easily, and it comes apart in quite a few pieces. I wasn't able to fully take apart the entire thing, so I imagine it may be difficult to clean properly if you're steeping a tea that has any oily components (e.g. Earl Grey with bergamot oil, any blend with chocolates or sprinkles). I was personally planning on keeping this for plain hot water since I often use a small tea pot for my tea steeping (it gives me greater control over steeping time as I can see it), so it'll be alright for me.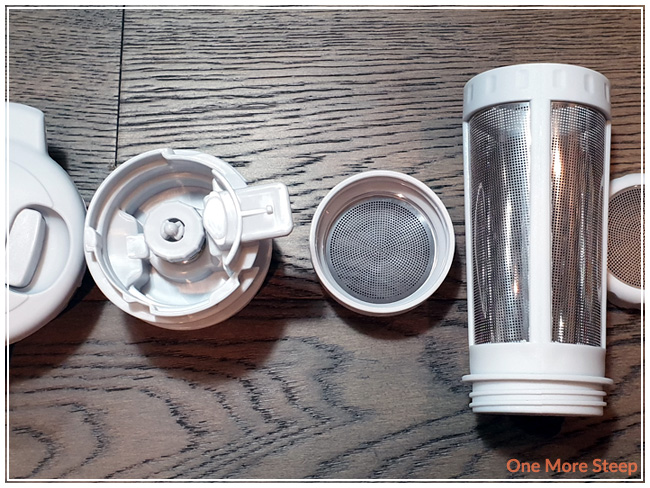 First Use
The first clean of the Thermal Tea Carafe went smoothly, and so did putting it all together again. I ended up filling the carafe with hot water (100°C/212°F) water from my kettle and using it throughout an afternoon of just refilling my teapot, which worked quite well! The water was hot and steaming each time I poured water from it.
While the Thermal Tea Carafe isn't marketed as being leak proof, I did turn it upside down over my sink and found that no water came out – which is a good sign, as if water can't escape, the heat will take longer to dissipate as well!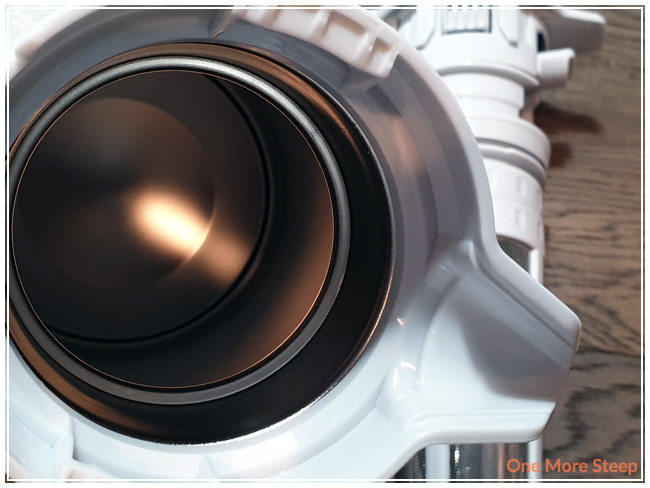 My Overall Impression

I love DavidsTea's Thermal Tea Carafe. I really love the colour, the functionality, and the large capacity – although I think that 1.9L is really more like "enough water for one serious tea drinker" than anything else. I am glad that I was able to get it on sale though, I don't think I would have necessarily paid $45.00 for it otherwise, but with the sale pricing and the colour, how could I say no? Luckily it works as it should, and it definitely makes for more comfortable nights when the power is out and I filled it up in advance of a storm.
Curious about the cup rating system? Click here to learn more.