Cha-Cha Chaga by Birch Moon Wellness Co.
Herbal Tisane / Straight
$19.00 for 30g (20 sachets)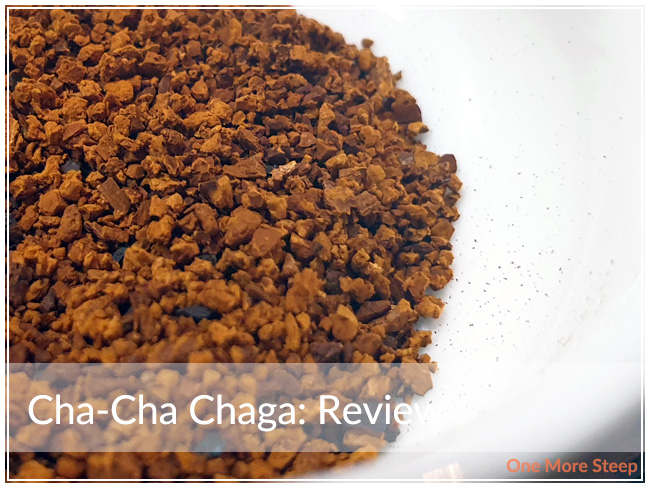 Birch Moon Wellness Co. has provided me with Cha-Cha Chaga for the purposes of writing an honest review.
First Impressions
Cha-Cha Chaga is the second of the trio of tisanes sent to me by Birch Moon Wellness Co. (you might the first one that I reviewed last week, Sweet Zzz's). Like Sweet Zzz's, Cha-Cha Chaga comes in a colourfully designed cardstock box that shares some more information about the tea on the inside with a handy flap on the side for opening. Chaga is described on the packaging as being a medicinal mushroom with "high antioxidant potency, immune support, and detoxifying benefits". Birch Moon Wellness Co. does recommend consulting a health care professional if you have any medication conditions or taking prescription medications, and also to not take it if you are pregnant or breast feeding.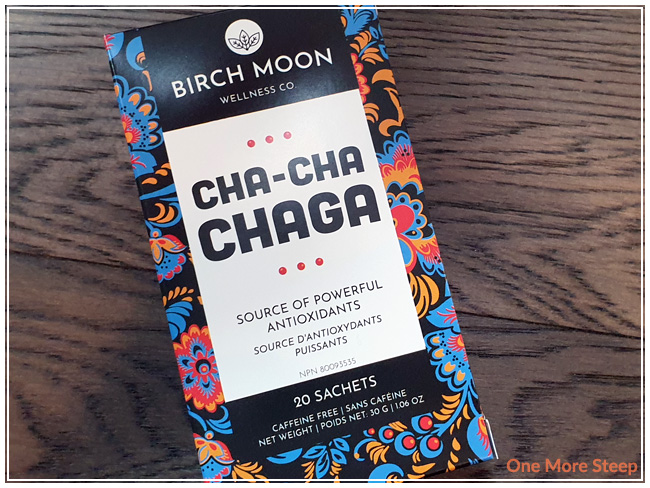 A little research on my part found that there's a lot of information out there about what chaga is thought to do, but very little human studies have been done on the fungus itself. Chaga is a parasitic fungus that grows on birch and other trees in the northern hemisphere. It's really important to check in with your physician or pharmacist, especially if you're taking medications, because chaga can interact with: NSAIDs, blood thinners (like warfarin!), oral diabetic medications, and immunosuppressive drugs. So definitely consult your health care professional when taking a new herbal supplement of any kind, you don't want your medications to stop working or there to be a compounded effect.
Cha-Cha Chaga consists of purely chaga powder. The aroma of the dry leaf is mostly earthiness that reminds me of the smell of the earth or a forest after there's been raining, it's quite relaxing. Cha-Cha Chaga does come prepackaged into individual tea sachets, but I ripped them open to see what was inside because that's just what I do.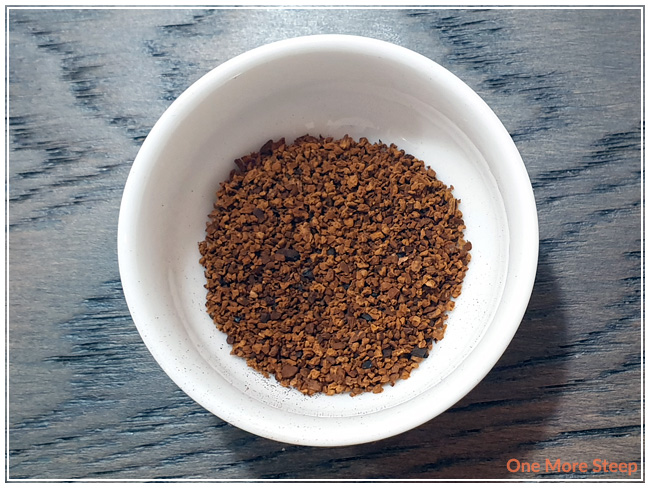 Preparation
Birch Moon Wellness recommends steeping Cha-Cha Chaga in boiling water (100°C/212°F) water for 10 to 15 minutes. I opted to do an initial steep for 12 minutes.
First Taste
Cha-Cha Chaga steeps to a brownish red. I found there to be a definitely earthy to the steeped tisane. It reminds me a lot of the smell of mushrooms before they've been cooked – in particular portobellos. There's just something about Cha-Cha Chaga that reminds me of that. There's some very tasty savoury notes to it, I quite like it. It's not very sweet, but I don't think it really needs to be since it has such a nice savoury quality to it that reminds me of soup almost. I found there to be an interesting mouth feel that is almost astringent but without the mouth pucker quality.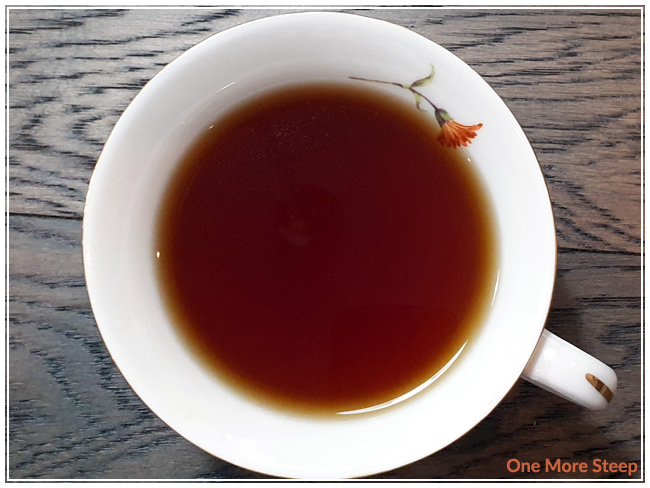 A Second Cup?
I found resteeping Cha-Cha Chaga wasn't as good as the initial steep in terms of those nice savoury, earthy notes, so I would recommend steeping Cha-Cha Chaga just the one time.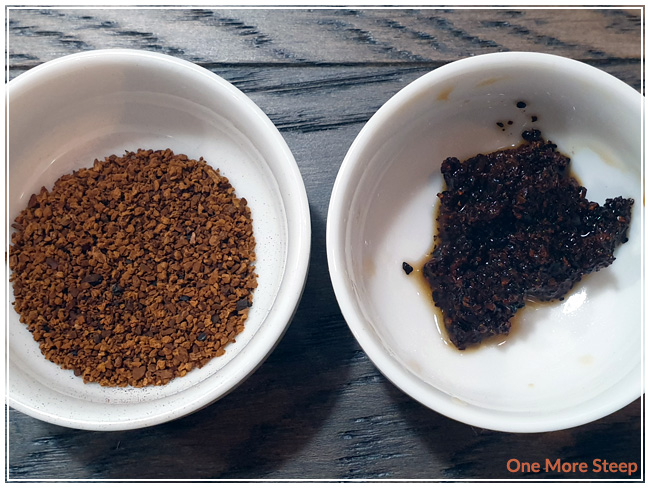 My Overall Impression

I loved Birch Moon Wellness Co.'s Cha-Cha Chaga. Now, I wasn't drinking it for any of the potential health benefits, I was just drinking it as a tisane and because I was curious – but I found it to be quite tasty! I'm really not going to be commenting on the assumed health benefits because I haven't done enough research into it, but it is really tasty. I loved the savoury qualities and the earthy notes that just make it into a nice cuppa. It's definitely not a dessert tea (and goodness, I drink a lot of those!), the mushroom earthiness is a nice quality from the chaga that I do appreciate.
I highly recommend checking in with your physician or pharmacist or whomever you need to talk to from your health care team before trying a tisane with chaga or any other herbal ingredient(s) that may interact with your prescription medications or exacerbate any medical conditions that you may have.
Curious about the cup rating system? Click here to learn more.