Cherry Lemonade by Dessert by Deb
Green Tea / Flavoured
$16.00 for 75g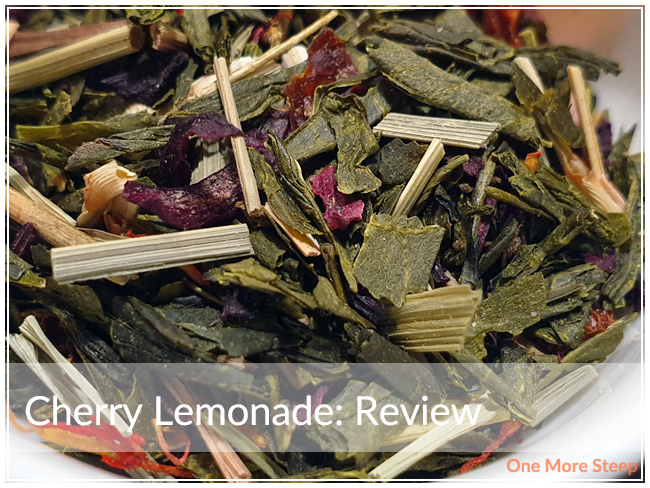 Cherry Lemonade is an exclusive blend for Dessert by Deb subscription subscribers and is available for purchase by subscribers only at this time.
First Impressions
Cherry Lemonade was a tea that showed up in my March/April subscription box from Dessert by Deb. I've reviewed a lot of her teas since the launch and I've been happily subscribing since the subscription box launched – it's one box every two months (so 6 boxes in 12 months/1 year). Cherry Lemonade is a green tea blend and is part of the "The Tea Society Club", which means that it is a subscriber exclusive. It's a fun perk of being a member!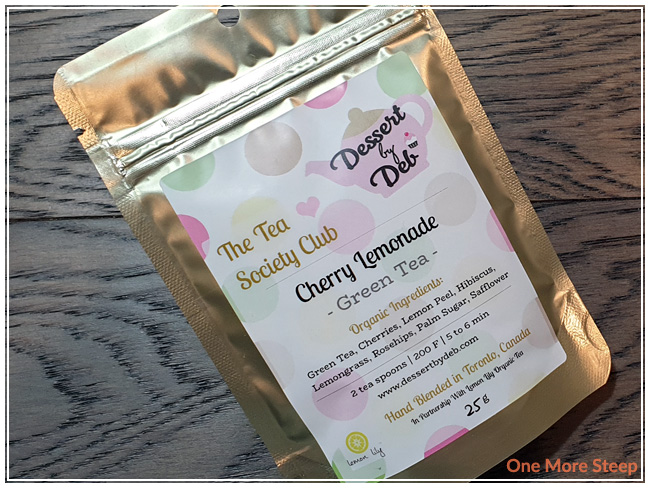 Cherry Lemonade comes in a sealed, resealable pouch with a colourful label. This is a really pretty blend. The aroma of the dry leaf is mostly lemongrass to me, I think that's because lemongrass has such a strong fragrant compared to some of the other ingredients. Cherry Lemonade consists of organic: green tea, cherries, lemon peel, hibiscus, lemongrass, rosehips, palm sugar, and safflower.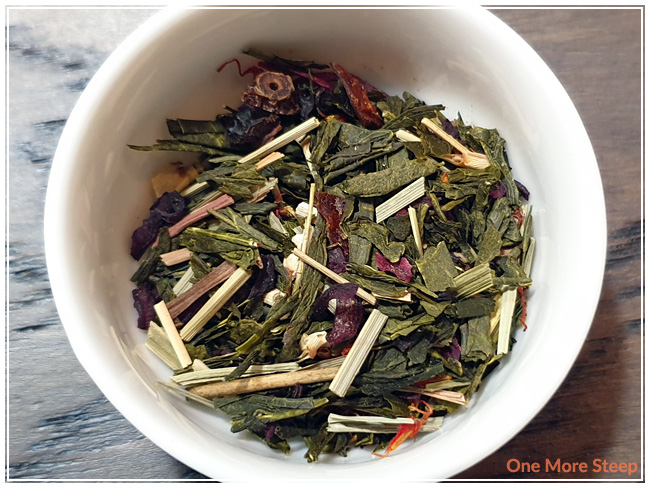 Preparation
Dessert by Deb recommends steeping Cherry Lemonade in 200°F (93°C) water for 5 to 6 minutes. My initial steep was for 5 minutes.
First Taste
Cherry Lemonade steeps to a really pretty pink colour, which I credit to the hibiscus. The aroma of the tea is mostly that of lemongrass, with a hint of lemon. The taste is mostly lemongrass, with some lemon and cherry notes in the background. It's not as sweet as I thought it might be, given the presence of palm sugar. I don't really taste the green tea base, probably because the lemongrass is a strong ingredient.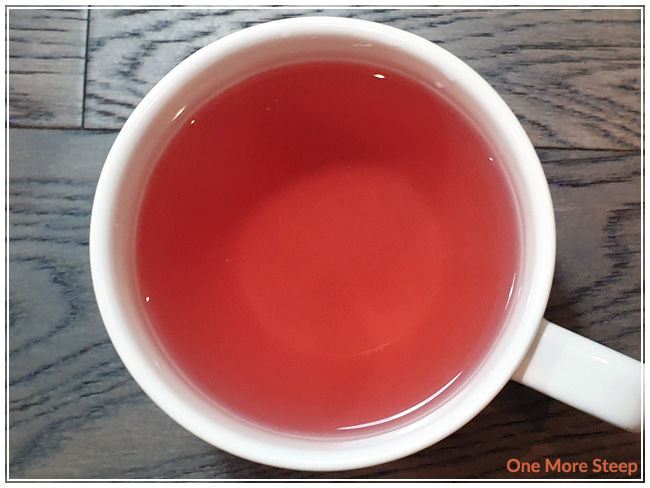 A Second Cup?
I attempted resteeping Cherry Lemonade, but found that the resteep was mostly lemongrass in flavour so I wasn't too keen on it.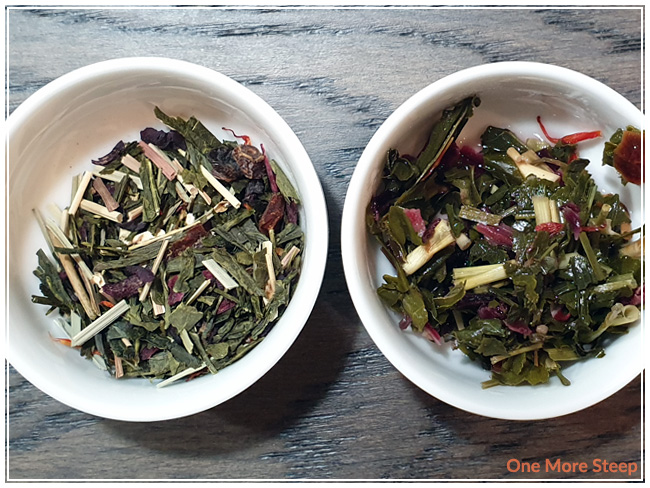 My Overall Impression

I didn't like Dessert by Deb's Cherry Lemonade. I was hopeful for a lot of cherry and lemon flavours in this green tea blend, especially given the name. I think that the lemongrass was really heavy, which really detracted from the other ingredients. It's quite a pretty blend, and I like the lemongrass. I would have liked it to have more lemon and cherry and perhaps even more hibiscus, to give it that tartness to amplify the idea of lemonade. If you're a fan of lemongrass, you'll probably like this one.
Curious about the cup rating system? Click here to learn more.