Tiramisu Trifle by Dessert by Deb
Rooibos / Flavoured
$6.00 for 25g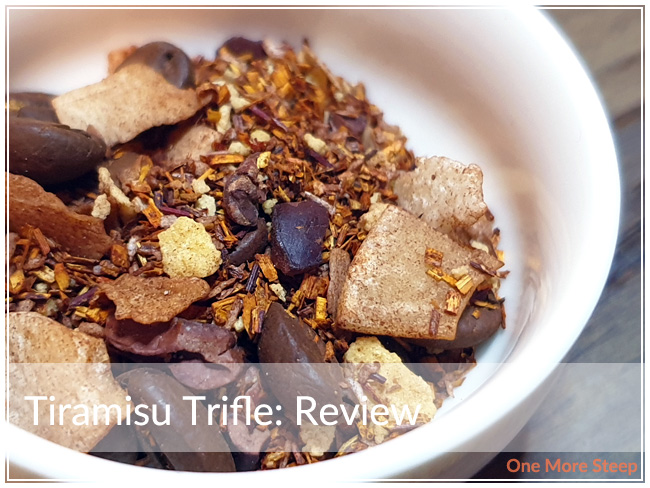 Tiramisu Trifle was part of my subscription box from Dessert by Deb and is part of the Cake & Celebration Collection.
First Impressions
Tiramisu Trifle came as a packet of tea in my box from Dessert by Deb, it came in a shiny gold and clear pouch that's resealable. The first thing that I see are the espresso beans that do make me a bit apprehensive. If you've been following for a while, you may know that I don't like the smell or taste of coffee – and that also does translate into not liking tiramisu (yes, I've tried it before; no, I did not like it).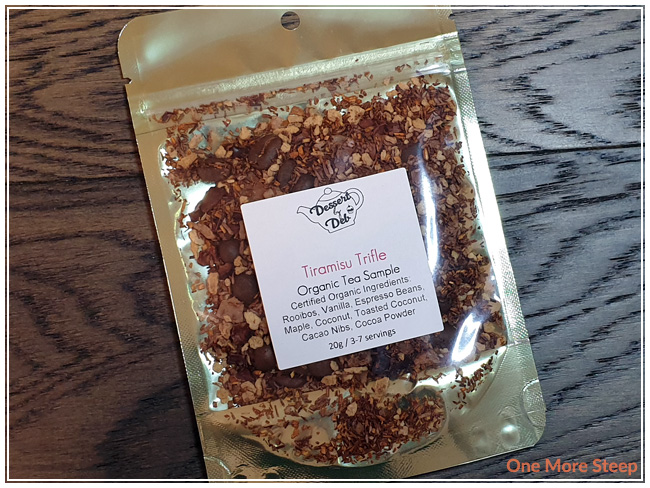 That said, the dry rooibos blend smells exactly like tiramisu – which is both impressive and scary at the same time. It basically smells like dessert, and I think a lot of people will really enjoy it – especially coffee fans. Tiramisu Trifle consists of organic: rooibos, vanilla, espresso beans, maple, coconut, toasted coconut, cacao nibs, and cocoa powder.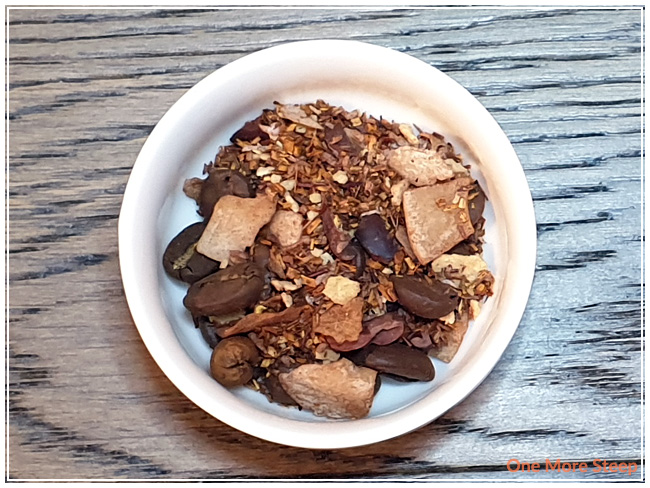 Preparation
Because this was a sample packet, there were no steeping instructions but that was easily remedied by heading on over to the Dessert by Deb website. Dessert by Deb recommends steeping Tiramisu Trifle in 212°F (100°F) water for 4 to 6 minutes. I used the recommended water temperature and steeped for 5 minutes.
First Taste
Tiramisu Trifle steeps to a lovely golden brown colour. There is a slight oil slick over the top, the oils are likely from the espresso and coconut as well. It has a very strong coffee aroma from it and I get a lot of vanilla notes that really make the whole thing smell like tiramisu. The flavour is interesting – there's definitely the taste of coffee (which I find to be bitter), with the vanilla notes, and sweetness. I don't get a lot of the coconut, but I think the espresso is just a strong ingredient to be going up against. It has some nice chocolate notes to it, so I think it's a really well done representation of the tiramisu dessert.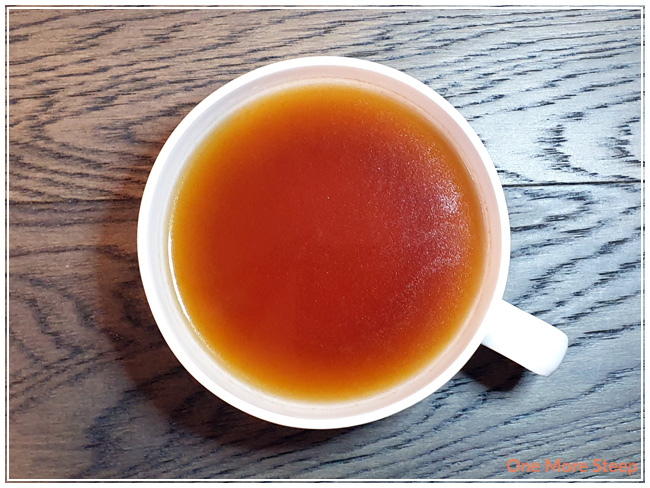 A Second Cup?
I did attempt to resteep Tiramisu Trifle and found that the rooibos base was more obvious and I got a mix of the medicinal notes from rooibos and the coffee flavour from the espresso. As a fan of neither, I didn't enjoy this. If you're a fan of either, I'd recommend resteeping it.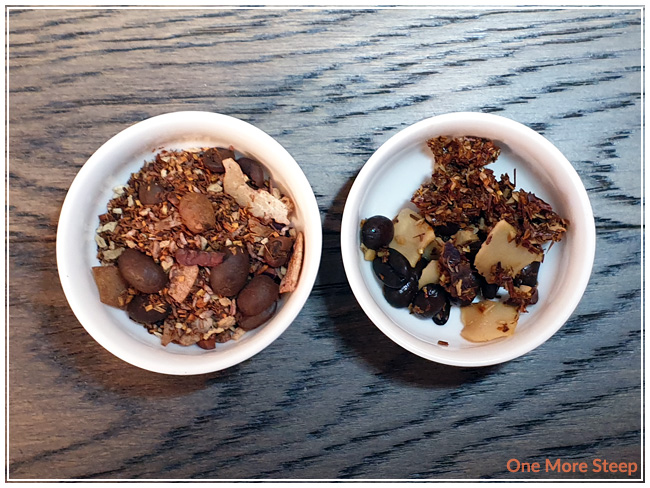 My Overall Impression

I didn't like Dessert by Deb's Tiramisu Trifle. As someone who's not a fan of coffee or rooibos, I feel like this was destined to happen. That said, I found that the aroma of the dry leaf to be incredibly spot on in comparison to the tiramisu dessert. The aroma from the steeped tisane is also that of tiramisu, and honestly it does taste really spot on as a liquid tiramisu. I think any fan of tiramisu or coffee would be really happy with the blend – it's just not for me.
Curious about the cup rating system? Click here to learn more.