Rhubarb Sugar Pie by Dessert by Deb
Rooibos & Black Tea / Flavoured
$6.00 for 25g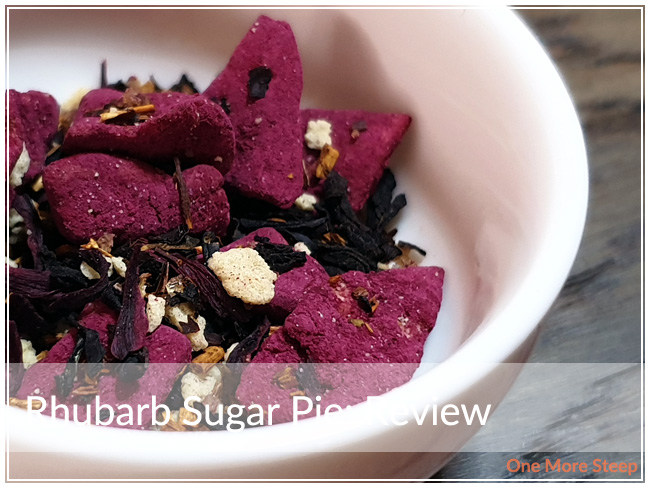 First Impressions
Rhubarb Sugar Pie came as a tea sample in my Dessert by Deb subscription box. What drew me to it first was the bright magenta metallic pouch – followed by the fact that there were pieces inside that were also brightly magenta in colour. This is a rooibos and and black tea blend, when I first opened the pouch I found that it has a very mild aroma. I can smell the maple and the apple, and it reminds me of (apple) pie, for sure.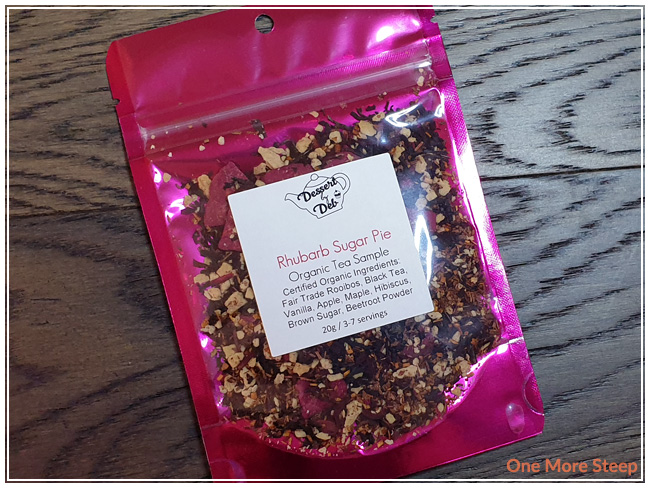 Rhubarb Sugar Pie consists of organic: fair trade rooibos, black tea, vanilla, apple, maple, hibiscus, brown sugar and beetroot powder. When I asked Deb about those brightly coloured pieces, turns out that it's the apple that has been dusted with beet root powder (how clever is that?).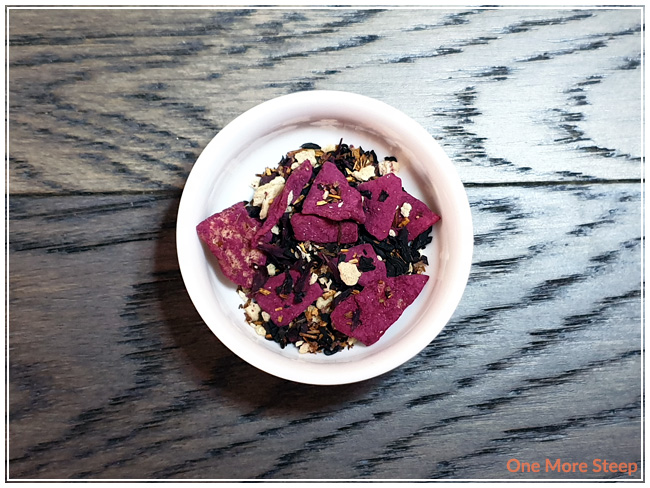 Preparation
At the time of writing, I wasn't able to find the blend on the Dessert by Deb website, but her other black teas and rooibos blends are steeped in 212°F (100°C) water for 4 to 6 minutes, so I opted to follow those instructions for Rhubarb Sugar Pie and did an initial steep for 5 minutes.
First Taste
Rhubarb Sugar Pie steeps to a bright reddish pink colour, thanks to the hibiscus and the beet root powder. It has a pleasant aroma and I can make out the molasses notes from the brown sugar, and something that's a bit fruity (likely the apple?). It is sweeter than I expected, has some strong brown sugar/molasses flavours, as well as apple. I can taste the maple and vanilla, which lends itself nice to making me think of baked goods, especially when coupled with the brown sugar. I don't taste either the rooibos or black tea base – which is either good or bad? I wouldn't have minded a stronger black tea base, but I wouldn't have wanted to taste the rooibos either.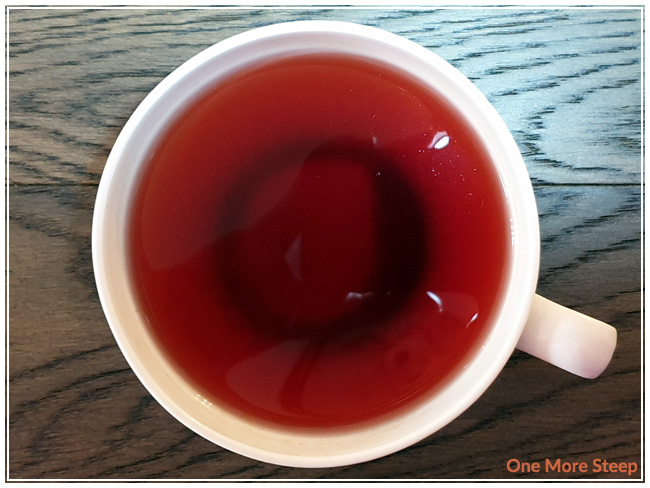 A Second Cup?
I attempted to resteep Rhubarb Sugar Pie and found the colour to be really light compared to the initial steep, and the flavour wasn't as strong with lighter brown sugar notes – I really enjoyed that molasses flavour.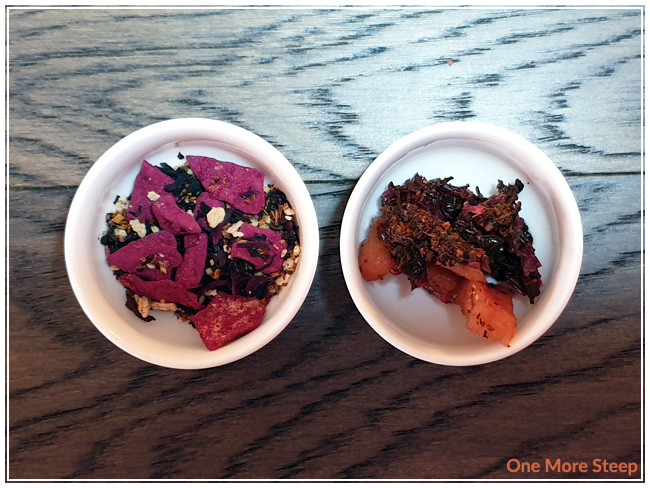 My Overall Impression

I liked Dessert by Deb's Rhubarb Sugar Pie. I'm always a sucker for a nice rooibos blend when I cannot actually taste the rooibos, and Rhubarb Sugar Pie ticks that box for me. It's got a pleasant flavour that really does remind me of a pie. It's not as tart as I expecting with a name like Rhubarb Sugar Pie, but it's got some great flavours that do remind me of baked goods (the brown sugar, vanilla, apple). I had this one both hot and iced and think it does better iced, so would highly recommend having it that way since it's still iced tea season as its not pumpkin spice season (yet).
Curious about the cup rating system? Click here to learn more.