Maple Butter Shortbread by Dessert by Deb
Black Tea & Rooibos / Flavoured
$6.00 for 25g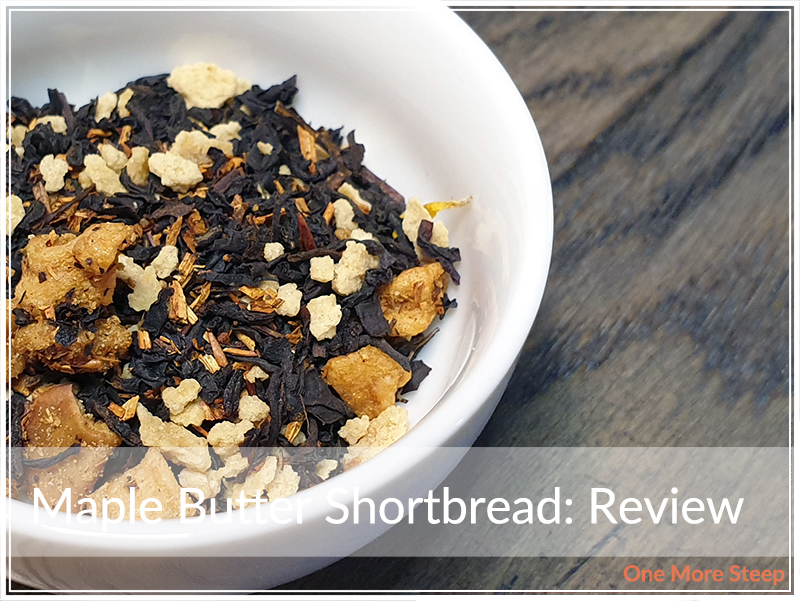 Maple Butter Shortbread came as part of my November/December subscription box from Dessert by Deb.
First Impressions
In that familiar pale pink sealed, resealable pouch comes Maple Butter Shortbread. This is a blend from Dessert by Deb, another cookie-inspired blend that does contain rooibos. Now, I'll preface the rest of the review with the fact that rooibos is not my favourite thing. I don't go out of my way to seek out rooibos blends and I will not drink straight rooibos because I find it medicinal in flavour and aroma and I just don't like it it (but if you love rooibos – that just means that there's more available for you! Everyone wins!). The aroma of the blend is a nice blend of maple and vanilla, which reminds me of a baked good, but I do smell the rooibos blend. It does have that familiar medicinal quality. I don't smell the black tea base, but that's not too surprising given some of the other ingredients in the blend that can be more heavy.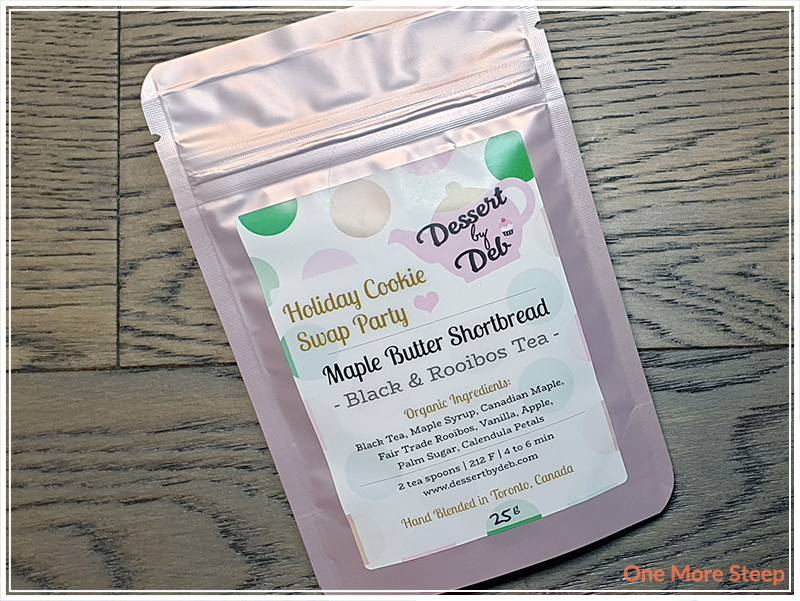 Maple Butter Shortbread consists of all organic: black tea, maple syrup, Canadian maple, rooibos, vanilla, apple, palm sugar, and calendula petals. The ingredients are really pretty, and honestly it does photograph well. I quite appreciate the care in the blend. Vanilla isn't an inexpensive ingredient to work with, and I always appreciate seeing it in a tea blend because it's just one of those flavours/ingredients where the real deal is a lot better than artificial flavouring (yes, vanilla extract snob over here).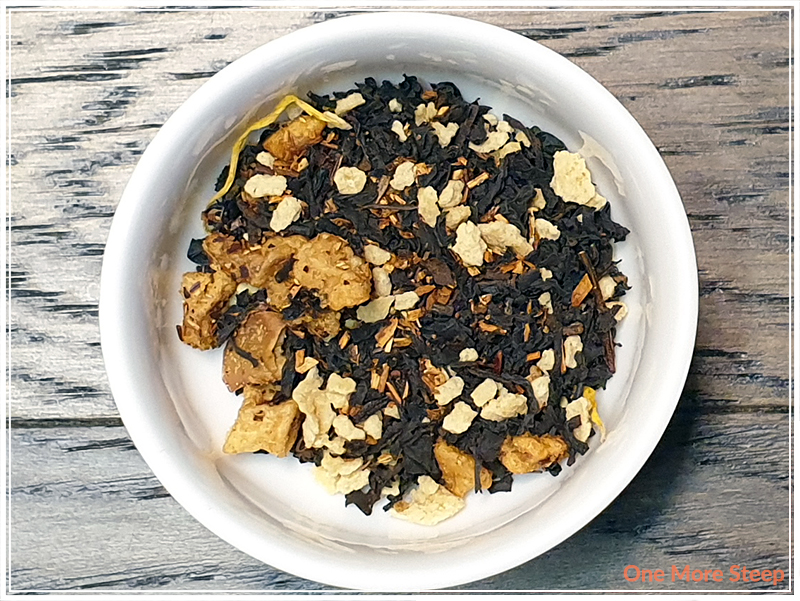 Preparation
Dessert by Deb recommends steeping Maple Butter Shortbread in 212°F (100°C) water for 4 to 6 minutes. I opted to follow the steeping recommendations and do an initial steep for 5 minutes.
First Taste
Maple Butter Shortbread steeps to a deep reddish orange (please excuse the bits of tea leaves, I was a bit haphazard when scooping the tea leaves into my infuser). It is very rooibos heavy in aroma, and I can smell the vanilla and maple – which definitely 'screams' this is a baked good to me. But the rooibos… It reminds me of medicine, earthy notes, slight sweetness… But mostly a medicinal quality to me. The black tea base lingers a bit in the background, but it isn't as forward as I would have liked. The vanilla and maple are nice though, and this blend definitely has a nice amount of sweetness – also a nod to the palm sugar that's present. It does remind me a lot of dessert, which is probably a good thing given that it's called Maple Butter Shortbread.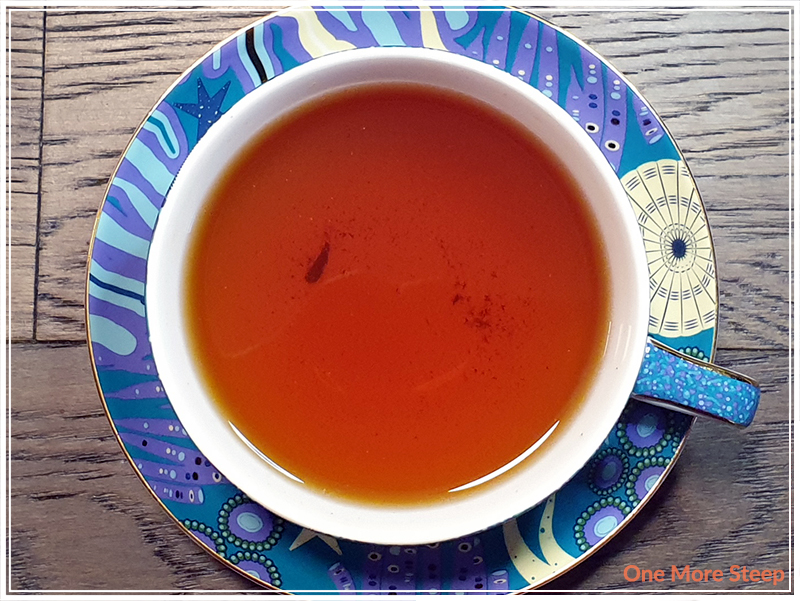 A Second Cup?
I attempted a second steep of Maple Butter Shortbread, but found that the flavouring was mostly rooibos with hints of vanilla and maple. For me, personally, I wouldn't have a second steep. If you're a fan of rooibos, I would recommend a second steep.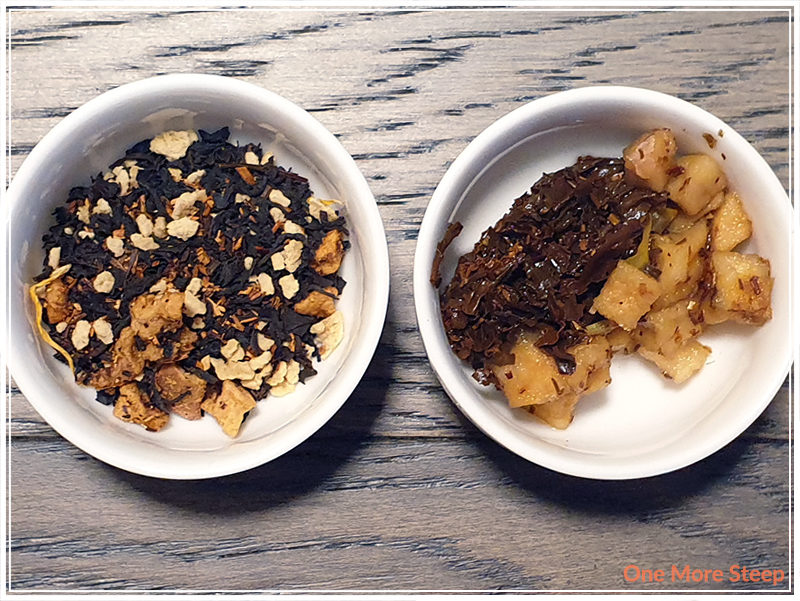 My Overall Impression

I thought that Dessert by Deb's Maple Butter Shortbread was just okay. I'm 100% confident that if I was any sort of rooibos fan/lover, I would have ranked this blend a lot higher. I'm quite open about not being the biggest fan of rooibos, and I only seem to appreciate it in blends that I can't actually smell or taste the rooibos (which isn't really appreciating it, is it?). So if you're a fan of rooibos, I think you'll like this one because it does remind me a lot of a dessert with the sweetness, the maple, and vanilla flavours. If you're not a fan of rooibos, you might want to steer clear from this one since the rooibos is quite forward. Not for me, but I think it'd be one I would offer to someone who's visiting and a fan of rooibos and wanting a dessert-style tea blend for sure.
Curious about the cup rating system? Click here to learn more.