Cream of Earl Grey Matcha by DavidsTea
Green Tea (Matcha) / Flavoured
$9.98 for 50g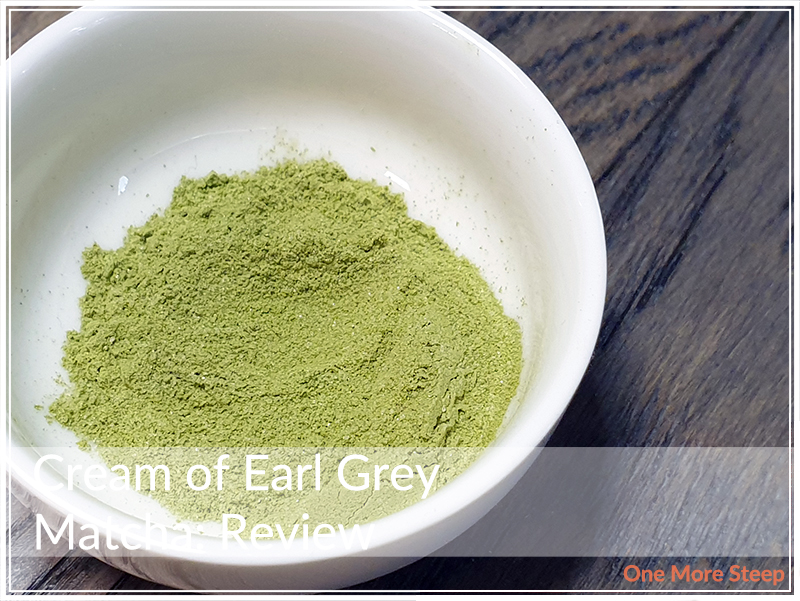 First Impressions
Cream of Earl Grey Matcha was one of those purchases I did because I had decided to get the Earl Grey Matcha already so… why not? Full disclosure, I'm not a huge fan of most Cream of Earl Grey tea blends. I find there just to be something a little bit off about it that doesn't make me enjoy it as much as I do a 'plain' Earl Grey blend. Which is a bit interesting, since I love trying out inspired by Earl Grey blends that have an assortment of other ingredients added into it (e.g. lavender, rose, orange). What can I say? I guess I'm occasionally a contradiction.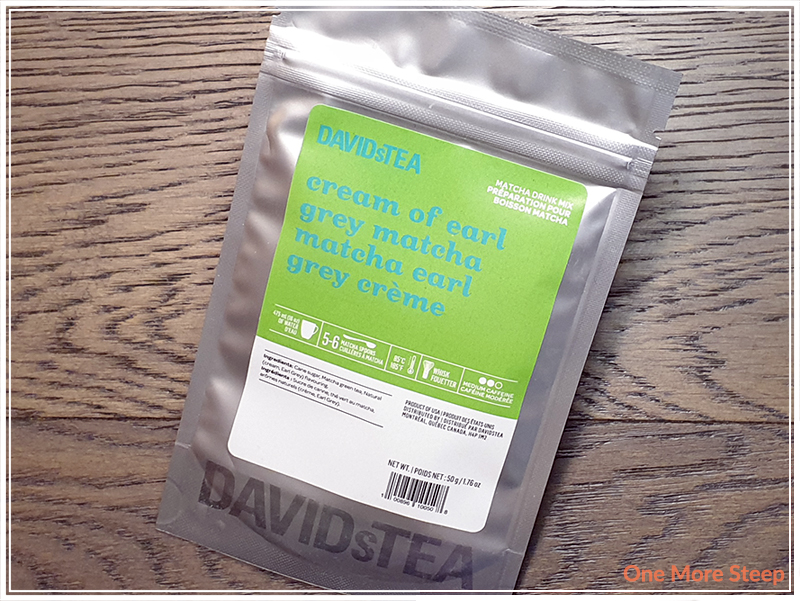 That said, I really do smell the Earl Grey in this Cream of Earl Grey Matcha. In comparison to Earl Grey Matcha, the bergamot is not as strong and there's a bit of creamy or buttery quality in the aroma, which isn't unexpected. Cream of Earl Grey Matcha consists of: cane sugar, matcha green, natural (cream, Earl Grey) flavouring. The colour is a nice spring green, there's not a whole lot of sparkle in it despite consisting of cane sugar.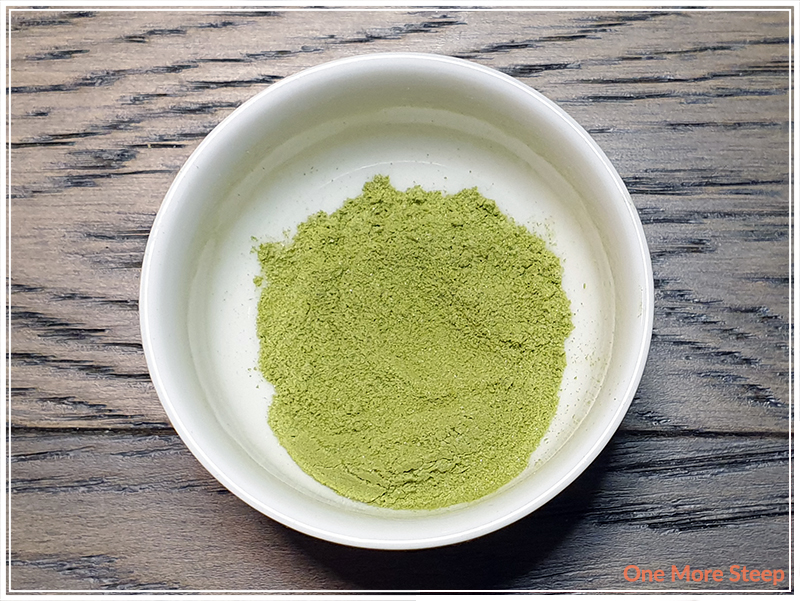 Preparation
DavidsTea recommends whisking Cream of Earl Grey Matcha in 85°C (185°F) water. I followed the preparation instructions.
The nice thing about a matcha drink mix is that it easily mixes in heated water. You don't necessarily need a fancy whisk to make it work.
First Taste
Cream of Earl Grey Matcha isn't the prettiest green colour when mixed into heated water. It has a bit of yellow-green colour to it that reminds me an awful lot of pea soup. It does settle somewhat quick, which was surprising to me, and I needed to give it a stir to get the colour more uniform throughout. It was easy to suspend into the water though, and there were zero clumps despite not sifting the powder. The aroma is that of Earl Grey, the flavour is a creamy Earl Grey with some grassy undertones from the matcha, but the cane sugar is very prevalent and the sweetness does overpower the matcha throughout each sip. It's definitely a sweet drink!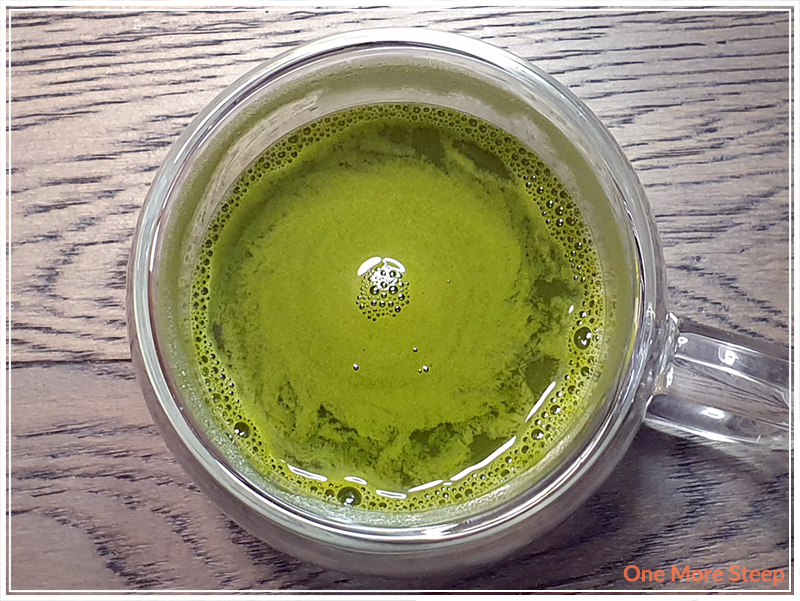 I couldn't resist turning Cream of Earl Grey Matcha into a latte. It definitely helped it out a bit – adding even more creamy flavour and tempering down the sweetness that the cane sugar naturally brings to each cup. It made it more of a treat and made for a nice twist on a London Fog.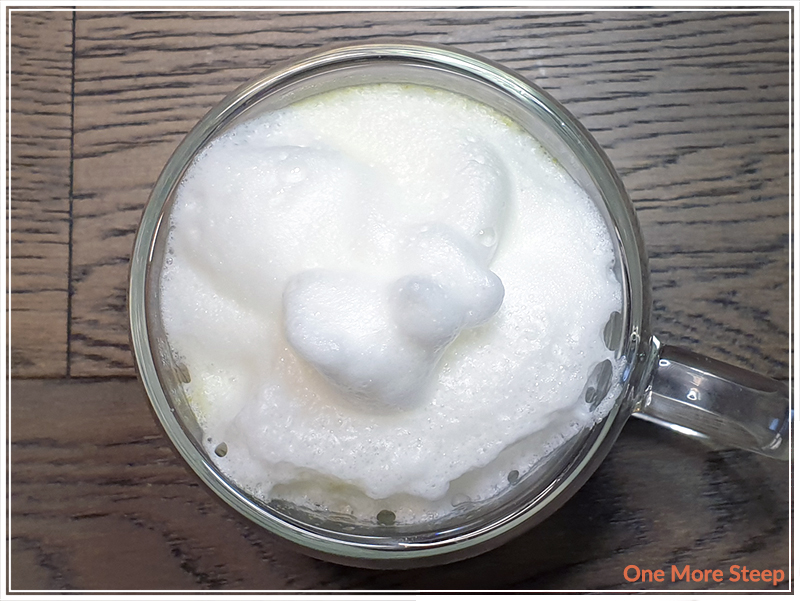 A Second Cup?
As Cream of Earl Grey Matcha is a suspension, there was no second preparation with the same powder.
My Overall Impression

I liked DavidsTea's Cream of Earl Grey Matcha. I was pleasantly surprised by Cream of Earl Grey Matcha, mostly because I'm not generally a fan of Cream of Earl Grey preparations. I found that the flavour to be nice, but I did find myself wishing for more of the bergamot to shine through over the cream notes in the drink. I greatly enjoyed it as a matcha latte, and definitely think that I would have it again as a latte drink over having it straight up, as I do think that the cane sugar was added with a heavy hand. Overall, I found it tasted like Earl Grey, with a big helping of cream and just hints of matcha throughout. It'd definitely be perfect for the match and Earl Grey fan with a huge sweet tooth.
Curious about the cup rating system? Click here to learn more.