Cookie Butter by Dessert by Deb
Black Tea / Flavoured
$6.00 for 25g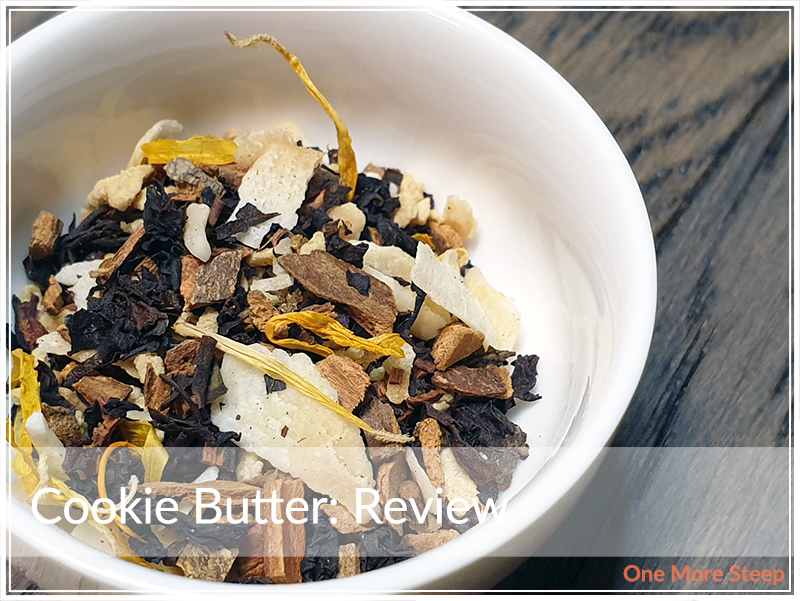 First Impressions
Cookie Butter came as part of my Dessert by Deb subscription box, which is just a little gift that keeps on giving (as in, I bought it as a gift to myself and I get it throughout the year). This is an organic tea sample that comes in a shiny gold pouch that's resealable and has a nice little label across the front. No steeping instructions, but I was easily able to find that information on the Dessert by Deb website. For those who aren't familiar with cookie butter as an actual product, it's a spread (much like peanut butter) made from speculoos cookies which has a heavy amount of spice (nutmeg, cinnamon, ginger, cardamom, pepper, cloves) – and Cookie Butter (the tea blend) really does remind me a lot of the cookie butter product itself. It has a lot of cinnamon aroma to it, which I like and appreciate.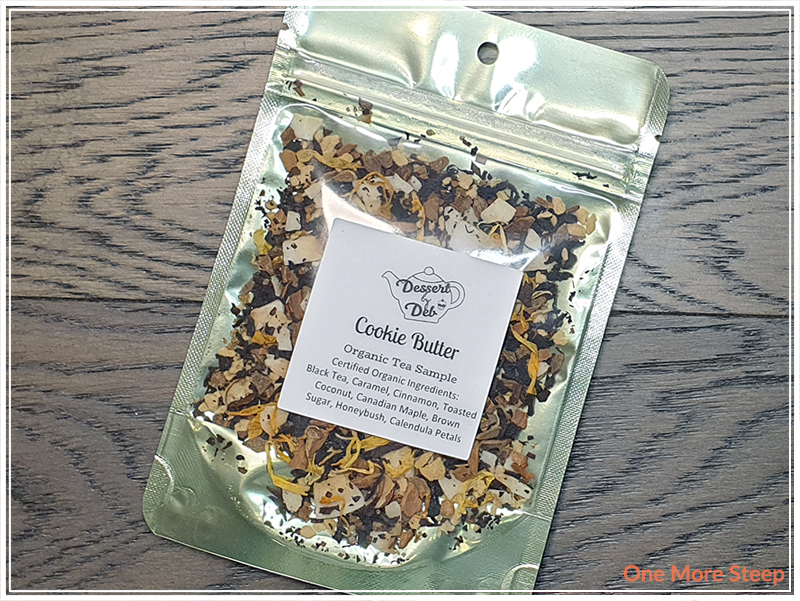 Cookie Butter consists of organic: black tea, caramel, cinnamon, toasted coconut, Canadian maple, brown sugar, honeybush, and calendula petals. It's such a pretty tea – I love the calendula petals in the blend because they're such a bright, sunshine yellow colour and it's just so happy and smile inducing. Definitely a pretty tea and the aroma reminds me so much of the cookie butter product despite the lack of nutmeg and ginger. I don't smell the coconut too much, which is surprising because it's usually such a strong aroma when it's present in a tea blend.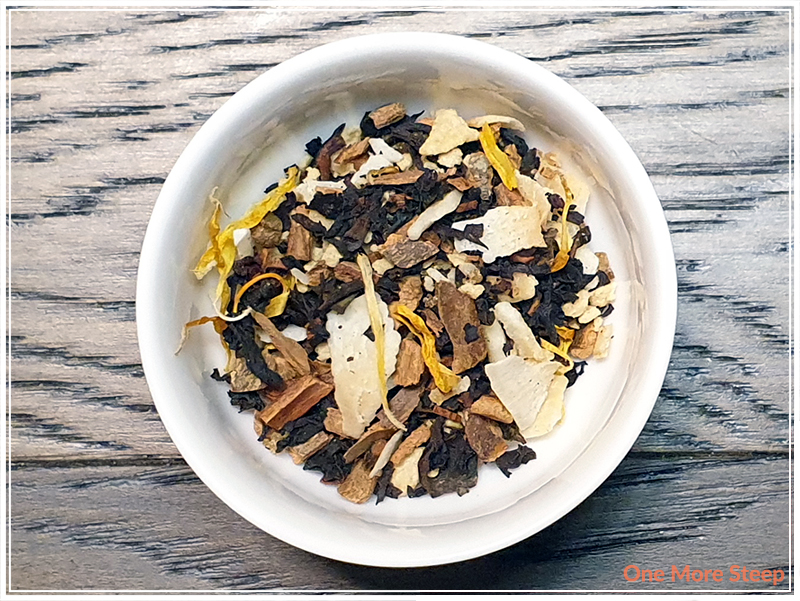 Preparation
Dessert by Deb recommends steeping Cookie Butter in 100°C (212°F) water for 4 to 6 minutes. I followed the steeping instructions and went for the middle-of-the-road 5 minutes steeping time.
First Taste
Cookie Butter steeps to a nice golden orange colour. There is a bit of an oil slick across the top, but that's likely from the natural oils of the coconut. The aroma is primarily cinnamon and brown sugar, a sweet molasses note. The flavour reminds me a lot of cookie butter! It has a nice sweetness to it – I can taste the caramel, cinnamon, the toasted coconut has a nice flavour to it, and the brown sugar really rounds out the flavour of the tea by making it taste like a cookie. I would very much think this is a liquid dessert in a cup if nobody told me otherwise.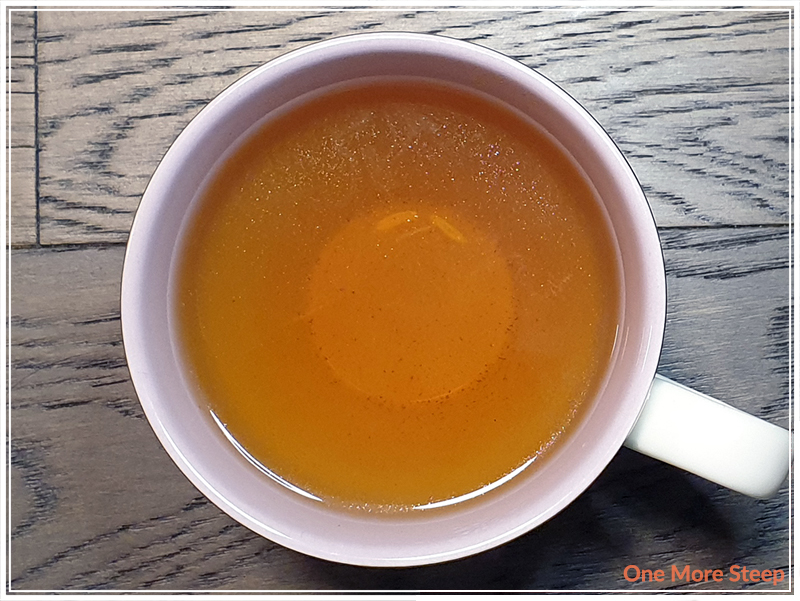 A Second Cup?
I attempted to resteep Cookie Butter, but found that the flavour did not compare to the initial steep. I found the second steep of the same leaves to be lacking in the cinnamon and molasse notes from the brown sugar, so I would recommend Cookie Butter for just the one steep.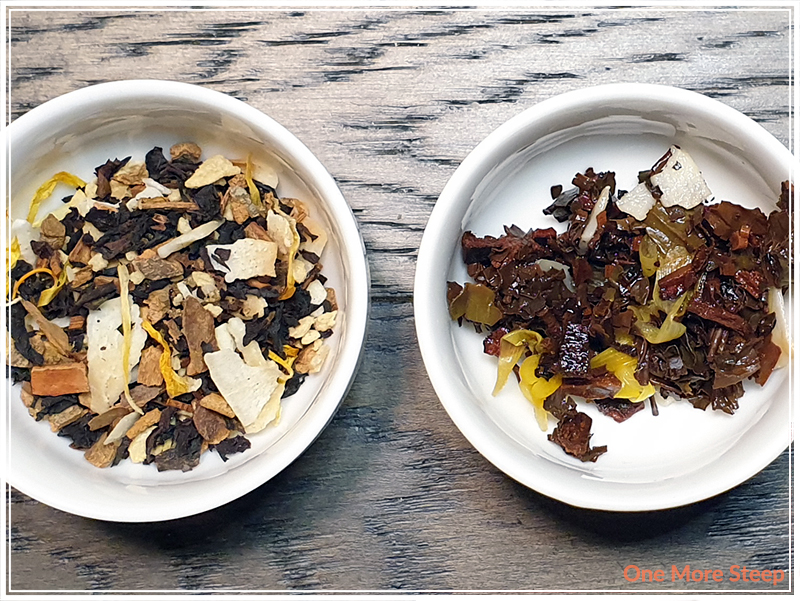 My Overall Impression

I loved Dessert by Deb's Cookie Butter. I think the aroma of the dry leaf and the flavour was very much spot-on in comparison to what I remember cookie butter to taste like. It has some great notes within the flavour profile that really make me think of a baked good – the brown sugar is always a nice touch. I think what would really make it stellar would be just a hint of ginger or nutmeg, and perhaps a heavier hand with the brown sugar or even a touch of vanilla. But that's just nit-picking and I really want to head south of the border now to get my hands on another jar of cookie butter.
Curious about the cup rating system? Click here to learn more.