Jin Jun Mei by Teakan
Black Tea / Straight
$30.00 for 66g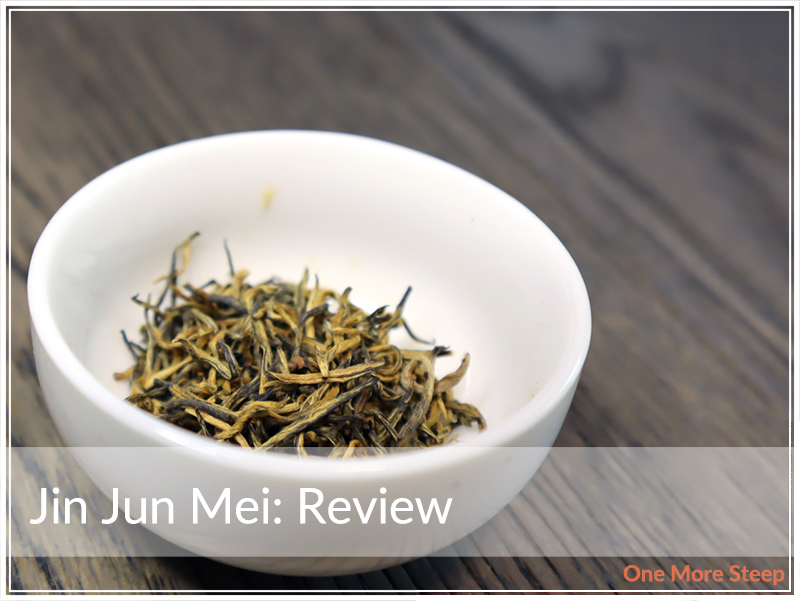 Jin Jun Mei is part of Teakan's Volume 3 Exploration Kit, a collection of five single origin teas. Jin Jun Mei makes up 15g of the 66g kit.
First Impressions
It's taken me a bit longer than expected to work my way through Teakan's Volume 3 Exploration Kit – but here we are! This is the fourth tea, Jin Jun Mei. This is a black tea from Tong Mu Guan, Fujian, China. It comes in a kraft paper pouch that's sealed and resealable, with the very similar black and white label on the side that has information on both the front and the back side. The packaging is minimalistic and sufficient, providing the information that you need when it comes to steeping this tea. This particular tea was harvested in spring 2020, which also intrigues me a bit because getting to try out fairly young teas is always a treat, especially when it comes to single origin teas.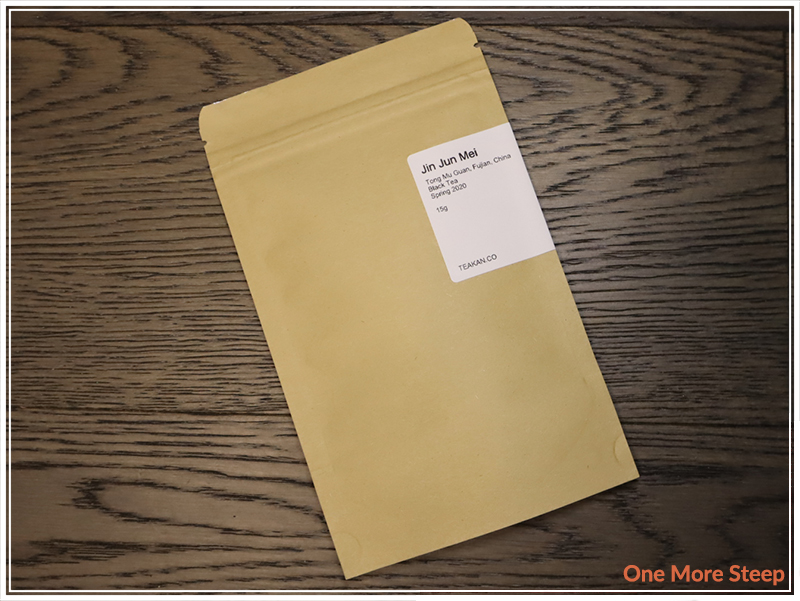 The leaves themselves are beautiful – there's lots of downy softness to these tea leaves, and bright golden yellow tips that outshine their darker counterparts in this little mound of tea leaves. The aroma is sweet and lightly smokey – it reminds me of the remnants of a campfire the next morning. Jin Jun Mei is enticing, feels to me like it would even bit a bit bold in flavour after being steeped.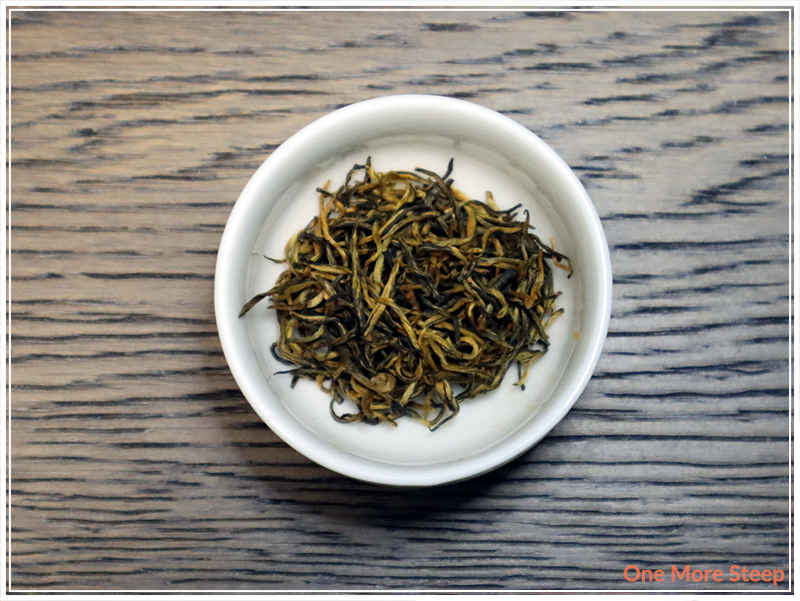 Preparation
Teakan recommends steeping Jin Jun Mei in 90°C (194°F) water for 2 to 3 minutes for the western steeping style; if opting to steep Jin Jun Mei in the gongfu method, Teakan recommends the same water temperature but only steeping for 3 to 5 seconds. Because my gaiwan is still living in storage, I opted to do the western style and did an initial steep at 3 minutes.
First Taste
Jin Jun Mei steeps to this beautiful, impossibly bright golden yellow. It almost reminds me of how bright saffron can be, that's just how intense this yellow is. The aroma is slightly smoky, just like the dry leaf, with a hint of sweetness. The tea itself has a strong mouthfeel, with a thickness to the tea that makes it really coat the inside of your mouth. The flavour is malty, smoky, with just the hint of apricots lingering in the background, which really just adds a touch of sweetness to it. There's an almost bitter aftertaste that only stays for a short while before it goes away on its own. There's a touch of astringency, but it doesn't make my mouth feel dry.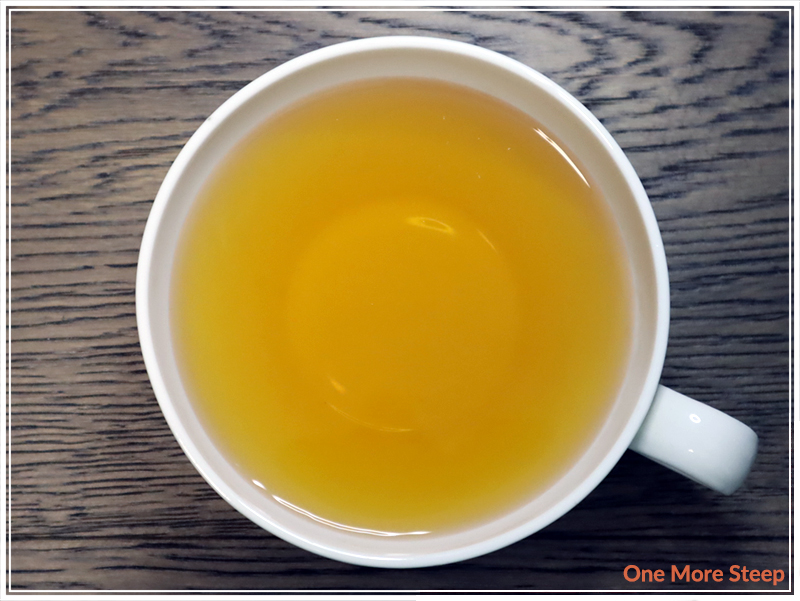 A Second Cup?
I resteeped Jin Jun Mei a total of five times, adding an additional 30 seconds for each subsequent steep. Jin Jun Mei gets a bit more malty and less astringent as the steeps go on, but I do find that the sweetness doesn't change too much. There's still that slight bitter aftertaste, but it's not enough to put me off from finishing the cup (or pot). It's a nice candidate for resteeping, as far as black teas go.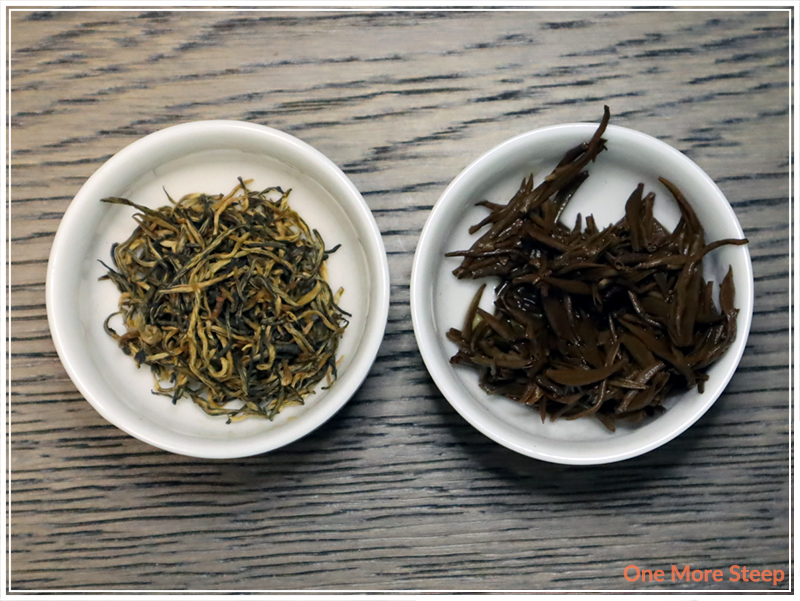 My Overall Impression

I liked Teakan's Jin Jun Mei. I thought this tea did lovely when it came to steeping and resteeping, and it has a great flavour. I probably would have ranked it a bit higher if it weren't for the astringency and bitter notes that I found – they weren't enough to put me off from drinking it, but it also stands out to me that those flavour notes are there. I think starting at 3 minutes perhaps was a bit too harsh on the tea leaves, and I would definitely not recommend steeping beyond the recommended length of time, for fear of the tea getting more bitter. I do love the colour though, it's such a shocking sunshine yellow colour and really just puts a smile on my face.
Curious about the cup rating system? Click here to learn more.