Cereal Milk by Dessert by Deb
Black Tea / Flavoured
$6.00 for 25g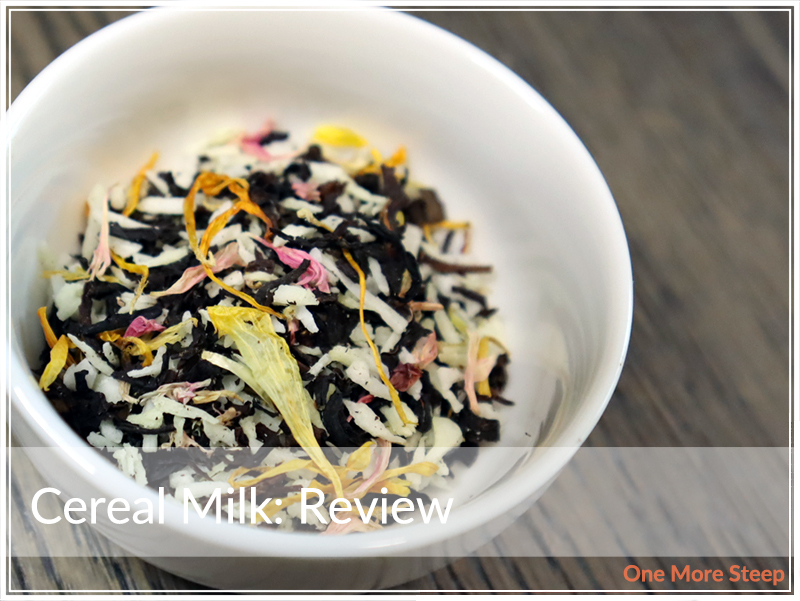 First Impressions
The idea of a 'cereal milk' tea really intrigues me. After all, anyone who's grown up eating kids cereal knows the added bonus of the sweetened milk when all the cereal is gone – my favourite to do this with would have definitely been cereals like Honey Nut Cheerios or Lucky Charms. Added bonus of being an adult now and getting to decide for myself that no, I don't want Corn Flakes. So the idea of Cereal Milk really invokes a sense of nostalgia within me, which is always a nice feeling when it's happy moments.
Cereal Milk comes in a matte silver sealed, resealable pouch with a colourful label from Dessert by Deb. Always cheerful and fun to see, the information about the tea is on the front and it's always nice to be reminded that the teas from Dessert by Deb are all hand blended in small batches in Toronto, Ontario, Canada. Such a labour of love putting together all these blends (and subscription boxes!).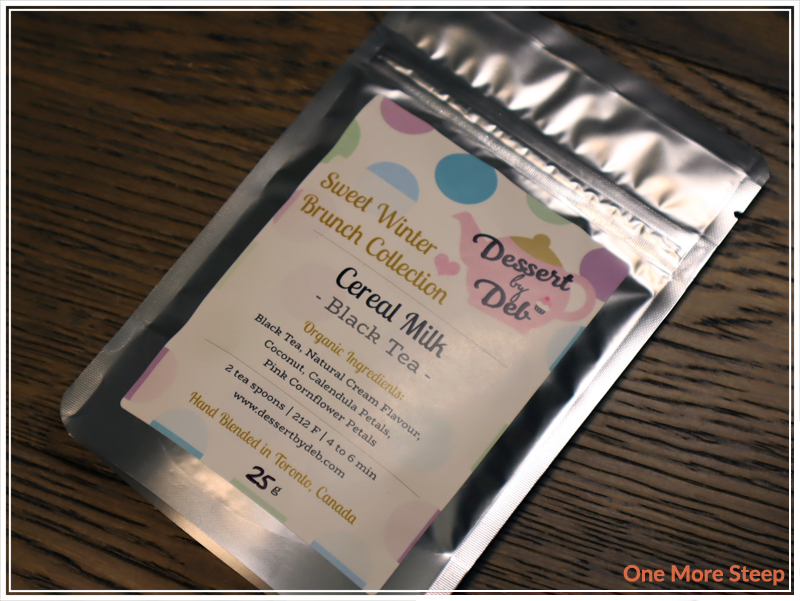 Cereal Milk is a vibrant, beautiful tea blend. Cereal Milk consists of organic: black tea, natural cream flavour, coconut, calendula petals, and pink cornflower petals. I mean, just look at those colours! Bright pops of yellow and pink against the sea of black tea and coconut flakes. The aroma is strongly of coconut, cream, and something that makes me think of vanilla. It's really pleasant and inviting, and does remind me a bit of Lucky Charms (disclaimer: it's been a really long time since I've eaten Lucky Charms… Maybe I should have used this as an excuse to buy a box, for science?).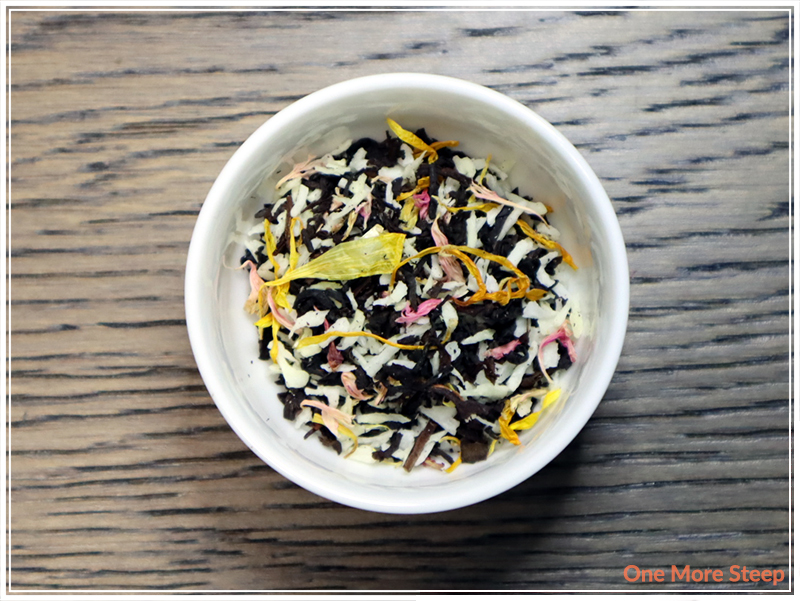 Preparation
Dessert by Deb recommends steeping Cereal Milk in 212°F (100°C) water for 4 to 6 minutes. I opted to do an initial steep for 5 minutes.
First Taste
Cereal Milk steeps to a golden orange colour. The aroma is a blend of the coconut, cream and a distinct aroma note of black tea that makes me think of an Assam or Darjeeling black tea. Taste wise, Cereal Milk didn't disappoint! There's a creaminess that I was expecting that reminds me of the milk part of what's left behind when the cereal is gone from the bowl, but then there's also light floral notes, coconut, a bit of fruity notes that perhaps come from the black tea, and then also hints of vanilla which I'm still trying to figure out where it's from (the black tea base? the cream flavouring? my brain conjuring up flavours that only exist in my mind?). It has a beautiful mouthfeel to it, it sort of all encompasses the mouth and it has just the right amount of sweetness that definitely makes me think of (sugary kid's) cereal.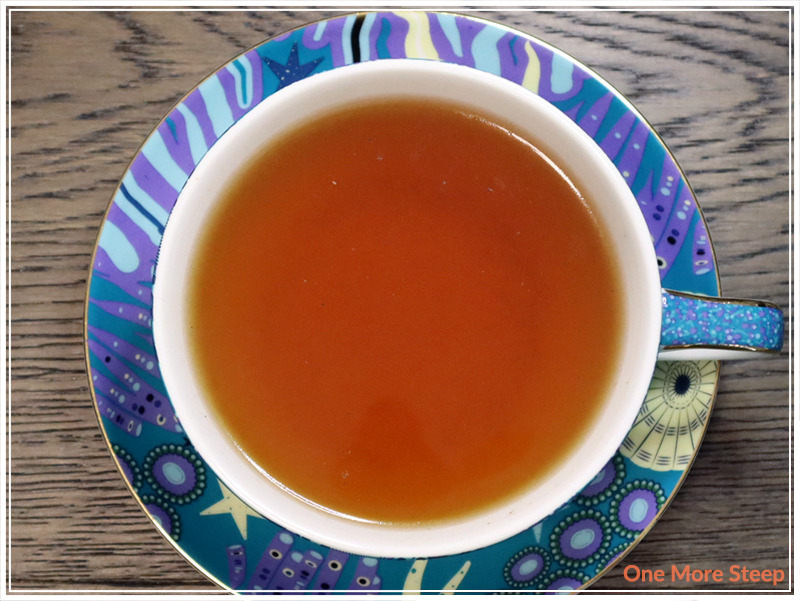 A Second Cup?
I attempted to resteep Cereal Milk, but found that a lot of the supporting flavours that invoke the idea of the leftover milk from a bowl of cereal to be missing. I would recommend Cereal Milk for just the first steep.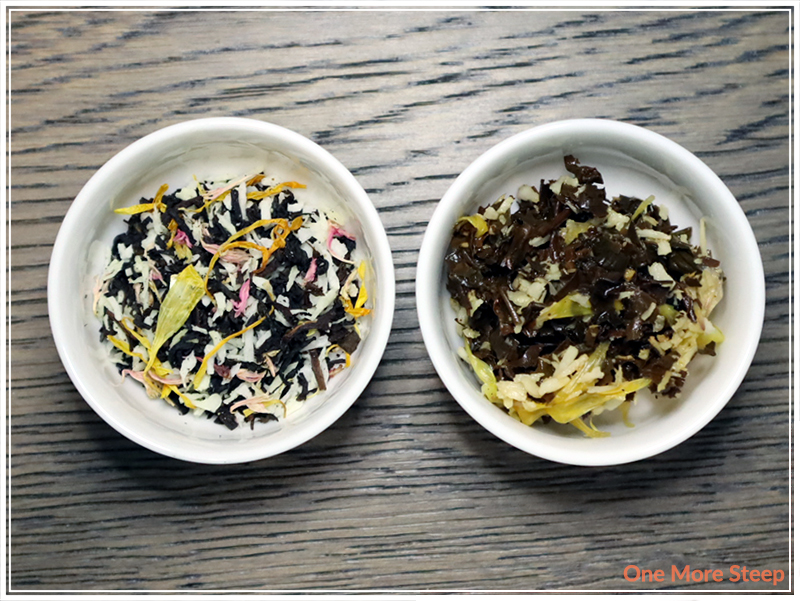 My Overall Impression

I loved Dessert by Deb's Cereal Milk. As far as the nostalgia factor, Cereal Milk does not disappoint and somehow tastes like the milk leftover from a bowl of sugary sweet kids cereal – aside from the fact that I had this hot instead of cold. The flavour is on-point in my opinion, especially with the cream flavouring to really put yourself in the mindset that this is cereal milk. I will have to try this as a tea latte, as I think it would do really well and I would likely add just a little bit of sweetener to really make it that sugary sweet cereal milk that I loved as a kid. I'm still not quite sure where I'm finding that vanilla note from, although my best guess would be from the cream flavouring – but I like it!
Curious about the cup rating system? Click here to learn more.