Blood Orange Earl Grey by DavidsTea
Black Tea / Flavoured
$9.98 for 50g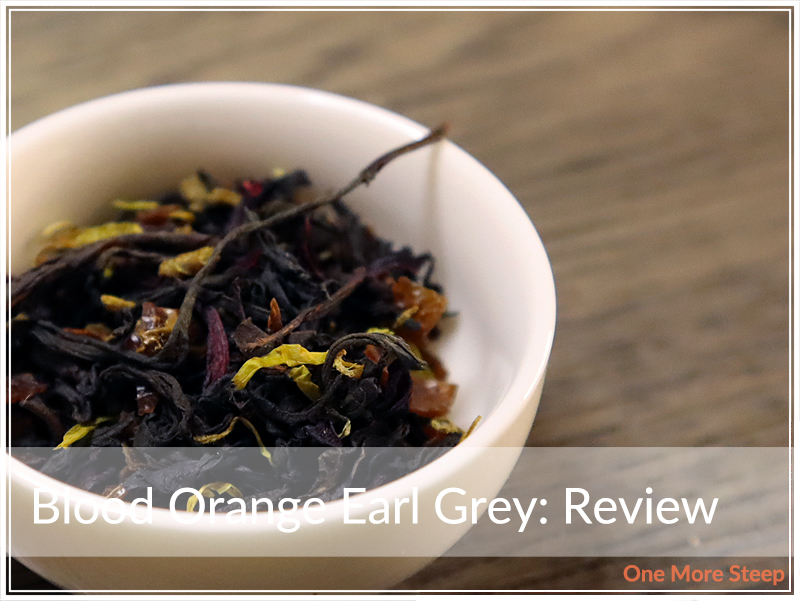 First Impressions
Coming in a sealed, resealable silver pouch, Blood Orange Earl Grey comes in familiar packaging. The label is a navy blue with teal print, and the finer print is (like I've said a few times before) small. The tea caught my interest because I'm a fan of Earl Grey and I like trying blends inspired by Earl Grey, so when I spy a blend called Blood Orange Earl Grey, I'm going to try it.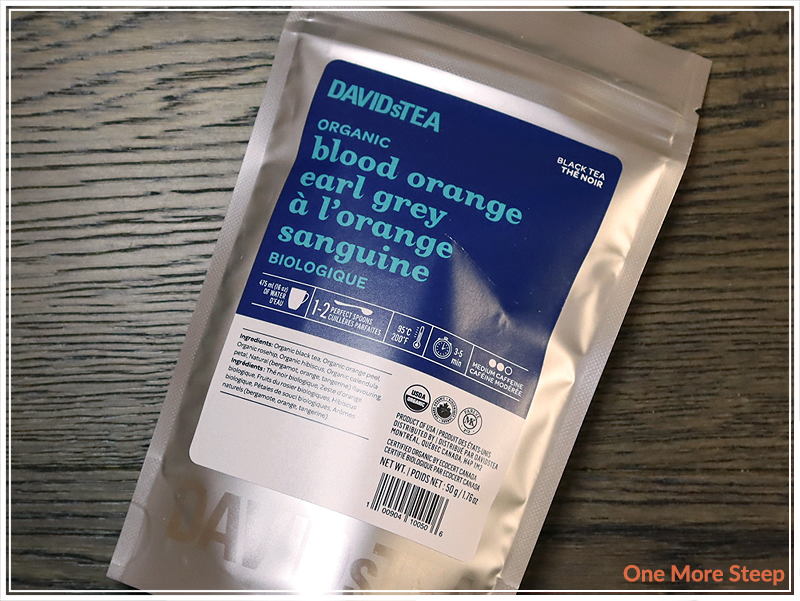 The aroma of Blood Orange Earl Grey is a very bright citrus aroma – it's inviting with the fruity fragrance. Blood Orange Earl Grey contains: black tea, orange peel, rosehip, hibiscus, calendula petals, and natural flavouring. The ingredients are organic, hence the labelling on the packaging and the USDA symbol.  I don't really smell a heavy floral fragrance, but I think it's because the orange peel and natural flavouring is just a stronger aroma in comparison. I also didn't spy a lot of hibiscus in my bag, even after giving it a shake to redistribute the ingredients.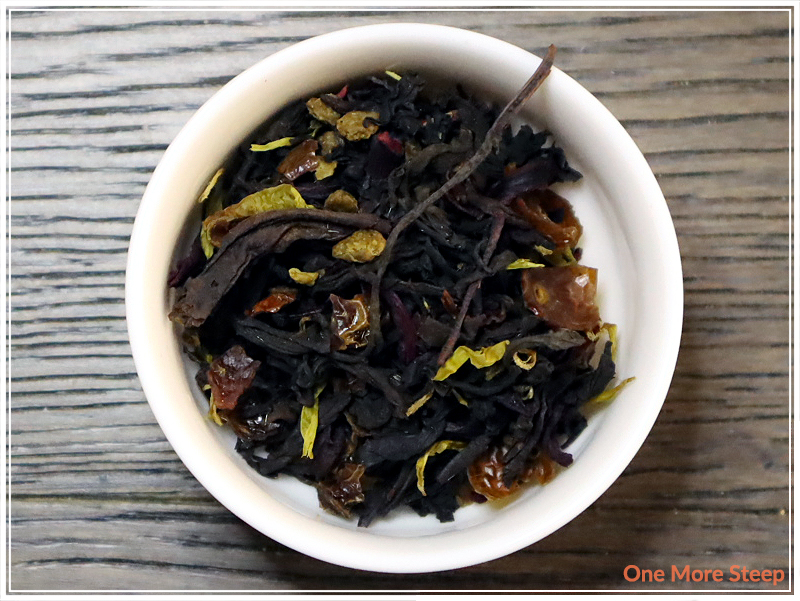 Preparation
DavidsTea recommends steeping Blood Orange Earl Grey in 95°C (200°F) water for 3 to 5 minutes. I opted to do an initial steep of Blood Orange Earl Grey for in 95°C water for 4 minutes.
First Taste
Blood Orange Earl Grey steeps to a bright yellow, with a citrus aroma to match. The tea is lightly floral, with a bright citrus flavour. There's a bit of astringency at tail end of each sip, which I contribute to the black tea base. I found there wasn't much of a sweetness to the tea. I did try adding some sweetener (organic agave syrup) and I found that helped to temper the astringency, and adding a touch of evaporated milk made it more palatable. With most teas, having acidic ingredients (e.g. lemon, orange, hibiscus) does tend to curdle dairy products, but I found that evaporated milk held up (please note, there wasn't a lot of visible hibiscus in my pouch of Blood Orange Earl Grey).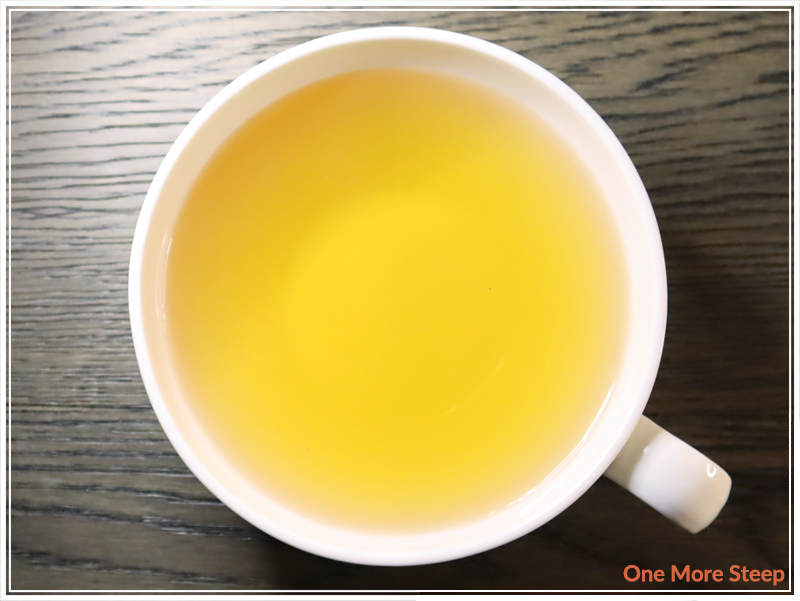 A Second Cup?
I attempted a second steep of Blood Orange Earl Grey and found that it was bland in comparison to the initial steep. I didn't get a lot of citrus notes, and found it was primarily malty with an astringent notes from the black tea base.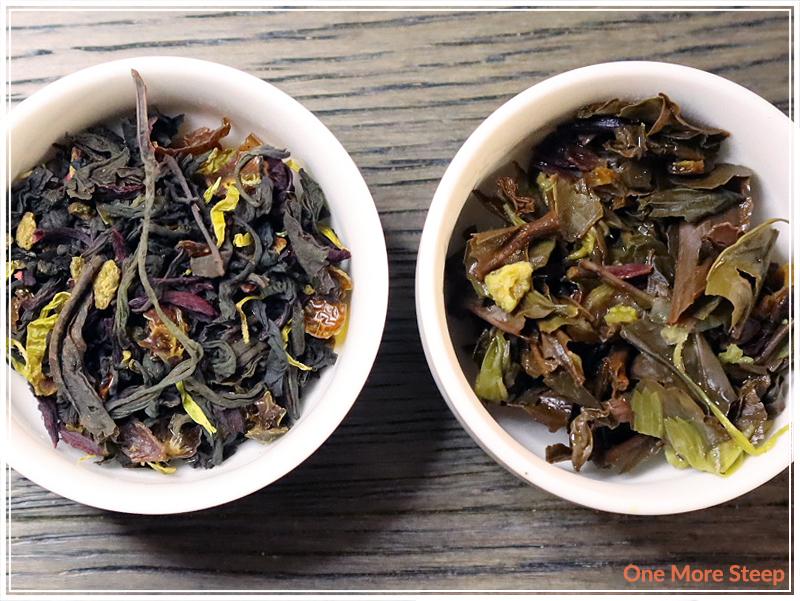 My Overall Impression

I liked DavidsTea's Blood Orange Earl Grey. I liked the citrus notes in this Earl Grey inspired blend, and found that it did well with being doctored up with some sweetener and milk. The astringency was the part that made me not enjoy it as much; but those that don't mind astringency in their black tea blends would probably enjoy it.
Curious about the cup rating system? Click here to learn more.