Matcha Key Lime Pie by Dessert by Deb
Green Tea (Matcha) / Flavoured
$6.50 for 25g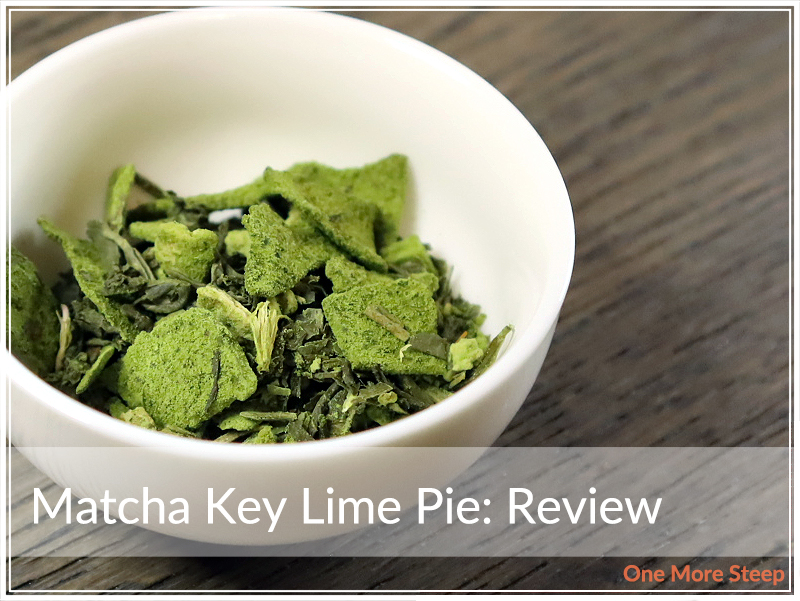 First Impressions
When I spotted Matcha Key Lime Pie in my bimonthly subscription box from Dessert by Deb, I was intrigued. I mean – key lime pie? Hello, that's a delicious dessert any day of the week.  Mix in some matcha and it's a good day all around! I really do hope that there's a matcha key lime pie that exists out there in the real world, because I would dig into that for sure. This Matcha Key Lime Pie comes in a metallic pink pouch with a polka dotted label. Matcha Key Lime Pie is from Dessert by Deb's Japanese & Asian Patisserie collection.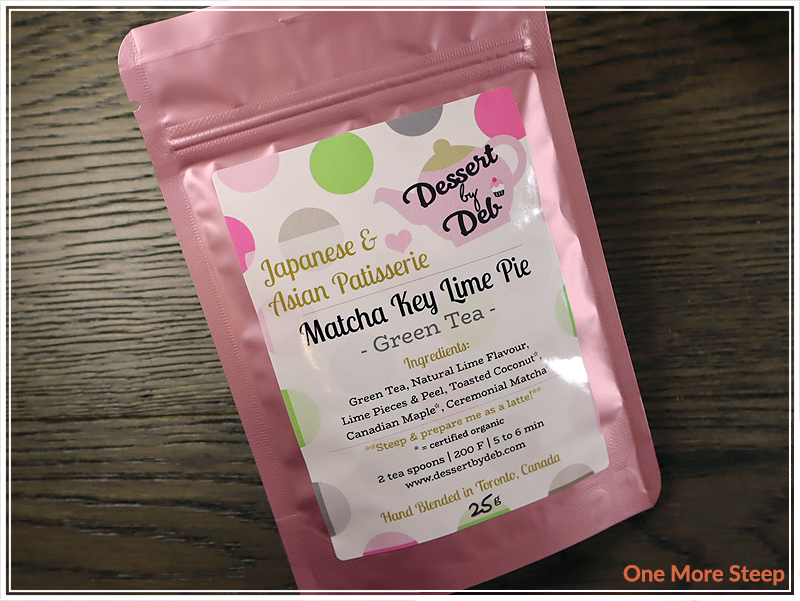 The aroma from the dry leaf is a strong lime aroma that does make me think of key lime pie. I don't really smell the matcha or the coconut, but lime is such a strong citrus fruit, that it really does make for a strong flavour profile. Matcha Key Lime Pie consists of: green tea, natural lime flavour, lime pieces & peel, toasted coconut, Canadian maple, and ceremonial matcha – where the coconut, maple, and matcha are all certified organic ingredients.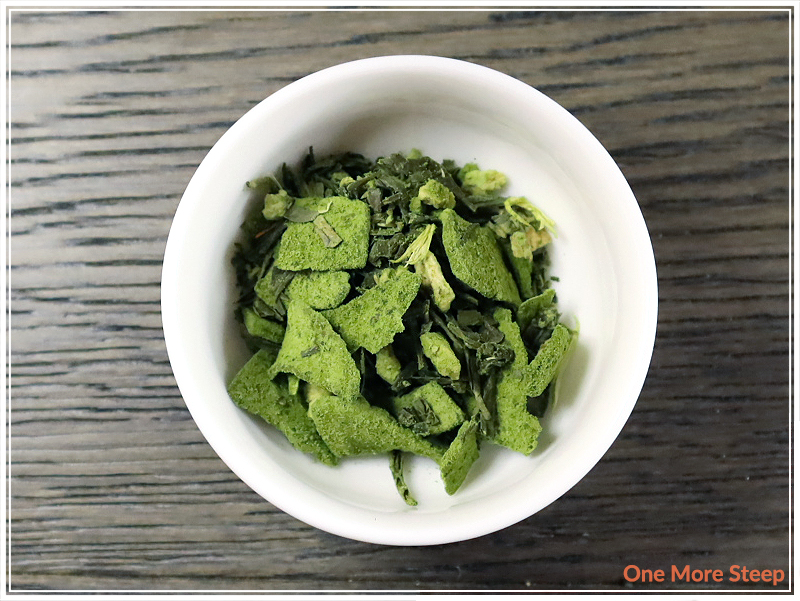 The matcha powder dusts over all of the other ingredients quite easily. The appearance of all of the ingredients is a similar bright spring green that is the matcha. It is beautiful though, and has a great lime aroma to it.
Preparation
Dessert by Deb recommends preparing Matcha Key Lime Pie in 200°F (93°C) water for 5 to 6 minutes, and also recommended to prepare it as a latte. I opted to prepare Matcha Key Lime Pie straight up with an initial steep of 5 minutes, with the plan to have Matcha Key Lime Pie as a latte later.
First Taste
Matcha Key Lime Pie steeps to a bright spring green, with a strong lime aroma. The flavour of the tea is tart – much like a key lime pie. There's a good amount of lime flavour, with touches of umami throughout. There's something about the lime that just sort of coats everything – the flavour of it just permeates the whole sip of tea and definitely over powers the coconut, since I don't taste it. And I also find that the tartness of lime also takes over any sweetness from the maple that might have otherwise been in my cup of tea.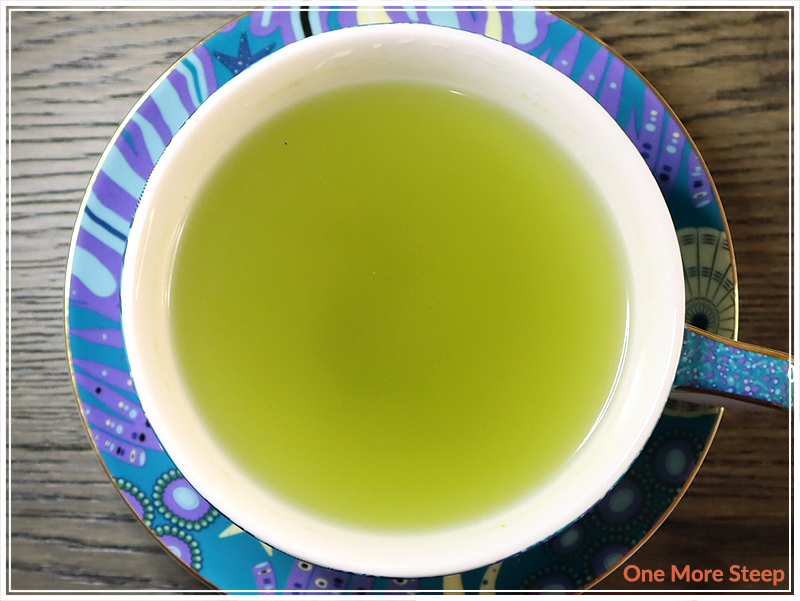 A Second Cup?
Attempting to resteep Matcha Key Lime Pie resulted in a sad cup of tea that was sorely lacking in the lime flavour, so I would recommend just one steep with these leaves.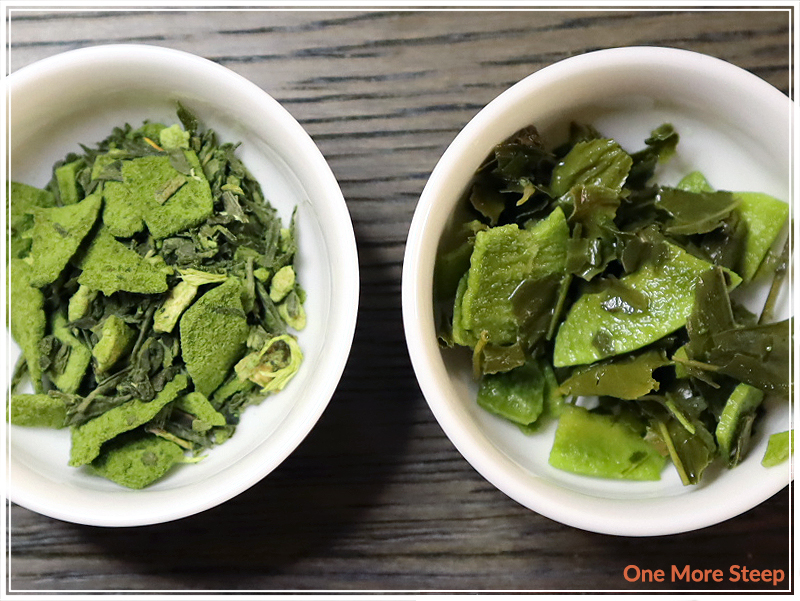 My Overall Impression

I loved Dessert by Deb's Matcha Key Lime Pie. I really enjoyed the tartness and strength of the lime flavour in this green tea blend – I do wish that the coconut and maple shone through more, but I still found that it reminded me a lot of key lime pie so I wasn't put off by it. I do wish that there was more sweetness in my cup, so I would definitely add some sweetener to it to make it even more of a liquid dessert. Still delicious though, and I think it's certainly a unique blend because I've never had anything like it.
Curious about the cup rating system? Click here to learn more.