Peach Crumble Cake by Dessert by Deb
Black Tea & Rooibos / Flavoured
$6.50 for 25g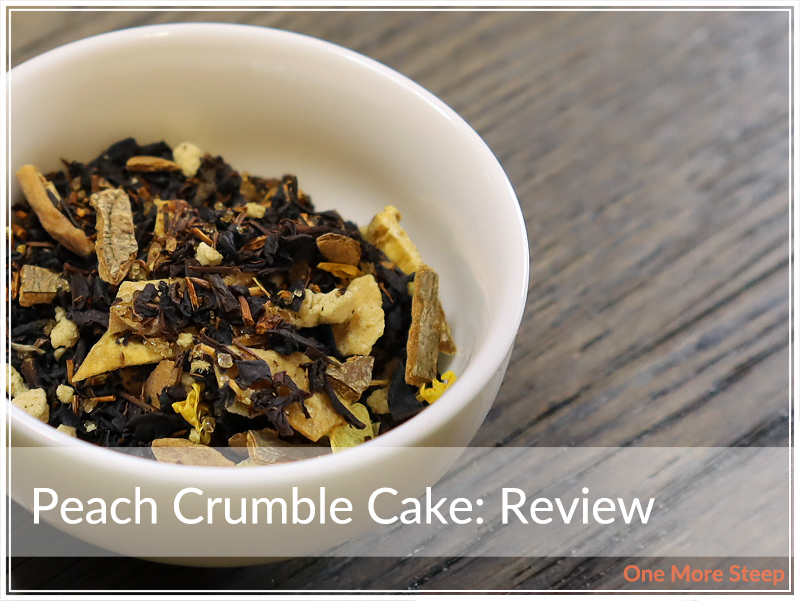 Peach Crumble Cake came as part of the bimonthly subscription box from Dessert by Deb.
First Impressions
Opening my bimonthly subscription box from Dessert by Deb and finding a shiny gold pouch with a tea called Peach Crumble Cake sets a certain level of expectation in my mind. Peaches, cake, baked goods. The packaging itself is a shiny metallic gold in a resealable pouch, with a clear window across the front where you can see the dry leaf of this organic tea sample.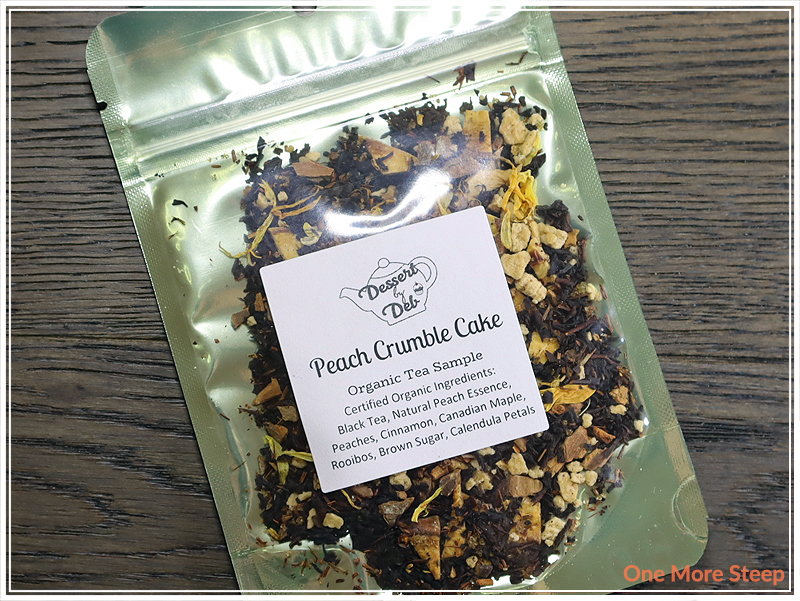 The Peach Crumble Cake tea looks beautiful, and has a strong peach aroma to the point that I don't really smell the rest of the ingredients. I do smell hints of rooibos in the background, but the peach lies in the foreground. Peach Crumble Cake consists of certified organic: black tea, natural peach essence, peaches, cinnamon, Canadian maple, rooibos, brown sugar, and calendula petals. It certainly makes for a beautiful tea with the pops of bright yellow throughout.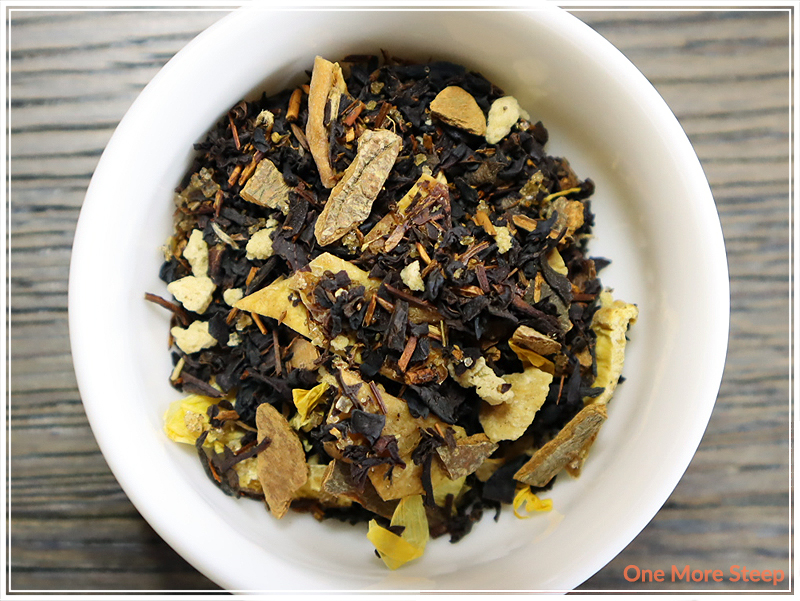 Preparation
Dessert by Deb recommends steeping Peach Crumble Cake in 212°F (100°C) water for 4 to 6 minutes.
First Taste
Peach Crumble Cake steeps to a deep golden orange. I did use a stainless steel infuser basket, and some little bits got through the fine holes (so use a fillable tea infusing bag if you wish to avoid that). There's a strong peach aroma to it, with hints of cinnamon and rooibos in the background. The tea has a thickened mouthfeel to it, with the flavours of peach, cinnamon, and rooibos. I don't get a lot of the black tea blend, and wish that the sugar was stronger in it – I definitely would have appreciated a stronger brown sugar and maple flavour in the profile over the rooibos in the blend (then again, full disclaimer: I am not a fan of rooibos). I do love the level of peach in this, because it does make for a nice blend that I wasn't expecting.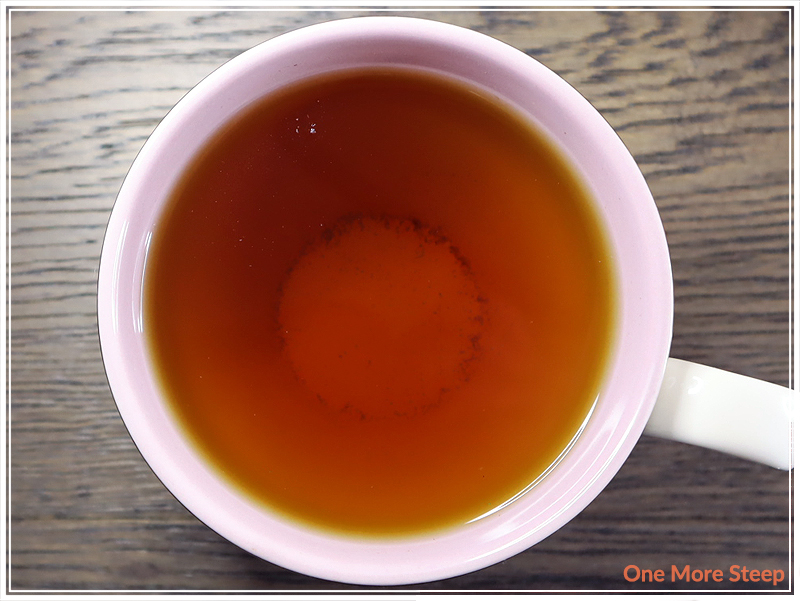 A Second Cup?
I attempted to resteep Peach Crumble Cake and found that the tea was more black tea (with some astringent notes) and rooibos (medicinal) notes than peach. I would recommend Peach Crumble Cake for the initial steep, especially if you prefer that peach flavour over rooibos.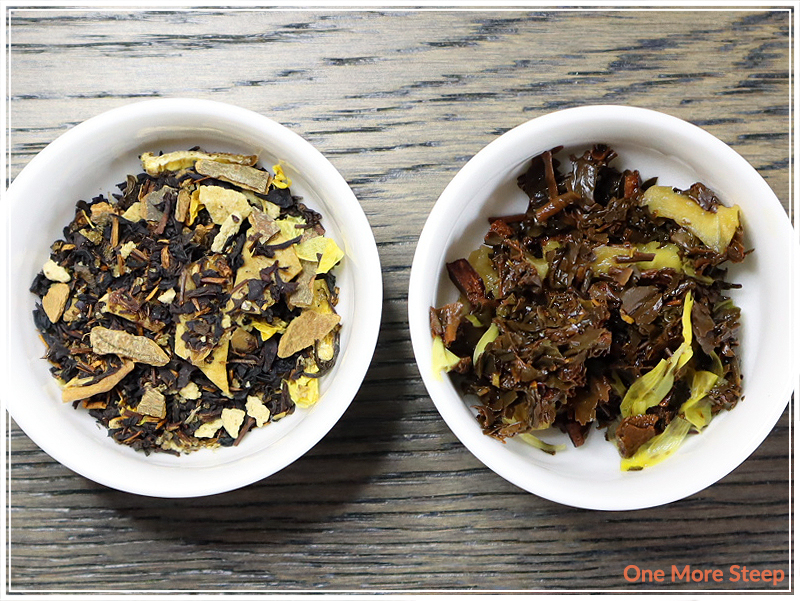 My Overall Impression

I liked Dessert by Deb's Peach Crumble Cake. It has a great initial steep with the strong peach flavour, and I think adding some brown sugar, maple syrup and vanilla extract would make for a nice cup of tea by adding a larger punch of flavour to make it taste more like it came out of a bakery. Turning Peach Crumble Cake into a tea latte would certainly up the delightfulness of the tea; but I'm not a fan of the rooibos (unfortunately).
Curious about the cup rating system? Click here to learn more.