Blueberry Almond Streusel by Dessert by Deb
Black Tea / Flavoured
$6.50 for 25g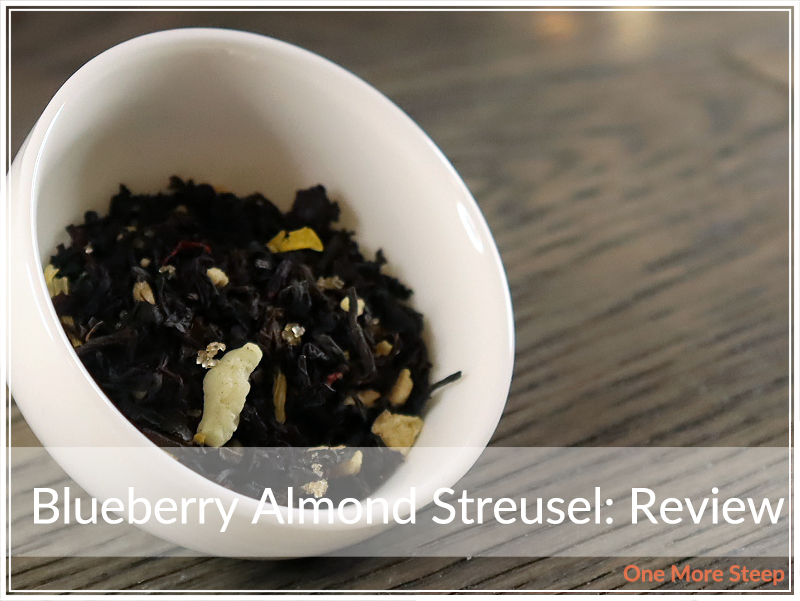 Blueberry Almond Streusel came to me as part of the bimonthly subscription box from Dessert by Deb.
First Impressions
When I think of a streusel, the first thing I think of is a mixed berry streusel topping on top of these huge muffins that I recall from a little bakery that I grew up walking to near the house that I grew up. Back then, the muffins were as big as my head. I'm sure if I went there now, the muffins would not seem nearly as big now – perhaps it's my fanciful memories of the past. But when I think of the words "blueberry almond streusel" – I imagine toasted almond slices and juicy blueberries.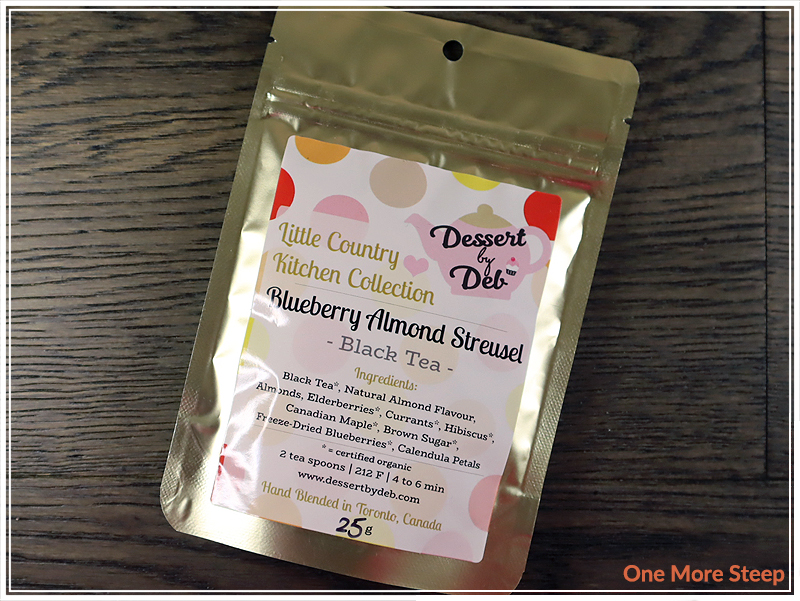 Blueberry Almond Streusel came to me as part of the bimonthly subscription I had with Dessert by Deb, and is part of the Little Country Kitchen Collection. The gold pouch came sealed and resealable, with a polka dot label across the front. The aroma of the tea is very fruity, sweet, and lightly floral.
Blueberry Almond Streusel consists of: black tea, natural almond flavour, almonds, elderberries, currants, hibiscus, Canadian maple, brown sugar, freeze-dried blueberries, and calendula petals. It's quite a beautiful blend, especially with the sparkles from the sugar, and colours of the hibiscus and petals.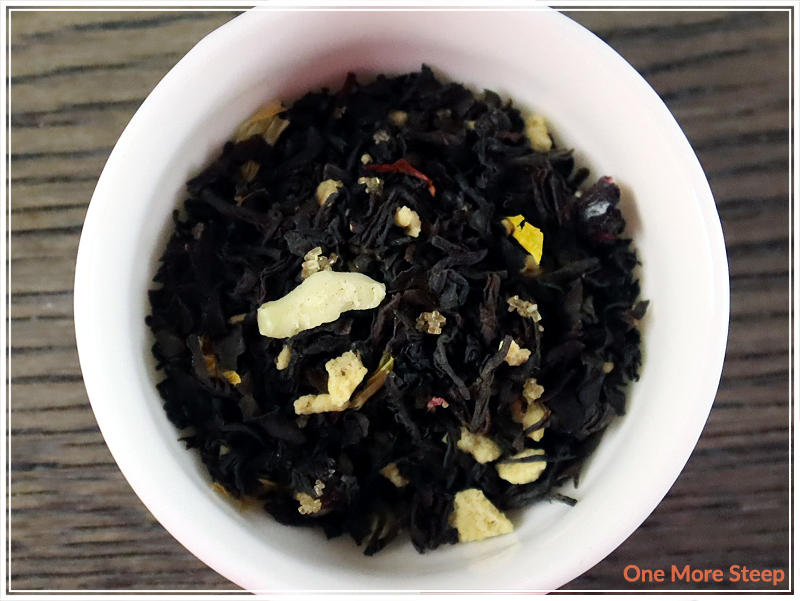 Preparation
Dessert by Deb recommended steeping Blueberry Almond Streusel in 212°F (100°C) water for 4 to 6 minutes. I opted to do an initial steep for 5 minutes.
First Taste
Blueberry Almond Streusel steeps to a clear brown. The aroma is noticeably fruity and sweet. I found the flavour of Blueberry Almond Streusel to be fruity, with a good amount of sweetness, and just a touch of almonds. I found it to remind me of pastries really well! Blueberry Almond Streusel had a thicken mouthfeel to it, and the flavour really coats the tongue.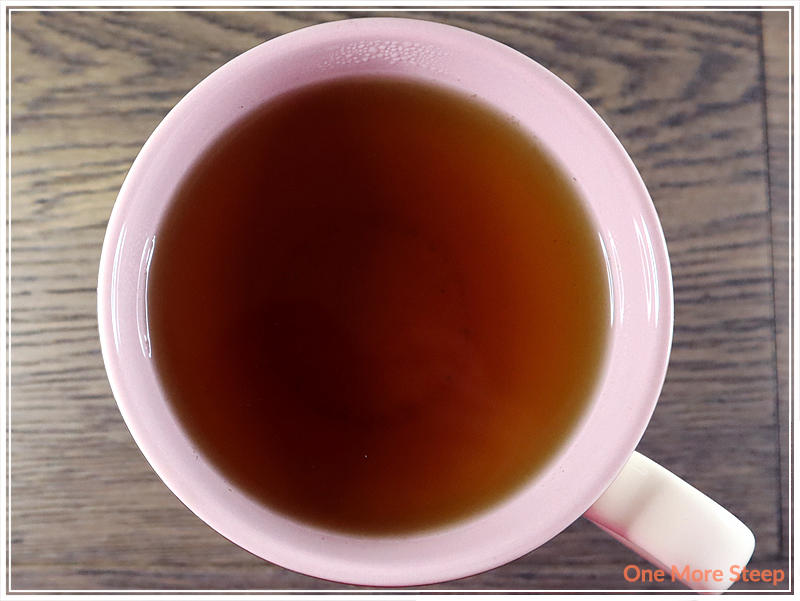 A Second Cup?
I attempted to resteep Blueberry Almond Streusel, but found that the first steep to be immensely better than the resteeps. I wasn't surprised though, because non-tea ingredients don't tend to resteep well.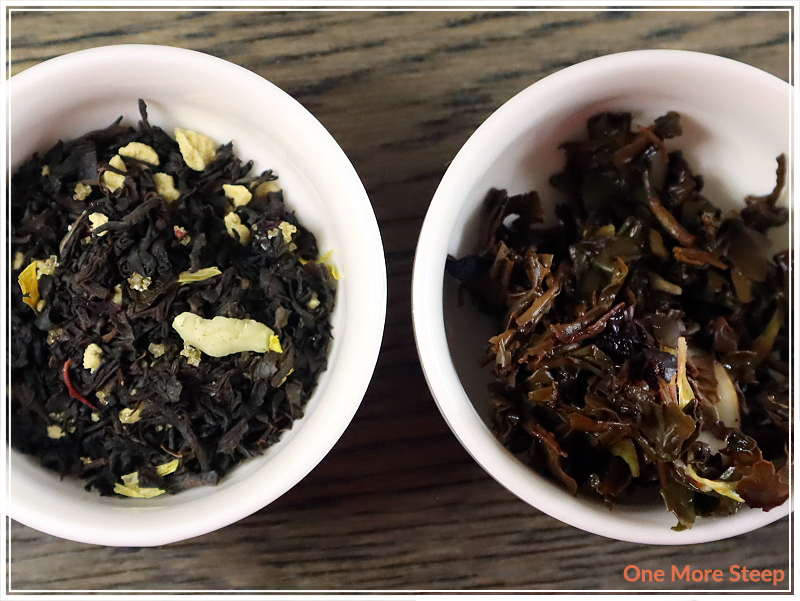 My Overall Impression

I liked Dessert by Deb's Blueberry Almond Streusel. Blueberry Almond Streusel has a beautiful flavour – with the almonds, blueberries, and sweetness from the brown sugar. The one thing that I think would really make me think of a streusel (and more pastries!) would be the addition of vanilla, cream or evaporated milk. I would want to sip this with an actual blueberry almond streusel, I think it would just be fitting.
Curious about the cup rating system? Click here to learn more.