Chocolate Mint by Tealish
Rooibos / Flavoured
$9.50 for 50g
Tealish's Chocolate Mint came to me as part of The Sugared Teacup's December themed subscription box.
First Impressions
I did not know that Chocolate Mint was a rooibos blend at first, the packaging for this sample packet was lacking information regarding the ingredients as well as steeping instructions. Chocolate Mint does come in a sealed, and resealable, white foil pouch. It's described as an herbal tea/tisane, and I found it under "Rooibos Tea" on the Tealish website when I went hunting for information. Of course, as soon as I opened the bag I could see that it was a rooibos blend.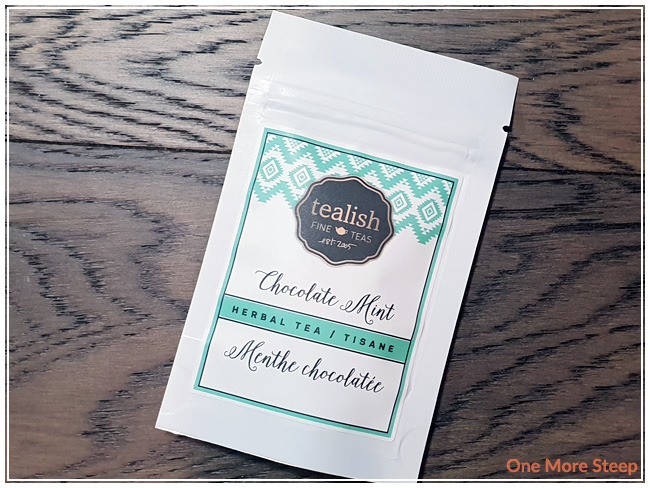 Chocolate Mint is an excellent name for this blend, it does smell like chocolate and mint. I reminds me a lot of my dad, actually, since he loves all things chocolate mint and he always gets a lot of chocolate mint goodies around the holidays. Surprisingly, I cannot really smell the rooibos base – which is a pleasant surprise since I don't really like rooibos… at all. Chocolate Mint consists of: rooibos, apple pieces, peppermint leaves, cacao nibs, natural flavouring, and orange peel.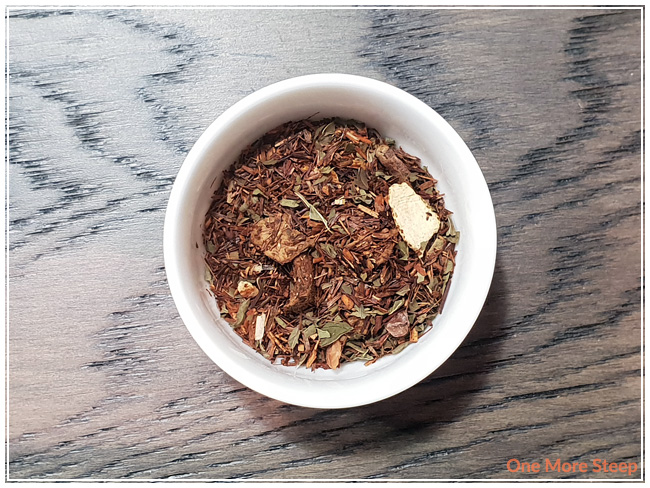 Preparation
Tealish recommends steeping Chocolate Mint in boiling (100°C/212°F) water for 4 to 6 minutes. I opted to do an initial steep of Chocolate Mint for 5 minutes.
First Taste
Chocolate Mint steeps to a very bright orange colour. It has a fairly strong chocolate mint aroma to the tisane, although I can make out the rooibos base in the background although it is very mild compared to the chocolate mint goodness. Taste wise, I found that the chocolate mint flavour wasn't strong enough to hide or overcome the rooibos base. I'm not a fan of the medicinal flavour of rooibos, and that is unfortunately present in Chocolate Mint. I can taste chocolate notes and minty notes, but it's just not strong enough to cover up the rooibos for me. If you're a fan of rooibos though, you might like it!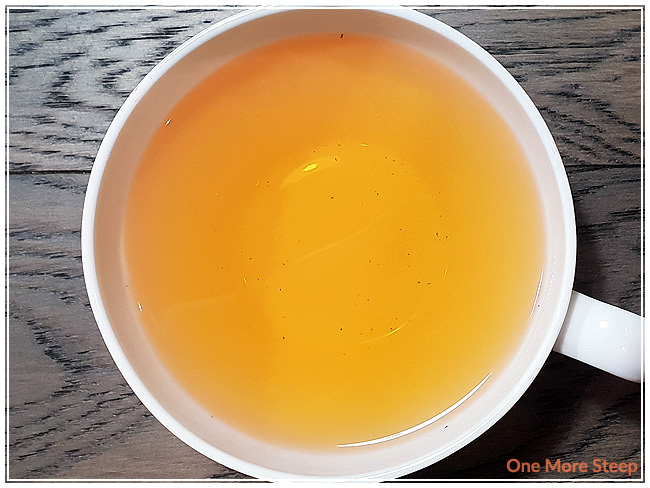 A Second Cup?
I attempted to resteep Chocolate Mint once. I found that the flavour of the rooibos was the only thing I found in my cup, I couldn't taste the chocolate mint notes at all.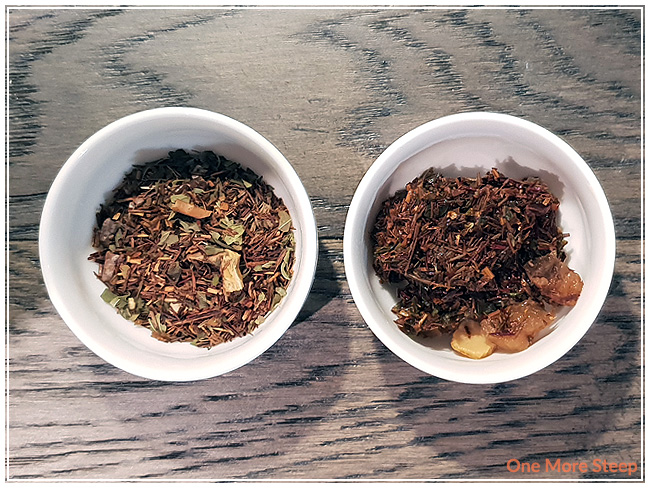 My Overall Impression

I thought that Tealish's Chocolate Mint was just okay. I think if I was a fan of rooibos, I would scored this tisane a lot higher. I found that the aroma of mint and chocolate in the dry leaf was excellent and very close to the 'real deal'. I was pretty underwhelmed by the initial steep because I was really hoping for the chocolate mint flavours to be a lot stronger to overcome the rooibos base in Chocolate Mint. That said, the rooibos base does stand out and if you're a fan of rooibos you'll probably really enjoy this tisane. Because of my lack of love for rooibos (and most rooibos blends aren't really well-loved by me…), I'm just not a fan. If you love the flavours of chocolate and mint together and you're a rooibos drinker, I think you'll really like Chocolate Mint!
Curious about the cup rating system? Click here to learn more.