Candy Cane Crush by DavidsTea
Black Tea / Flavoured
$7.98 for 50g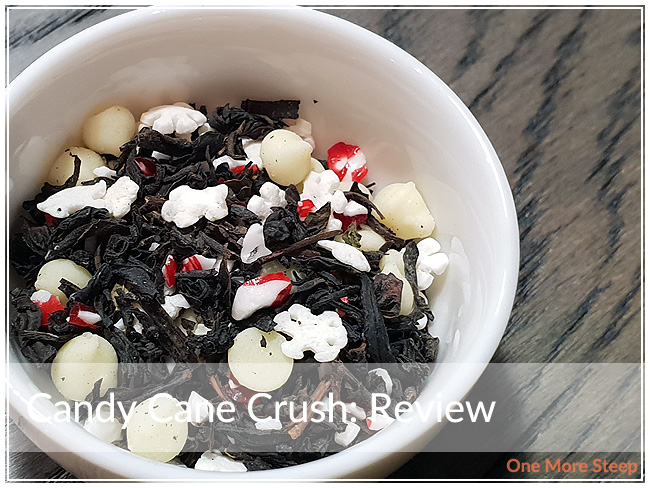 First Impressions
Candy Cane Crush is one of those teas that DavidsTea fans always seem to pit against Santa's Secret – which, to be fair, they're both kind of similar. Black tea blends, heavy peppermint influence, fun shaped sprinkles. While it may seem like it's CCC vs. SS every December, I am solidly a fan of both – although I fell in love with Santa's Secret first. Candy Cane Crush was purchased at a local retail location, and it came in a resealable foil pouch. The aroma of this tea is primarily that of peppermint and chocolate – basically everything I love about the holidays in a tea (especially the peppermint!).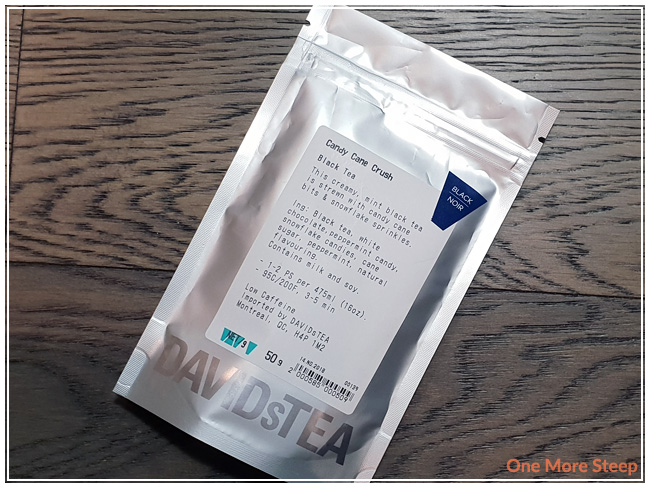 Candy Cane Crush consists of: black tea, white chocolate chips, peppermint candy, snowflake candies, cane sugar, peppermint, natural flavouring. For those who need to know, this black tea blend consists of milk and soy – likely found in the white chocolate chips, and possibly the candies as well.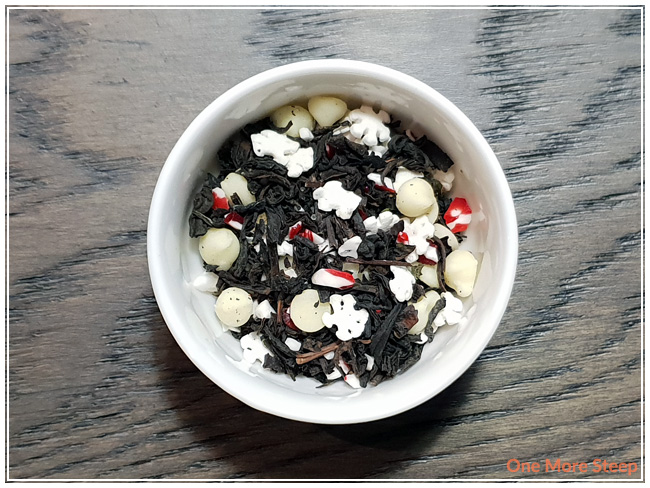 Preparation
DavidsTea recommends steeping Candy Cane Crush in 95C (200F) water for 3 to 5 minutes. I followed the water temperature suggestion, but steeped this tea for 7 minutes (which is when the white chocolate and peppermint pieces had fully dissolved, this may vary for you).
First Taste
Candy Cane Crush does not steep to an attractive colour, there is really no sugar coating it. The tea is a cloudy light brown, with visible droplets of oil floating on the surface. This is due to the oils in the white chocolate and candies – which is perfectly harmless, but it doesn't make for a very pretty cup of tea unfortunately. The aroma is pretty much all peppermint, which shouldn't be a surprise given the ingredients. The flavour is a nice balanced mix of white chocolate creaminess and the peppermint. It reminds me a lot of having a brownie with some crushed candy canes on top.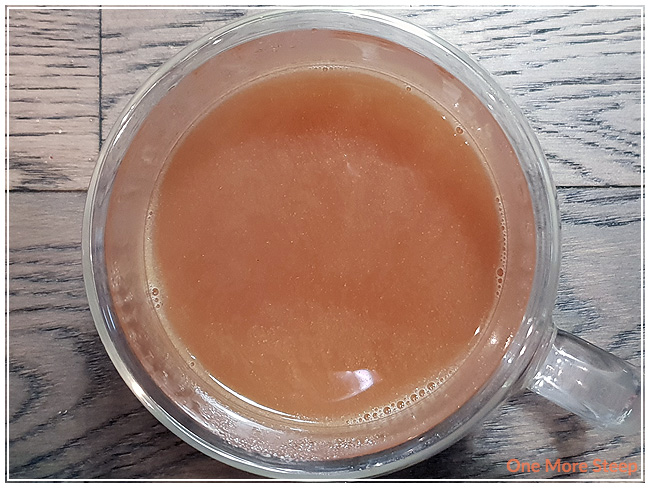 Candy Cane Crush is very pleasant (and sweet!) when had on its own, but I do make this tea into a tea latte but adding some frothed milk (via my jar frothing method). I find that Candy Cane Crush on its own is almost too sweet for me, so adding some milk to it helps to add a level of creaminess to the tea while also tempering the sweetness. I've seen this tea offered in-store as a blend with hot chocolate (which is delicious, by the way), and I think it would pair well with egg nog for an egg nog latte (just sub milk for egg nog) for an extra bit of festive kick!
A Second Cup?
Candy Cane Crush does not resteep well. If you steeped the tea fully the first time (meaning that the white chocolate, sprinkles, candy all dissolved), it really lacks in peppermint and sweetness if you attempt a resteep and it's a weak reminder of what it could be like. I would say that Candy Cane Crush is good for just one steep.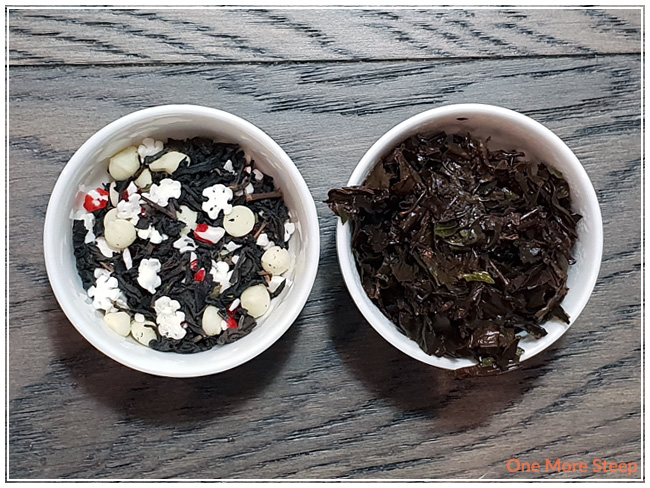 My Overall Impression

I loved DavidsTea's Candy Cane Crush. It's one of my holiday go-to black teas when I'm in the mood for some holiday cheer. I like this tea best as a tea latte, because I find it a bit too sweet plain (coming from someone with a huge sweet tooth, I think that's saying something!). It really does well as a latte, and you can really play around with different dairy products and adding some sprinkles on top. This is an incredibly festive tea, and It really helps you get into the mood for the holidays.
Curious about the cup rating system? Click here to learn more.