Le Cassis Pâtisserie
Yaletown, Vancouver, BC
High Tea – $35.00 on weekdays, $39.00 on weekends*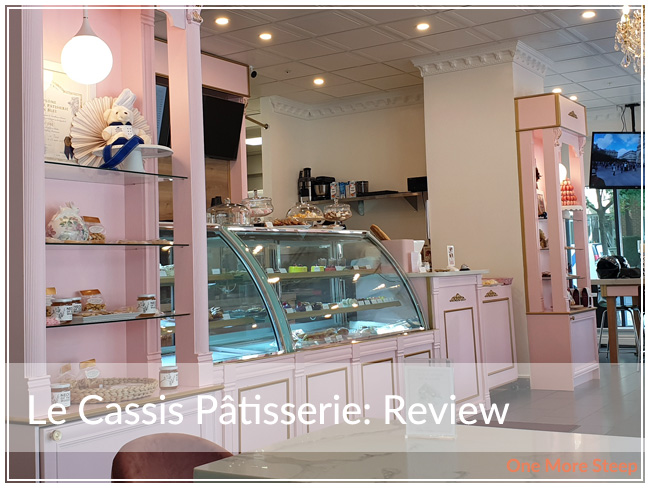 * Promotional pricing current at the time of writing.
Le Cassis Pâtisserie opened its doors in the Yaletown neighbourhood of Vancouver earlier this year (March!). The inside of the shop is just adorable with the pink and gold shelving and the chandeliers. I went with my friend Suzanne, and we were seated at a lovely marble-topped table, alongside of a bench seat that featured a long mirror over top – which just made the whole place look even larger than it was. The windows of the Pâtisserie feature macaron towers – both plainly coloured and painted with beautiful floral designs – just so darling.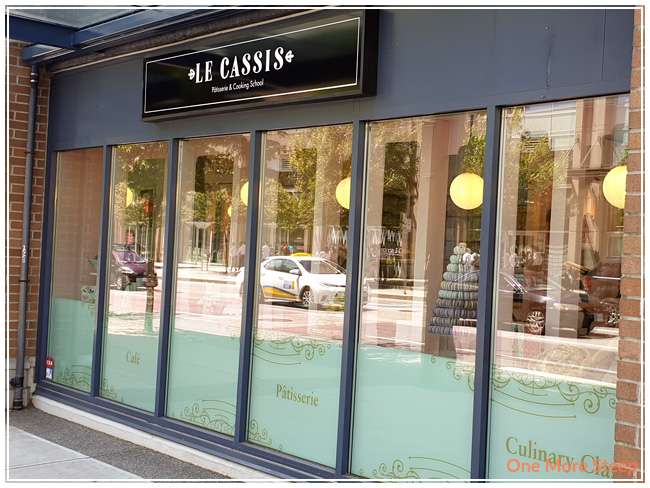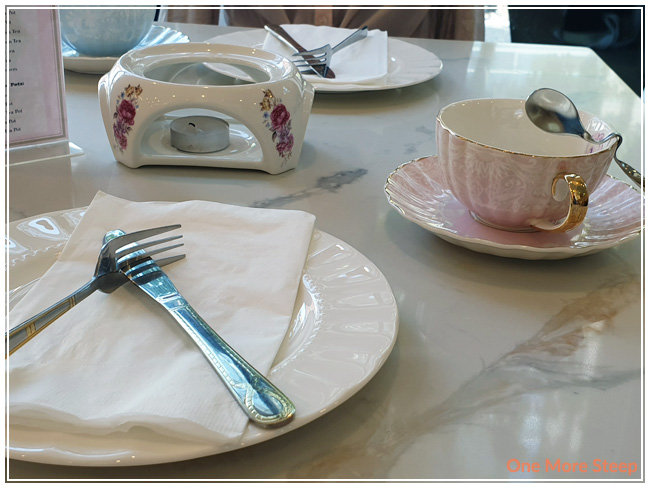 We each had a tea pot that got to sit on top of its own tea light candle. I picked the Black Jasmine Tea while my friend opted for the Rose & Saffron Tea. The tea was a nice golden orange colour, with a strong jasmine aroma and flavour that I really enjoyed.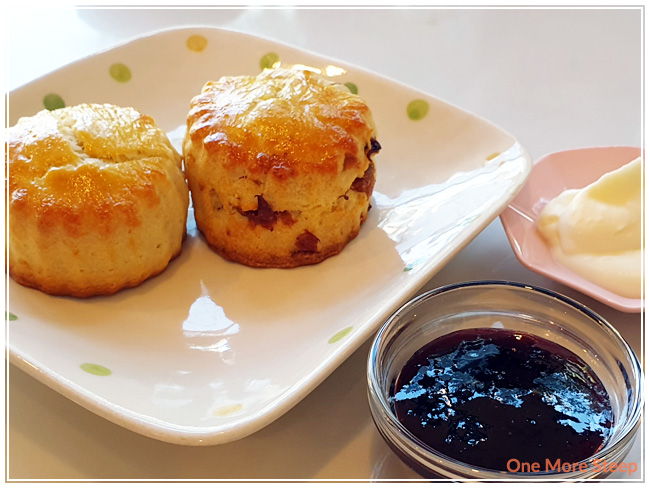 The first to arrive was the scones, which came with jam and cream that's made in-house. We got one each of the raisin and plain scone, so we opted to cut each in half to get the best of both worlds. I really enjoyed both – they came warm and tasting like they were freshly pulled from the oven. The jam was delicious, with hints of blackberry and blueberry, which was so good – especially on a warm scone!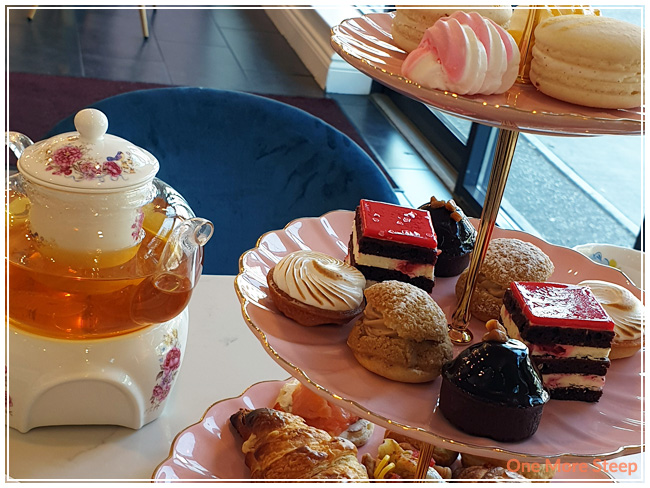 When we asked for sugar for our tea, they came out with tea tips and rock sugar on sticks! Too cute, and I definitely enjoyed stirring in the sugar a little bit too much.
The food came on three tiers – savouries on the bottom, followed by sweets and more sweets!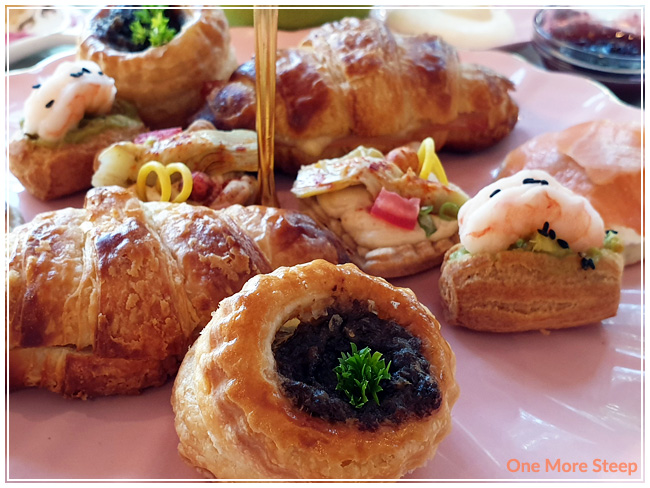 For our savouries, we had croissant sandwiches that featured turkey and melted cheese (yum!), mushroom vol au vent (puff pastry filled with creamy mushrooms), smoked salmon blinis (with cream cheese, green onions, and capers), a savoury eclair (featuring guacamole and shrimp in a choux pastry), and the savoury tart (hummus and artichoke). My favorite was definitely the mushroom vol au vent, there was just something really decadent about the mushrooms surrounded by flakey layers of puff pastry. A close runner up would be the savoury eclair – my previous eclair experiences have all been sweet so the guacamole and shrimp was a different experience for me and it was oh-so-good.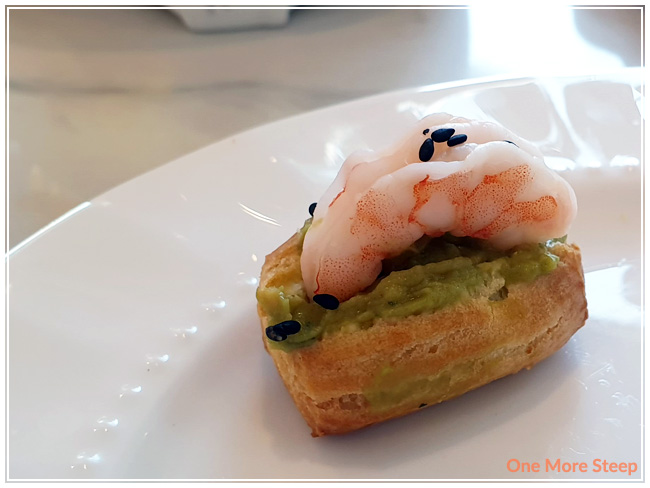 Savoury eclair with guacamole and shrimp.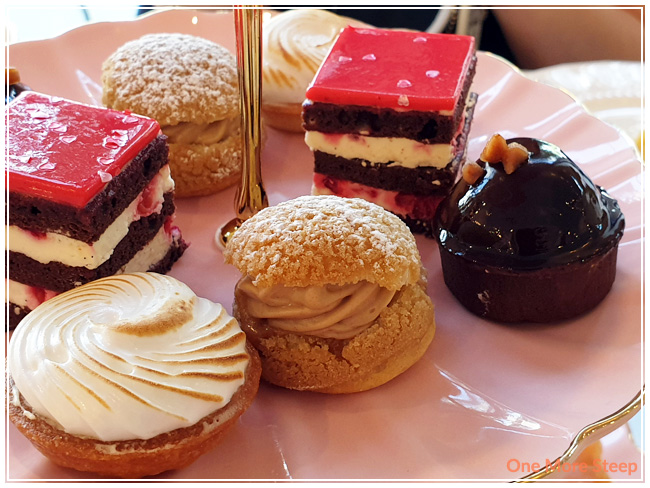 The second tier was full of sweets – always a crowd-pleaser, I'm sure. We had a lemon meringue tart, Paris-Brest (choux pastry with hazelnut praline cream), chocolate tart (filled with chocolate mousse!), and a beautiful layer cake (vanilla mousseline cream, raspberry and chocolate sponge – and tiny heart decorations on top). I'm pretty sure I just fell in love with everything on this tier. I really loved that the lemon meringue tart had the right level of sweetness to lemon tartness, and I was really impressed with the chocolate tart because the mousse inside was so light and airy. Despite the fact that I expected a lot of the pastries to be heavy, rich and decadent – they were light, flavourful, and decadent.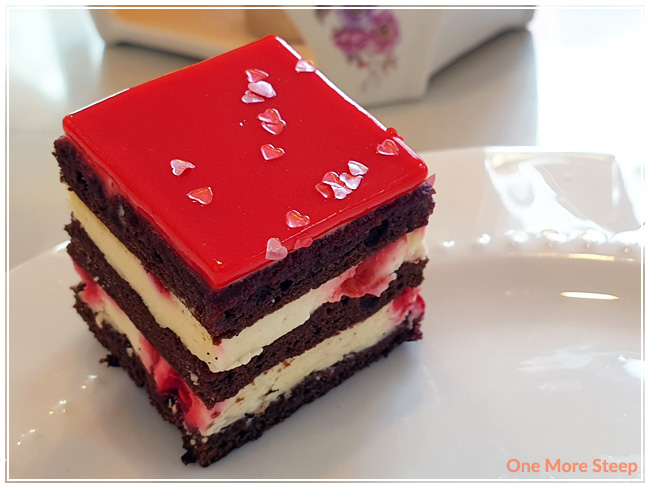 Layer cake with vanilla mousseline cream, raspberry and chocolate sponge.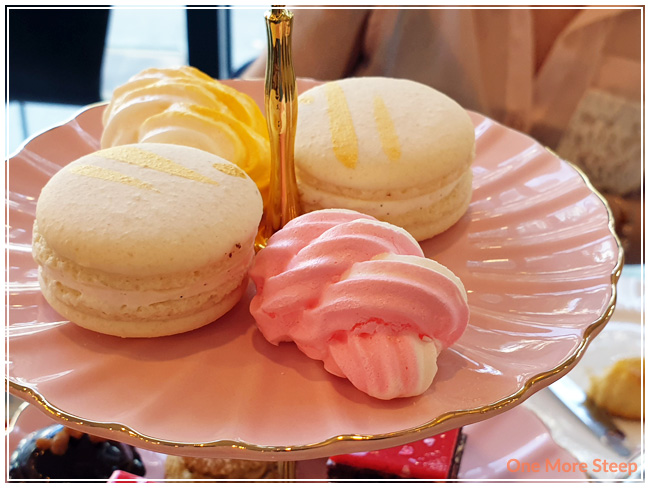 The very top layer featured vanilla macarons and meringue – the pink being rose and the yellow was lemon. The vanilla macaron had visible specks from the vanilla bean, the vanilla flavour was so rich and the macaron cookies were so light – I loved it. The meringue were both delicious – as my friend and I both wanted to try both flavours, we tried really hard to split the meringues evenly. The rose flavour came through beautifully and wasn't too perfumey for me, while the lemon flavour in the meringue reminded me a lot of the lemon meringue tart – not too much tart, and just sweet enough. My favourite from the top tier had to be the macaron (I ended up buying some macarons to go!).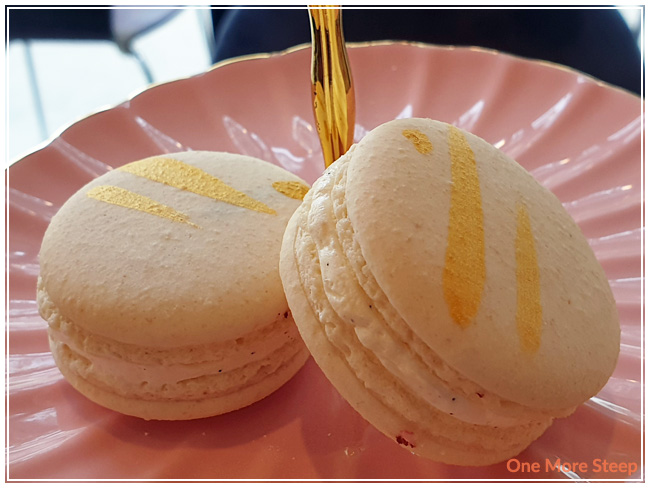 Vanilla macarons.

I greatly enjoyed the High Tea menu from Le Cassis Pâtisserie. They had a nice tea selection, beautiful set-up, and tasty food. While I'm always one for the sweets, I couldn't help but be impressed by the savouries as well. The flavour combinations that the chef put together was nothing short of delicious and I had a really lovely time trying all the food. The service was impeccable, and I had a wonderful time experiencing the High Tea here. And the macarons that I bought to eat at home? Also delicious!