Everyday by Whisk Premium Matcha
Green Tea (Matcha) / Straight
$25.00 for 30g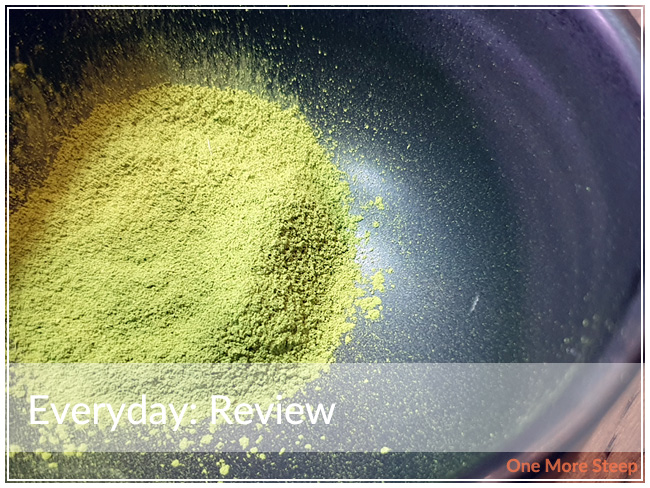 First Impressions
Everyday was a purchase from the Vancouver Tea Festival, and I somehow haven't talked about it yet (!). It was the matcha that was 'on tap' at their table for samples, and I loved it so much that I ended up buying a bag to take home. And honestly, at that point the idea of whisking it up at home gave me a sense of anxiety because it's a) not an inexpensive matcha, and b) what did I know about whisking matcha anyways? Nevertheless, I've gained some whisking experience since then and here we are.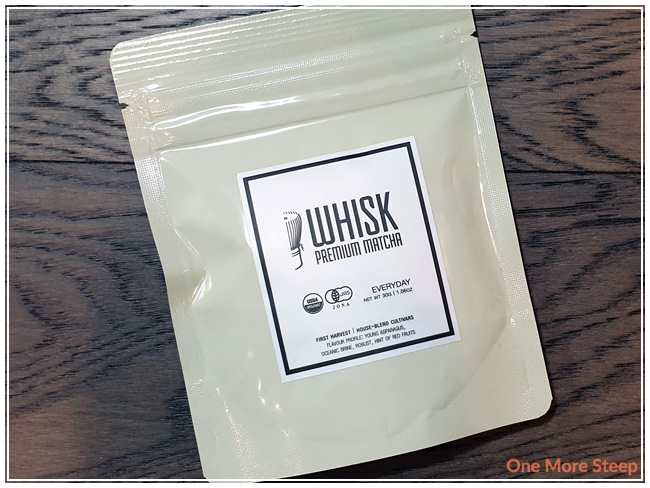 Everyday is a first harvest matcha, it comes in a sealed, resealable pouch with some information on the front and the back of the packaging. Everyday is described as being a first harvest matcha that comes from family-run tea farms in Uji, Kyoto, Japan. This is a 100% pure organic matcha. The powder itself is a nice bright, spring green colour. I find it has a bit of a light grassy aroma to it.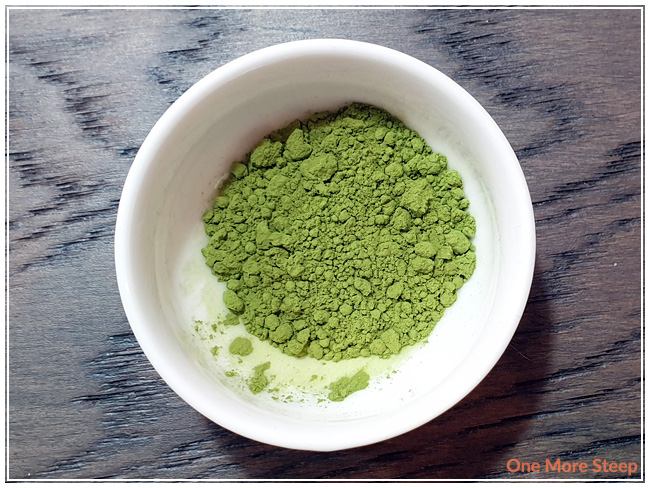 Preparation
If you need any matcha preparation tips, Whisk Premium Matcha provides information on their website that I find to be highly informative. (I also go through it a bit on One More Steep as well, but in less technical detail.)
I sifted 2 teaspoons worth of Everyday into my matcha bowl and poured in 175°F (79°C) water. I whisked it using a bamboo whisk, using a W motion back and forth until a thin layer of bubbles frothed up on top.
First Taste
Everyday whisks up to a light green layer of bubbles, followed by a dark, almost hunter-green matcha. I found the aroma to be grassy and floral. The flavour was a pleasant mix of umami, grassy, and vegetal notes that remind me of asparagus. There is a slight bitterness to it, but I don't find it off-putting because it balances well against the other flavour notes.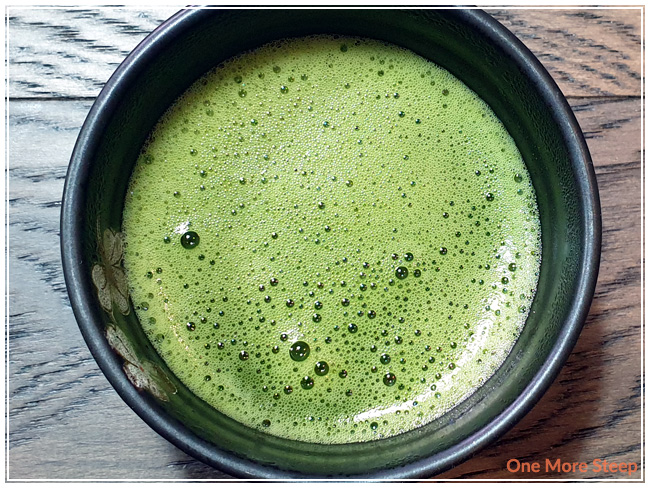 A Second Cup?
No second cups because matcha is a suspension.
My Overall Impression

I loved Whisk Premium Matcha's Everyday. I can definitely see why it's a fan favourite. Everyday has a lovely flavour profile in an affordable matcha while coming from organic farming practices that Kimmy (the owner of Whisk Premium Matcha) can trace back to specific family-run tea farms. I quite enjoy it, and I've also had this matcha both straight and mixed up in a latte (which was also delicious, and a great way to temper down the bitterness if you're not fond of that aspect of matcha).
Curious about the cup rating system? Click here to learn more.