Ladurée
Vancouver, BC
Afternoon Tea $55 each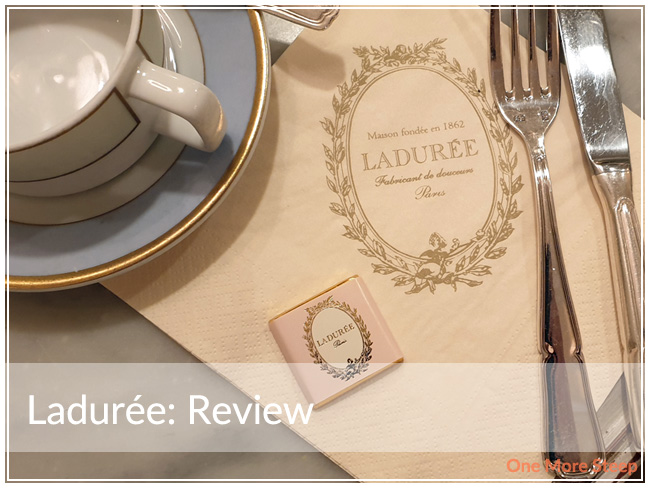 If you're ever walking down Robson Street in Vancouver, the Ladurée seems almost too whimsical to exist. With the pale green exterior, and the magical storefront windows feature macaron displays, Ladurée is a little Parisian escape in the middle of the city.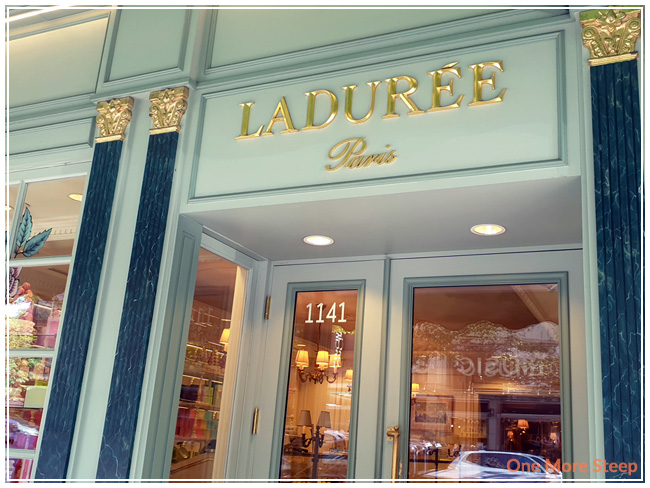 I had the pleasure of going to for Ladurée's Afternoon Tea with a friend who (thankfully!) didn't mind that I take photos of literally everywhere. The front of their Tea Salon is their shop – featuring beautiful desserts, and the back is the dining area for those wishing to take part in lunch or afternoon tea.
The chairs and tables are quaint – the seats are plush and there's a little something about the way they arrange the table settings. It makes me feel like I'm in some place special (and quiet!) compared to the hustle and bustle of downtown Vancouver.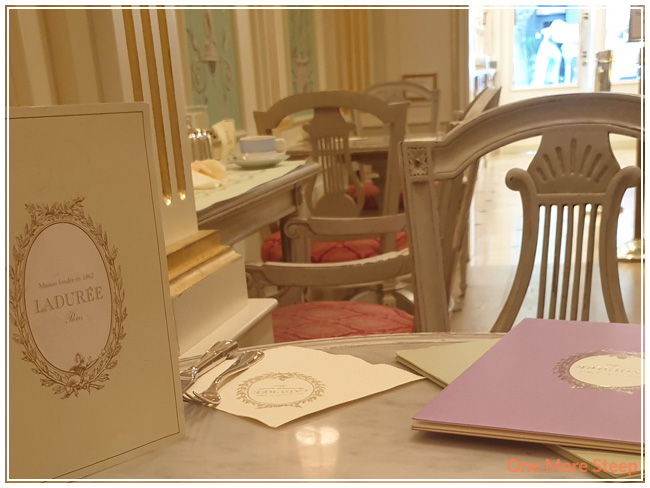 The Afternoon Tea has a menu, but it consists of a lot of self-selection from the menu which is a lot of fun. It can also make for a different Afternoon Tea experience every single time that you go.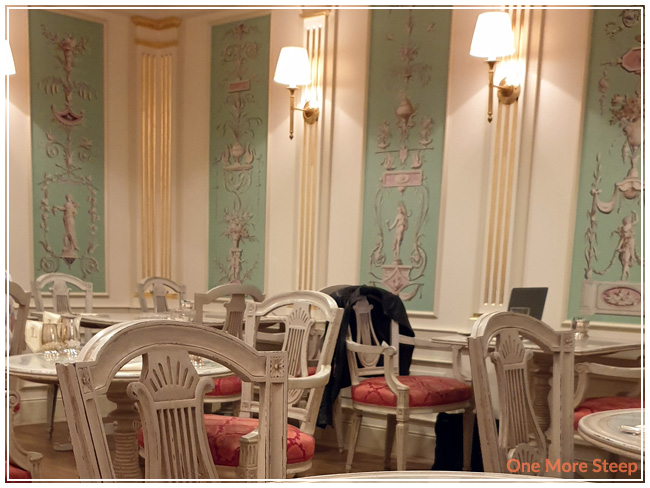 The tea that I selected was Marie-Antoinette – a black tea blend described as being a mix of Chinese black tea, rose petals, citrus fruits and honey. There were nine teas listed on their Collection Teas, and six teas listed on their Gourmet Teas.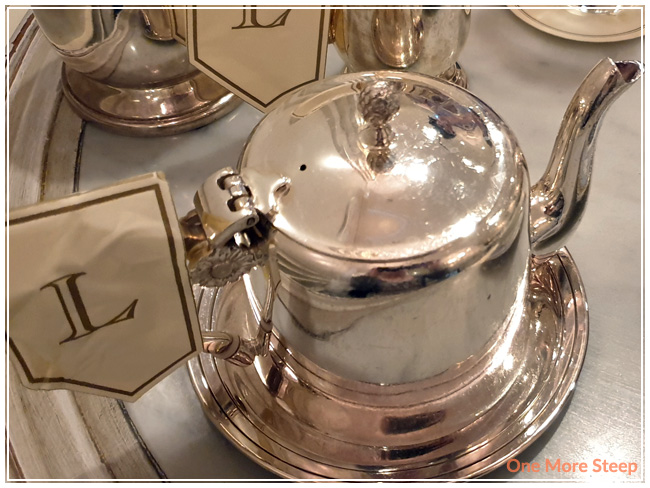 The tea comes in a silver teapot on a silver plate. The milk came steamed in a tiny silver pitcher, while most of the food arrived on a shiny silver three tier stand. Also, a fruit salad came in a little dish, as well as our sandwiches arrived wrapped in parchment paper. Such a delectable feast for the eyes! The tea was also served with a square of milk chocolate (which was also tasty).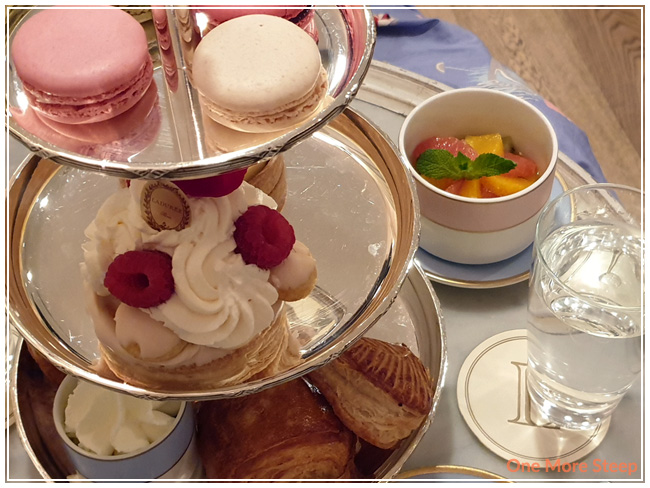 Marie-Antoinette is lovely golden orange, and does have a light citrus and rose notes. It did well both straight and with a bit of steamed milk.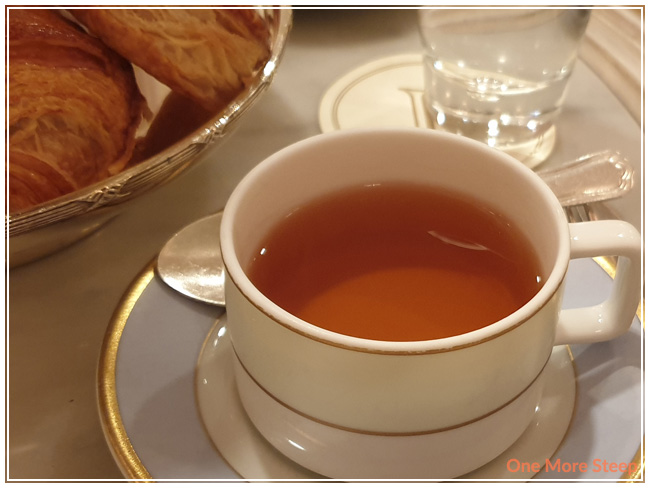 Ladurée offers each guest ordering the Afternoon Tea the choice of two sandwiches from a list of three. I had the Avocado and Piquillo and the Smoked Salmon. The Smoked Salmon came on a dark black bread (squid ink? charcoal?) while the Avocado and Piquillo came on whole wheat. I enjoyed both sandwiches – both came cold, and wrapped individually in parchment paper.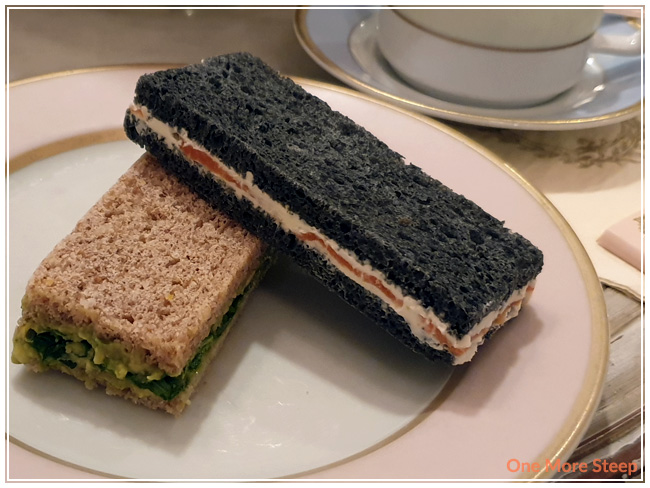 The Seasonal Fruit Salad came in a cute dish, with the orange and grapefruit neatly arranged over a bed of kiwi, mango, and pineapple – topped with a mint sprig. I enjoyed this fruit salad, all the fruit was ripe and delicious.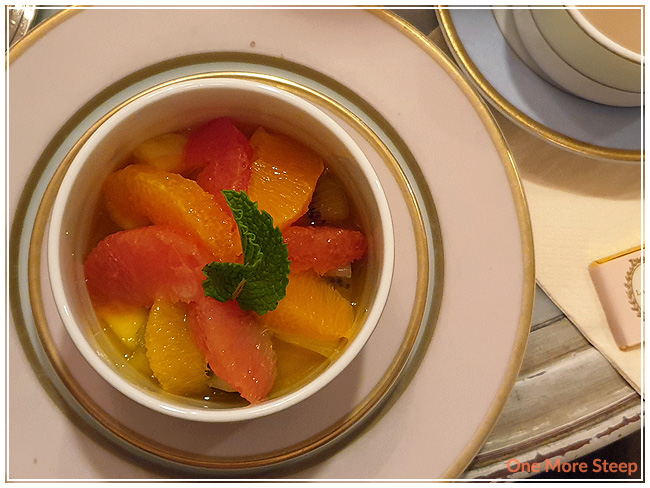 Two mini viennoiseries came for each of us (we didn't select these ones ourselves). I got the Pain au Chocolat and Chausson aux Pommes. Both were delicious. I think the apple could have had more apple inside but otherwise the pastry itself was flakey and buttery and just overall enjoyable.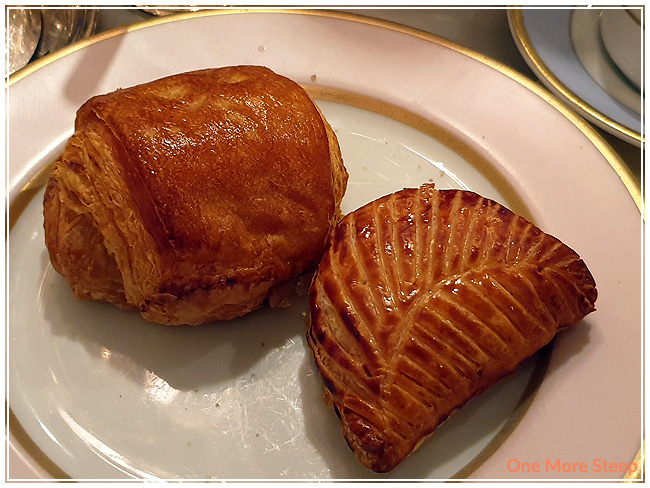 The part that I was looking forward to the most was the Ladurée pastry that came with my Afternoon Tea. This was a selection that I had made myself from their list of Creations and Classic Pastries. I chose the Rose Raspberry Saint Honoré. This beauty consists of: puff pastry, choux pastry, light rose petal custard cream, raspberry compote, rose-flavoured Chantilly whipped cream, rose syrup fondant, and raspberries. I think this is one of their more popular desserts, as the server mentioned that it was their last one (and we had a 1pm reservation). It was delicious – the pastry was sweet and fluffy. The rose flavour throughout wasn't too strong – nice and light. The raspberries were ripe – sweet, no tartness.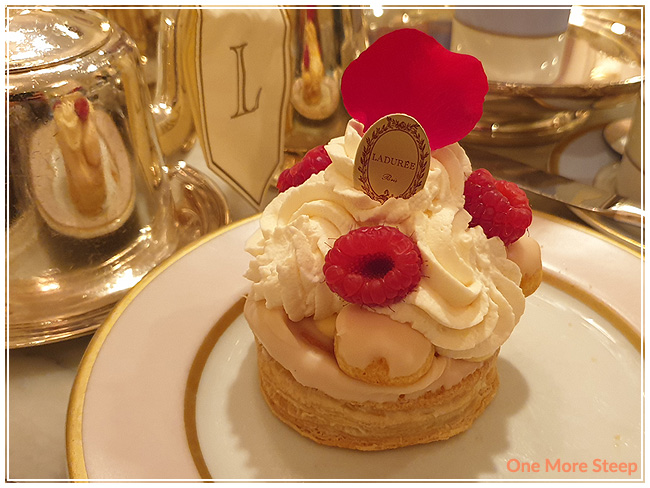 To finish off, we each had two macarons – something that Ladurée is quite famous for. And we got to choose from a selection of flavours. I picked Pistachio and Raspberry, my friend picked Rose and Orange Blossom – both of which she said were delicious! I thought both of mine were wonderful – the flavours were well represented and I enjoyed both of them immensely.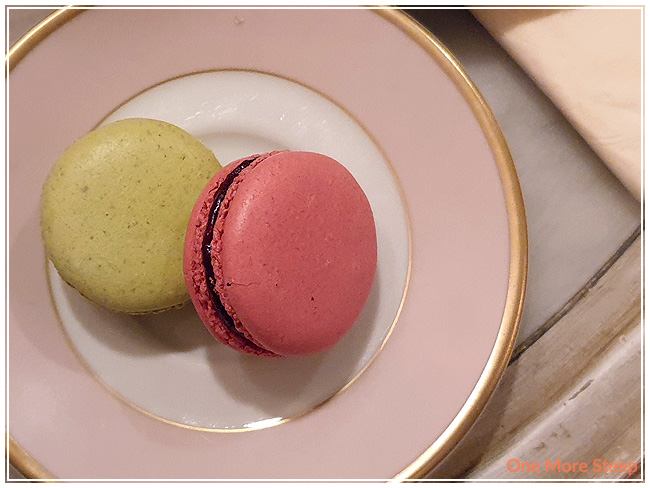 I loved my Afternoon Tea experience at Ladurée! It was wonderful to step away from the busyness of life and just immerse yourself into a Parisian tea experience. I liked all the parts of the tea that I tried and picked, but the desserts really shone and stood out above the rest. I would like to go back and just purely order desserts to try – mostly because those were amazing and really shined. I did enjoy the non-dessert parts (the Seasonal Fruit Salad and sandwiches), but I loved the desserts the most. I'd love to just sit down and try every single Ladurée Creation and Classic Pastry on the menu – as well as every flavour of macaron.