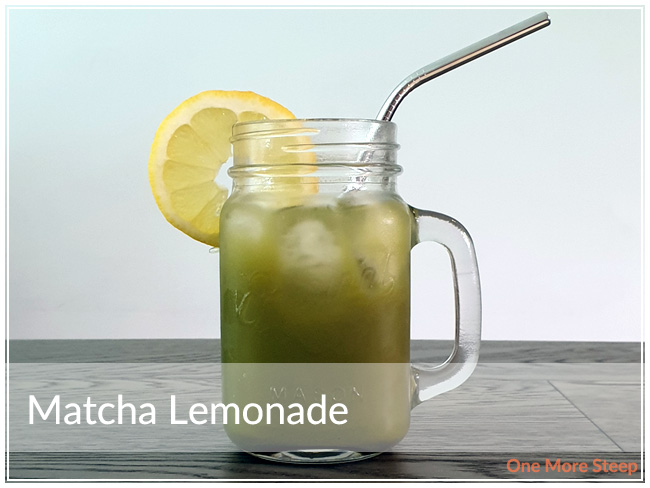 When life gives you lemons, you make a Matcha Lemonade! This makes for a fun twist on an iced matcha that is refreshing, delicious and perfect for the summer – so why not give it a try? I love nice icy drinks in the summer, and having a little something that incorporates tea just makes it all better!

Matcha Lemonade Recipe – serves 2

Lemonade
2 tablespoons Simple Syrup (see recipe below)
2 tablespoons lemon juice¹
700ml (3 cups) water
4 teaspoons matcha²
125ml (½ cup) warm water
Ice cubes
1 lemon (for garnish)
¹ 1 medium size lemon yields approximately 2-3 tablespoons of lemon juice. I used lemon juice but you can use either.
² Because you are blending it with lemonade, I would not use the most expensive matcha from your tea stash for this drink. I used a lower grade matcha that's still meant for drinking, because I knew I would be blending it with lemonade. A good quality matcha is typically $1 per gram, and do not use a matcha that has other ingredients in it besides matcha.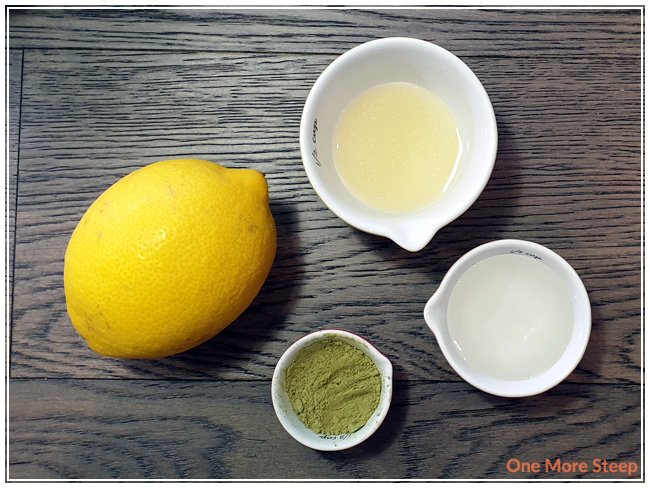 Mix Simple Syrup, lemon juice, and water in a pitcher – set aside.
Sift the matcha into a bowl – this helps get rid of the clumps.
Whisk with the warm water, add a little bit at a time. First you create a paste with the matcha and then thin it out with the remaining water.
Fill each glass with ice cubes.
Add half of the lemonade to each glass (350ml/1½ cups).
Add half of the matcha to each glass (62.5ml/¼ cups)
Garnish the rim of your glasses with a lemon slice or wedge.
Tea Tip! Pair your Matcha Lemonade with a paper or reusable glass or stainless steel straw.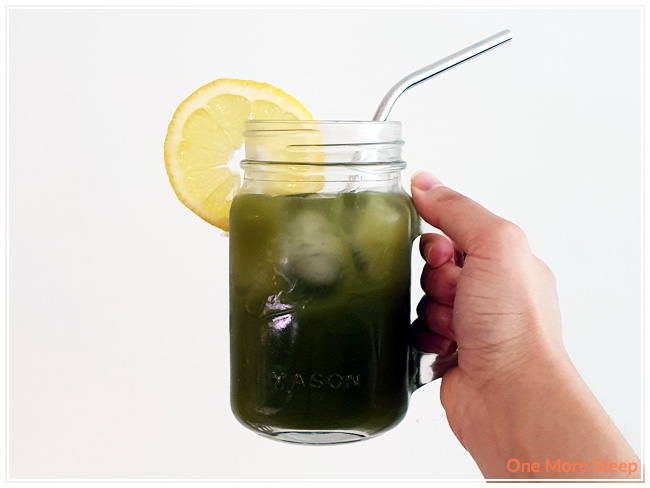 Simple Syrup Recipe
1 cup water*
1 cup sugar*
* You can make more or less Simple Syrup depending on your Matcha Lemonade needs. I used organic cane sugar for my Simple Syrup in this recipe. The basis of a Simple Syrup is a 1:1 ratio of sugar and water.

Super Simple Simple Syrup Method
Combine equal parts sugar and boiled water from a kettle in a bowl.
Mix until the sugar is fully dissolved.
Set aside to cool.
Less Simple Simple Syrup Method

Combine all Simple Syrup ingredients in a saucepan, and place over medium heat.
Stir until the sugar is fully dissolved.
Allow syrup to simmer for 1-2 minutes.
Remove from heat and allow to cool.
Pour Simple Syrup into a jar or bottle and refrigerate.
The Simple Syrup will keep for at least 2 weeks in the fridge – don't forget to label with the date!

If you make this Matcha Lemonade, I'd love to see your photos! Be sure to tag me on Instagram (@onemoresteep #onemoresteep) or comment below with a link to the photo!
Pin this recipe for later!