Neverland Tea Salon
Kitsilano, Vancouver, BC
A Grande Adventure High Tea – $38 each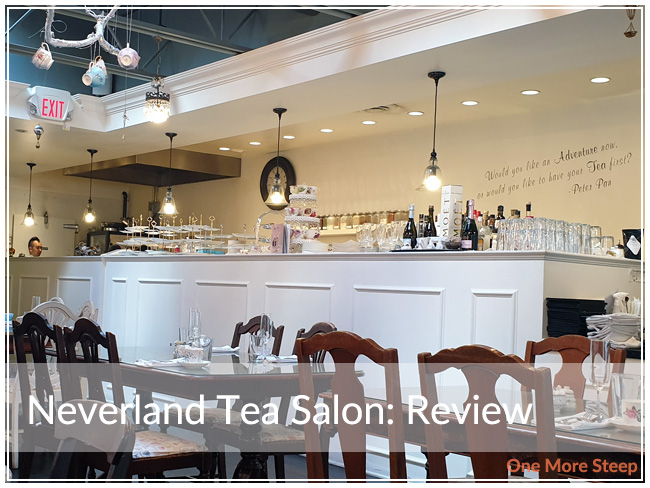 When my friend Suzanne suggested that we go for tea at Neverland Tea Salon in the Kitsilano neighbourhood of Vancouver, of course I said yes! This tea salon is easy to get to via transit as it's located along a major road with plenty of bus traffic (and some free street parking nearby as well!). And look at that adorable sign to signal when you've reached the front door.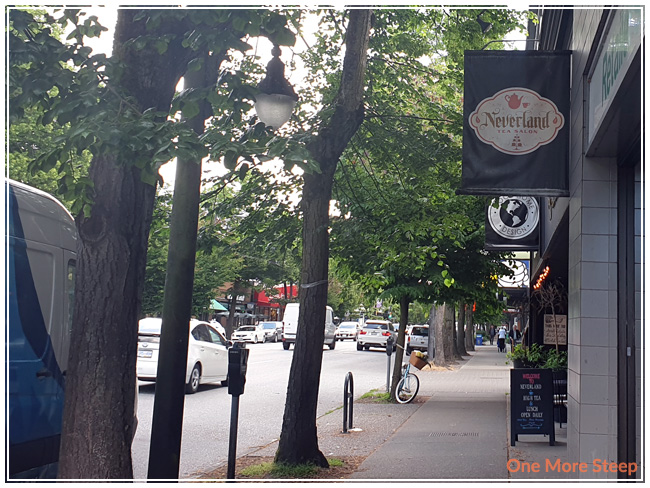 We opted for the A Grande Adventure High Tea, which is $38 per person and includes "never-ending pots of tea". For those not wanting to switch out teas, there is the Demi Tea ($30 per person). Neverland Tea Salon also features a Take Me To Neverland Bubbly High Tea (features the never-ending pots of tea, along with one sparkling wine, rosè, or mimosa) at $48 per person, and a Tinkerbell's High Tea for children, at $24 each.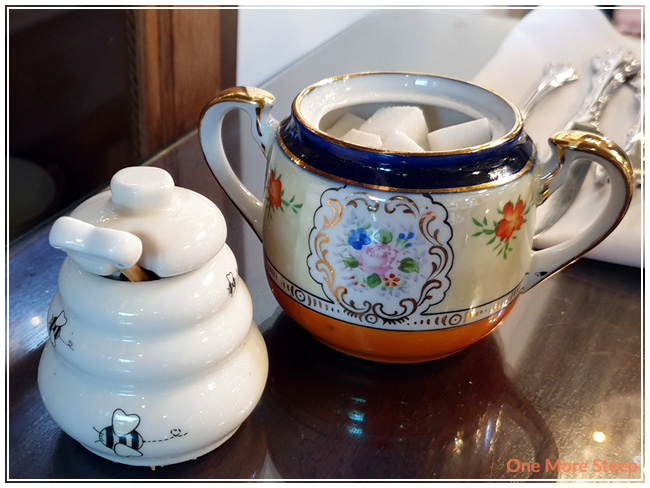 Neverland Tea Salon thoughtfully offers four different menus to choose from: Traditional, Gluten & Dairy Omitted, Vegetarian, and Vegan. My friend and I both opted for the Traditional menu which features five savouries, four sweets, along with one scone with Devonshire cream and jam.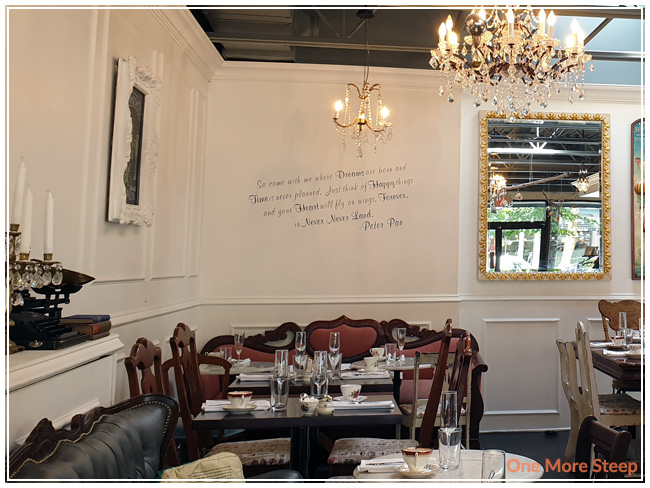 My friend and I arrived early in the day, and then I was able to take some photos of the delightful table settings as well as the quotes on the wall. I love the inclusion of J.M. Barrie's Peter Pan throughout with quotes on the wall, as well as the whimsy in the name of some of the tea blends.
We each ordered "half" pots, as we were sharing teas with each other as well in order to try as many teas from the menu. The first set of teas that we ordered were Tiger Lily Jasmine (jasmine Fujian green tea) and Peter's Promise (a blend of Sencha, Bancha, Kukicha and Genmaicha with red currants and strawberries). We both noted that Tiger Lily Jasmine was very fragrant with the jasmine and tasted lovely. Peter's Promise had a beautiful strawberry aroma, but the flavour of strawberry did not come through very well.
Tiger Lily Jasmine (green tea)
The food of our Traditional menu came on a three-tiered stand, each tier featured a different patterned plate, which was fun. Savouries on the bottom, sweets on the second tier, and the scone with Devonshire cream and strawberry jam on the top.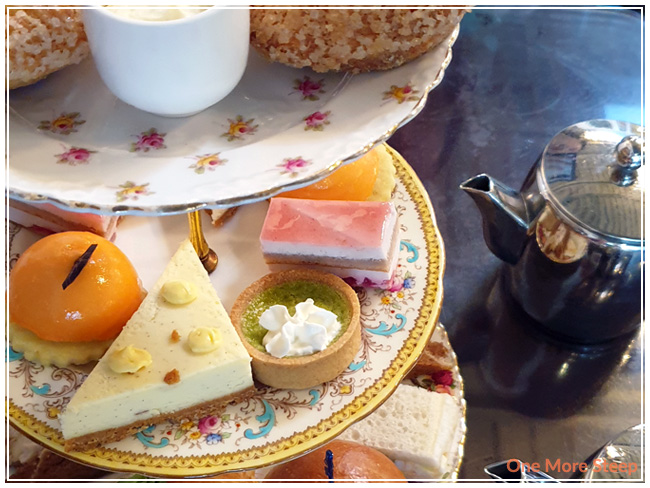 For the savouries layer we had the Thai red curry egg salad, mango chutney, red pepper, red onion and cucumber sandwich, asparagus and feta mousse, served on a croissant with arugula and pumpkin seed pesto, lemon-herb mascarpone with cucumber and arugula (right in front!), prosciutto, pears and honey mustard with brie that's served warm on a brioche bun, and finally the tarragon chicken salad with candied walnuts, salt roasted pears and pickled grapes sandwich.
I found the Thai red curry egg salad sandwich, prosciutto (with pears, honey mustard, and brie) on the brioche bun to be my favourites. The Thai red curry egg salad was very flavourful and the addition of mango chutney, red pepper, red onion and cucumber just made it really sing. Everything found in the brioche bun was just a delight, and I was thankful that it was all held together with the handy toothpick.
The masterminds behind the pastries at Neverland Tea Salon are brilliant. I loved every single dessert that I tried. From the triangle at the top and going clockwise, there is the: passion fruit cheesecake, orange come cake with white chocolate mousse, strawberry vanilla shortcake, and pandan tart.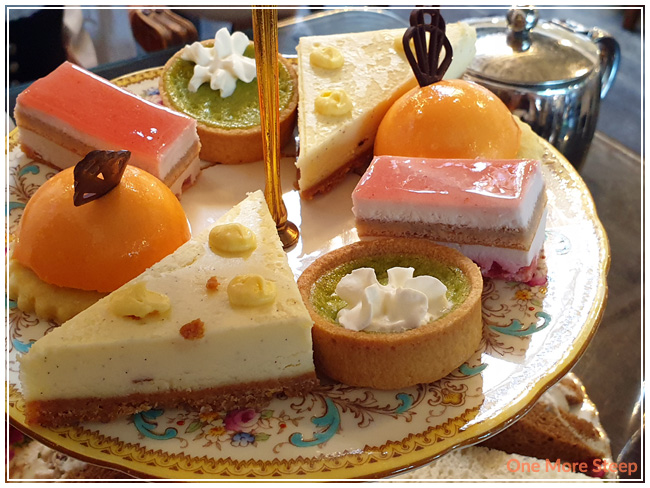 I honestly loved every single dessert. The passion fruit was so flavourful and came through cleanly in the cheesecake. The orange dome cake was the most clever little thing, with such a light white chocolate mousse inside and I would eat a dozen of these and not get tired for them. The strawberry vanilla shortcake was light, airy, and really tasty. The pandan tart was the most interesting addition. If I hadn't looked at the menu, I would have assumed it was pistachio or matcha. Pandan is a tropical plant that's often used in South-East Asian and South Asian cuisine, it has a sweet and floral flavouring to it, and the tart crust was buttery.
The final tier of the noms from Neverland Tea Salon features a citrus scone with Devonshire cream and house-made strawberry jam. I found that the scone was tasty, it had a sweet exterior because of the crystallized sugar. I found the Devonshire cream to be light and very creamy tasting, while the strawberry jam was a touch thin, which made it easy to spread on the scone.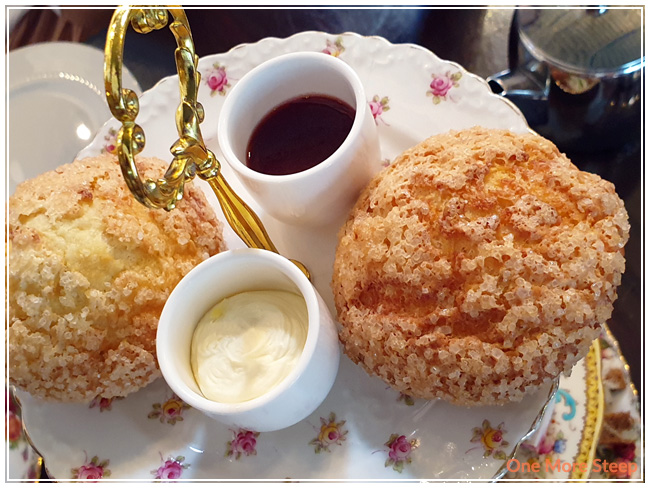 In total, we had four rounds of tea. The second round was Summer in Provence (a black tea with lavender and vanilla), which had a strong lavender and vanilla flavouring to it and Lychee Fruit , which was sweet, floral and fruity. For our third round of teas, we tried Berry Me in Champagne (Pai Mu Tan tea with raspberries and champagne) – which I thought had a lovely raspberry flavour but I didn't really get a lot of champagne flavouring from it – and Tinkerbell's Kiss (strawberry and kiwi fruit), a beautiful fruity tisane that I could taste the strawberry and kiwi flavours.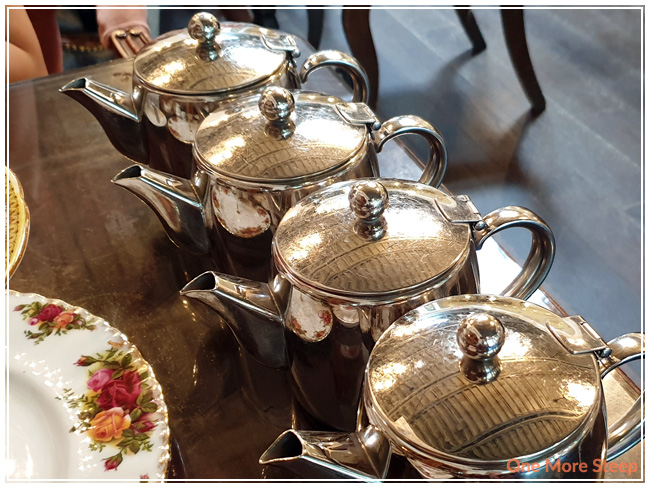 Our last round of teas included Peaches & Dreams (a blend of eight green and white teas) and Peach Oolong (oolong with candied peaches) – both teas had good peach aroma, I thought the oolong had a better peachy flavour to it.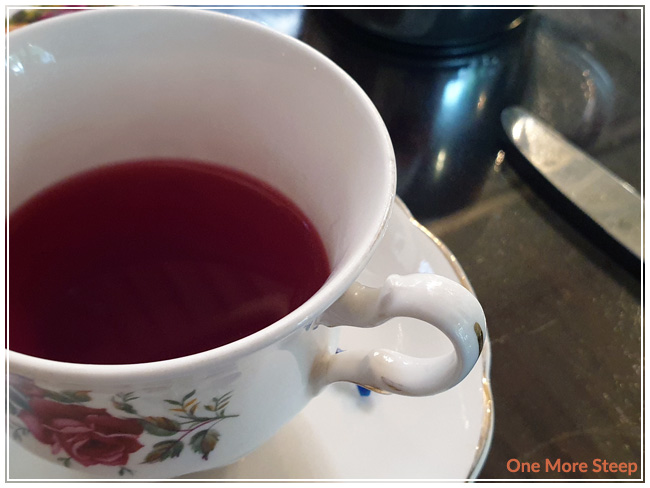 Tinkerbell's Kiss (tisane)
You can see below Neverland Tea Salon's tea wall – the large tins are designed to look like books with the name of each tea on the 'spine' of the book. It was just too clever. Also, if you look to the left, you can see the steeping devices that Neverland Tea Salon uses. The teas steep, and when the timers go off, one of the lovely servers working there fills the tea pot with the steeped tea, which means that the teas do not get over-steeped.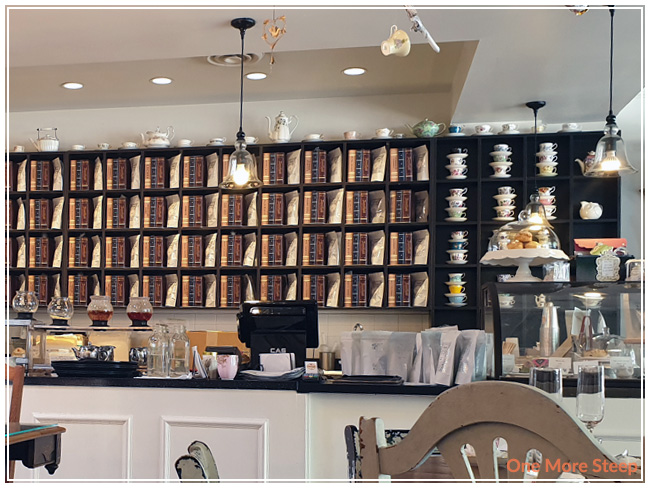 I had a lovely time at Neverland Tea Salon, and I think my friend would agree with me! While I had more favourites from the sweets than savouries, I didn't have any issues with any of the food. I definitely think it was worth the extra cost to try more teas – trying the eight different types of tea was an adventure in itself! I thought that the price was more than reasonable, considering the amount of food that was included with the set menu, and I thought it was really great that Neverland considers those with dietary preferences when producing their standard, set menu. I would definitely recommend it if you were looking for a place to go – I loved the ability to try as many teas as we wanted, the food was delicious, and I thought that the staff was friendly and overall fantastic.