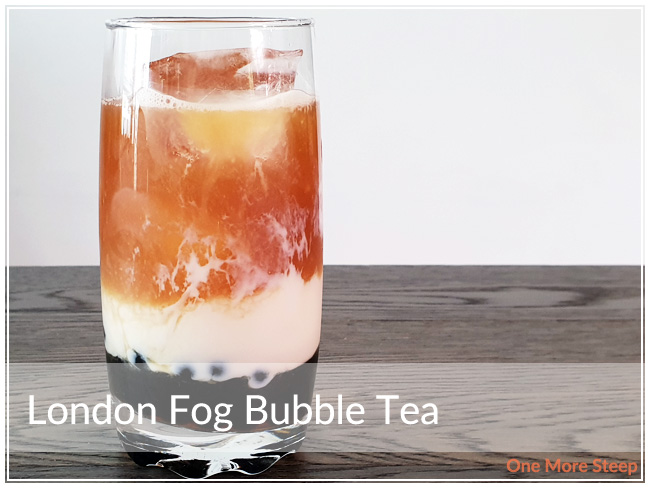 Bubble tea, boba tea, pearl tea – whatever you call it, it's (usually) a milk tea with tapioca pearls and an extra-wide straw. Bubble tea was invented in Taiwan in the 1980s. This popular drink is often seen with chewy dark tapioca pearls and a wide straw – perfect for getting all that delicious goodness at the bottom of the cup! If you're shopping for tapioca pearls online or in store, you'll see both black and white varieties – you'll want the black ones for this drink. The white pearls cook up clear and are meant to be used in dessert, and aren't as sweet as the black tapioca pearls.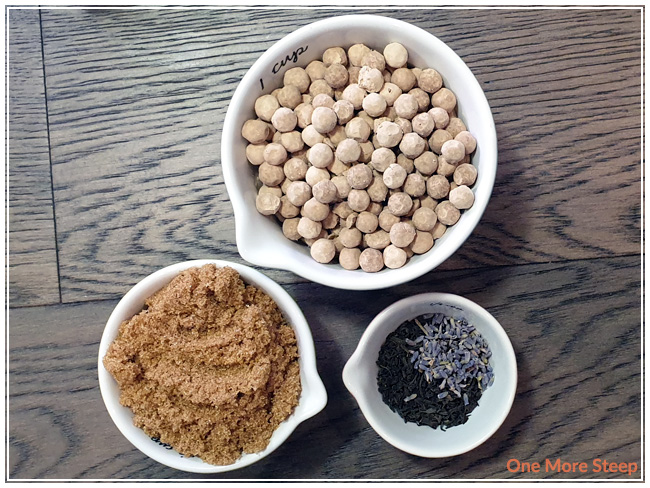 Earl Grey is one of my favourite classic black tea blends – I just love the combination of black tea with bergamot. And I make it no secret that I adore a good London Fog (you can find my recipe for a London Fog with Lavender Simple Syrup here), so the idea of a London Fog Bubble Tea is just perfection in my summer-lovin' eyes. And even though it's getting to be really close to August, I'm pretty sure any day is a good day for bubble tea!

London Fog Bubble Tea Recipe – Serves 2
Tea
2 cups water (100°C/212°F)
3 teaspoons of loose Earl Grey tea or 4 Earl Grey tea bags
1 teaspoon dried lavender buds
½ teaspoon vanilla extract
Tapioca Pearls
½ cup black tapioca pearls
4 cups water
Simple Syrup
1 cup brown sugar
1 cup water
½ cup milk (dairy or non-dairy alternative)
Ice cubes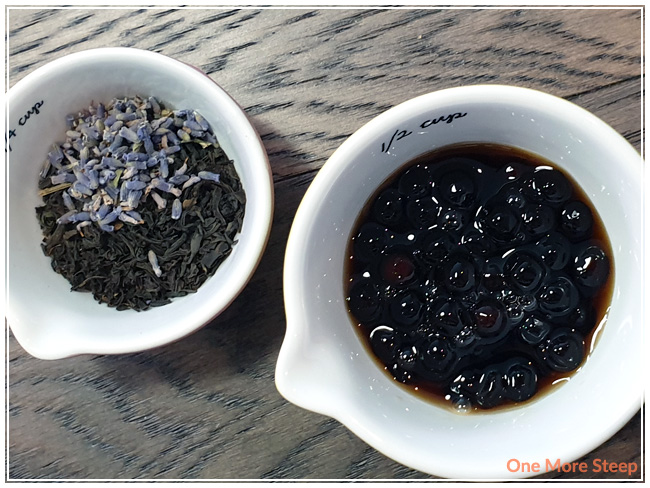 Prepare Simple Syrup
Mix 1 cup brown sugar and 1 cup water together in a small pot.
Heat until the sugar is fully dissolved and allow Simple Syrup to simmer for 5-10 minutes.
Remove from heat and set aside.
Prepare Tapioca Pearls
Heat 4 cups of water in a small pot until boiling.
Add tapioca pearls.
Stir to prevent the pearls from sticking together.
Follow cooking time on the packaging – you'll know that the pearls are cooked when they're dark and translucent. Most black tapioca pearls need to be cooked for a minimum of 30 minutes, so check the package directions!
Strain out the pearls, and rinse under cool running water to wash off the extra starch.
Add pearls to Simple Syrup.
Set aside until ready to use.
Do not prepare tapioca pearls too far in advance, if left for more than 4-6 hours after cooking, they get very tough/chewy. Leaving the pearls to 'swim' in a Simple Syrup bath will help prevent them from sticking, and also make them sweeter.
Prepare Tea
Steep Earl Grey and lavender buds in heated water for 3-5 minutes.
Remove tea leaves/tea bag – strain out lavender buds.
Add vanilla extract.
Set aside to cool.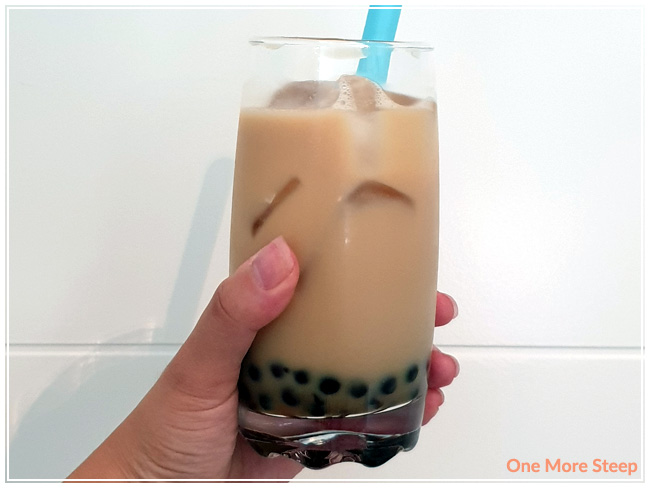 Now to just put all the components together! In each tall glass, layer the following:
¼ cup cooked tapioca pearls in Simple Syrup
Ice, to fill glass
¼ cup milk
1 cup Earl Grey tea (infused with lavender buds and added vanilla extract)
Serve with wide bubble tea or smoothie straw to make it easier to drink the bubble tea and to mix the layers together.
Excess Simple Syrup can be kept in the fridge in an air-tight container for up to 2 weeks in the fridge – don't forget to label it with the date!

Fun Fact! Like regular-sized straws, you can also find and purchase reusable bubble/boba tea straws! They come in silicone, stainless steel, and glass.
If you make this London Fog Bubble Tea, I'd love to see your photos! Be sure to tag me on Instagram (@onemoresteep #onemoresteep) or comment below with a link to the photo!