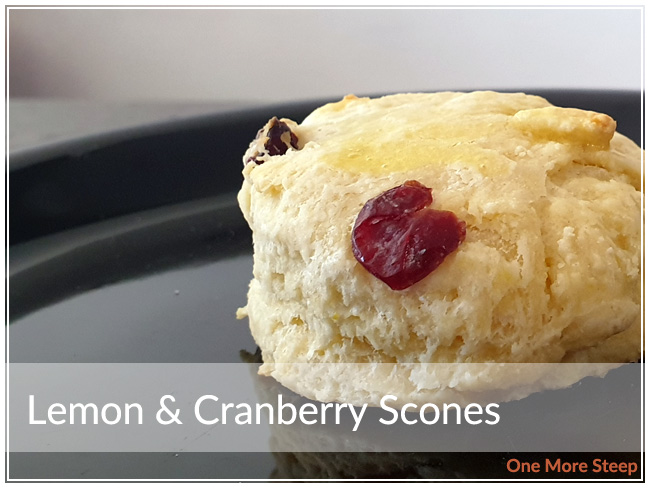 When life gives you lemons… you zest it and make some scones! At least that's what I did – and why not? I love the flavours and smells of citrus, and using the zest from a lemon is always a good idea (bonus, you could juice the lemon afterwards to make yourself an Iced Tea Lemonade or a Matcha Lemonade!). Plus, scones are always an excellent accompaniment to a cup of tea to have a little treat yo'self moment or to start off an afternoon tea.

Lemon & Cranberry Scones – Makes 18-24
3½ cups all-purpose flour
3 teaspoon baking powder
Pinch of salt¹
½ cup butter (cold, diced)
⅓ cup white granulated sugar
2 egg yolks
1 cup milk (plus extra for glaze)
Zest from 1 lemon
1 tsp lemon juice
1 cup dried cranberries
¹ Optional, so if you're watching your salt intake, feel free to omit!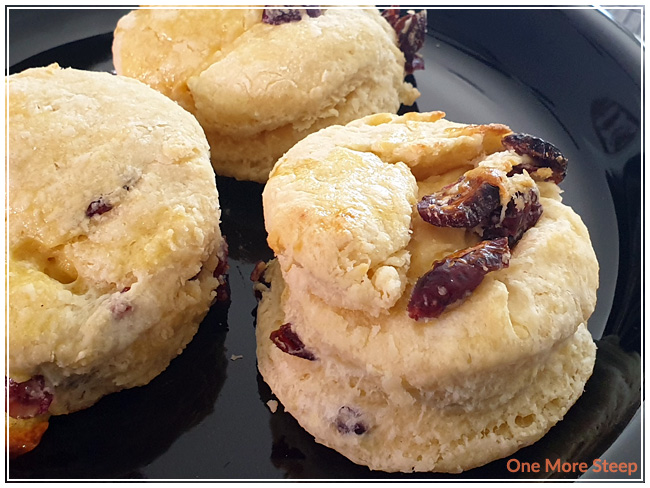 Preheat oven to 425°F.
Sift together flour, baking powder, and salt.
When will mixed, add in butter. Use 2 butter knives or a pastry cutter to incorporate the butter with the flour.
Add sugar – mix in. You should still see butter not fully mixed in.
Add 1 egg yolk, milk, lemon zest and lemon juice – mix some more.
Fold in dried cranberries until well mixed in.
Dump dough out onto a floured surface (e.g. your kitchen counter).
Pat the dough down or roll out until approximately 1¼" (~3cm) thick.
Using a floured round cookie cutter (or a smooth glass or jar), cut out scones.
Mix remaining egg yolk with ~1 tablespoon of milk, brush onto tops of scones as a glaze.
Place onto a lined cookie sheet and into the oven they go!
Bake for 12-15mins or until the tops are golden brown.
Recipe adapted from Will Torrent's Afternoon tea at home, "Classic scones"

If you make these Lemon & Cranberry Scones, I'd love to see your photos! Be sure to tag me on Instagram (@onemoresteep #onemoresteep) or comment below with a link to the photo!