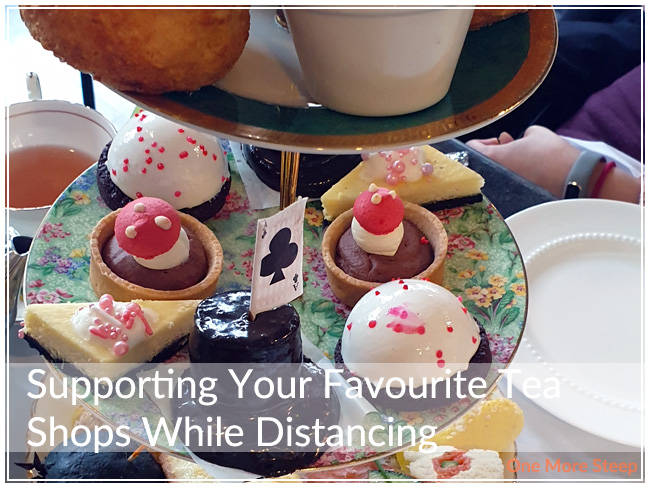 Tea for some people can be quite the social event. For some it involves dressing up and heading to a local tea salon with a group of friends, enjoying a gorgeously assembled stand of savouries and sweets, devouring freshly baked scones with in-house made clotted cream and preserves. But right now, that's not the best idea. A lot of areas have issued recommendations (or mandates) to socially distance – staying home to stay healthy and safe. Nobody wants to get sick right now and keeping away from other people is so important right now.
So how can you support your favourite tea shops? It's especially hard when a lot of them have closed their physical retail stores in hopes of discouraging gatherings – which is so important right now!

Shop online. A lot of shops have an online presence that will enable you to order your favourite loose leaf or bagged tea online! For those locations that also serve food, they may have partnered with food delivery apps so you can have the option of getting food delivered to your home. Bonus, you get some pretty tea-rrific mail when you put in an online order!
Take-out & phone orders. For those without an online presence, they may be taking orders over the phone. A lot of shops have been offering the option of prepaying over the phone coupled with contact-less pick-up at the door or curbside/car delivery. One of my favourite local bakeries is doing this as well, and strictly operating on a cashless basis to limit exposure times to people. A favourite tea salon of mine is offering afternoon tea to go so when you order, you get all the goodies boxed up in a bag, along with a pouch of loose leaf tea with steeping instructions. So if you feel comfortable with food delivery/take-out orders at this time, that may be an option. Be sure to wash your hands before and after receiving your items, and make sure to practice good hand hygiene!
Give them some stars. Share photos of your at-home tea experience with their products. Word-of-mouth recommendations are gold to businesses, large and small. Consider leaving a review for them on their Facebook page, Google, or Yelp profiles.
Purchase a gift card. Eventually social distancing will be a thing of a past (but hopefully everyone keeps up the hand washing!). Purchasing a gift card now is a great way to show some support to your favourite tea shop – plus it gives you the excuse to go for a little shopping trip when the stores are reopened to pick up some more tea, or if it's a gift certificate for afternoon tea, it's the perfect reason to invite a friend you haven't seen since before the pandemic was declared to catch up.
Take advantage of coupon codes (and share them!). A lot of shops are offering discount codes and free shipping codes right now. It's a great way to show some support while saving some money. Maybe you could even discover some new favourites! Don't be afraid to try a new-to-you product because you've got a lot of time right now to be making a cup of tea at home.

And now for a gentle reminder from me. Stay home if you can, stay safe & healthy. Be kind to one another. Remember that while March seemed to last for a year, this is the temporary normal for now. Practice good hand hygiene, practice social distancing, practice kindness.
And have a nice cup of tea (at home) – there will be time for afternoon tea with your friends later.