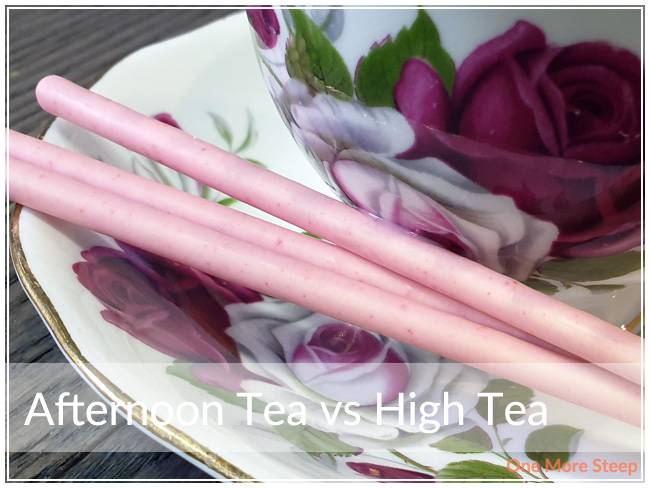 Did you know that afternoon tea and high tea are not the same thing?
Often used interchangeably today, the terms describe different meals. The one that is most often used for tea parties, baby & bridal showers, and hosted with all the fun cakes is afternoon tea.

Afternoon tea is a lighter meal, often served to the upper class and was at one point referred to as 'low tea' because of the lower table (think coffee table height). This meal consists of tea sandwiches, scones with clotted cream and jam, and sweets. Afternoon tea is, of course, served in the afternoon (approximately 3:30-5pm) as a way to tide you over between lunch and dinner.
Popularized by Anna Russell, Duchess of Bedford in the 1840s, she wanted the tea and cakes to fill her up until the very late supper time that was usually 7-8pm in the evening. Afternoon tea was also used as a social gathering, as it is today as well with the showers and parties. This is the one to dress up for with your dresses and fancy hats.
High tea is, you guessed it, served on a higher table and often a post-work meal for the working class. Because it's a meal for people who often laboured away at work, the food served at high tea is often a lot heartier and heavier to provide the sustenance for those who've worked long hours  – think meat and potatoes. While still deliciously savoury, a high tea meal is not for those who are just looking to keep those hunger pains away until dinner.

Regardless of what you call it, the fancy tea parties in the afternoon are still a lot of fun! And as a lot of us are spending more time at home these days, it's a fun away to bring your family together for a nice little sit-down meal and enjoy each others company.
There are a lot of recipes out there that could easily fill up your tiered cake stand and your delicate tea cups. Some fun recipes to round out your menu could include some Lemon & Cranberry Scones topped with Easy Chia Seed Jam, to be served next to your London Fog with Lavender Simple Syrup, of course.