Berry Creme Compote by Adagio Teas
Fruit Infusion / Flavoured
$8.00USD for 3oz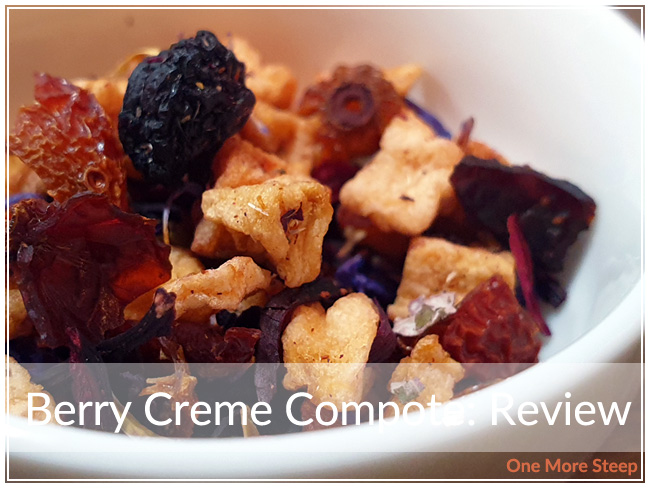 Adagio Teas has provided me with Berry Creme Compote for the purposes of writing an honest review.
First Impressions
Berry Creme Compote comes in a colourful sealed, resealable foiled pouch. I do love the style of the packaging because it's just nice to have all the information handy and it just comes printed directly onto the packaging, which is nice. The aroma of this fruity tisane is so strong, and it reminds me of the aroma of a field berry jam – just so heavy on the fruity goodness that it makes me want to a nice iced cup of this stuff (and to be out on a patio somewhere with shades on).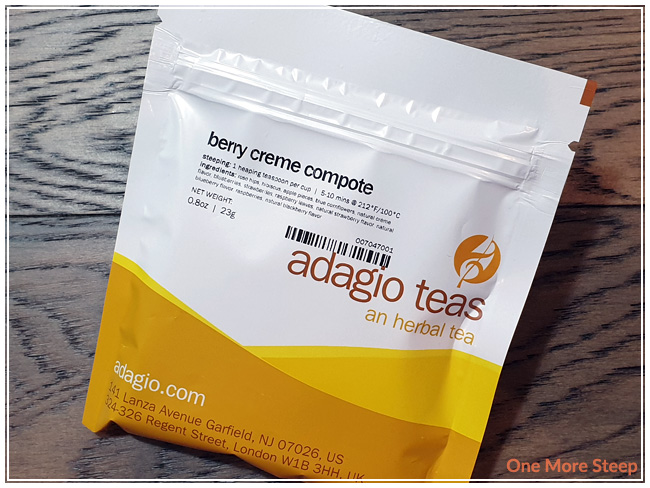 Berry Creme Compote consists of: rose hips, hibiscus, apple pieces, blue cornflowers, natural creme flavour, blueberries, strawberries, raspberry leaves, natural strawberry flavour, natural blueberry flavour, raspberries, and natural blackberry flavour. And just look at how pretty it is, especially with the blue cornflower petals!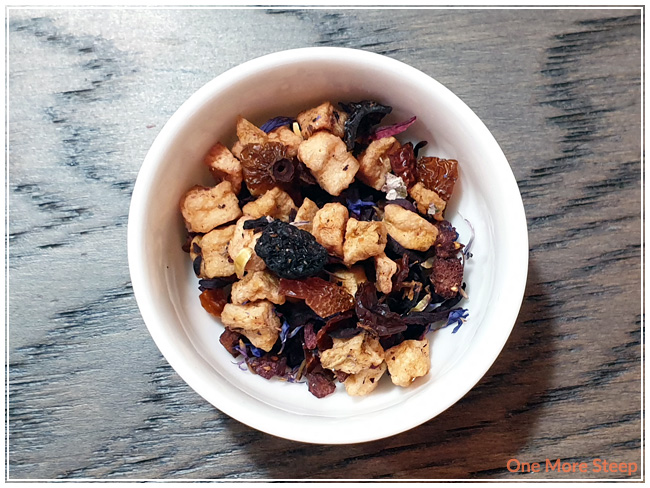 Preparation
Adagio Teas recommends steeping Berry Creme Compote with 100C (212F) water for 5 to 10 minutes. I opted to do a 7 minute steep, mostly because I walked away from it and went back to it eventually.
First Taste
Berry Creme Compote steeps to a beautiful dark pink colour that is undoubtedly due to the presence of hibiscus in the mix. The aroma is very much of berries – which is so delicious smelling. The flavour is berries, there's a slight tartness that may be due to the hibiscus, or due to the raspberries, that gives a bit of a pucker to my mouth. There's such a strong berry flavour to it, it's so tasty! It reminds me a bit of a fruit juice or punch, there's such a nice level of sweetness to it, that I would drink it plain.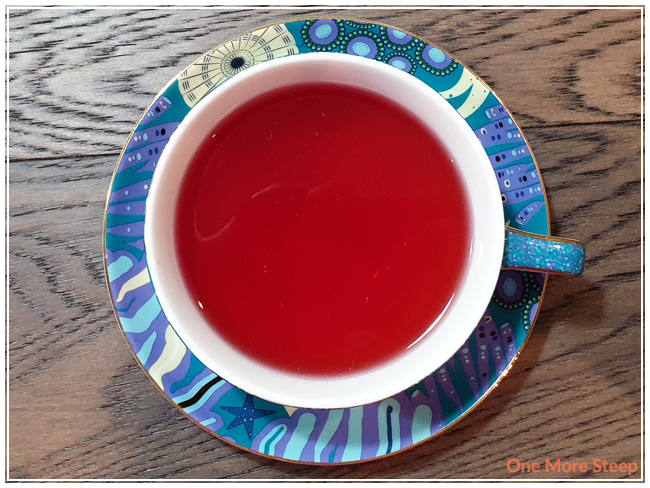 A Second Cup?
I attempted to resteep Berry Creme Compote and surprise! I found that it did decently well for one resteep. The colour wasn't nearly as dark as the initial steep, but it still had a good flavour to it. So definitely go for a resteep with this one.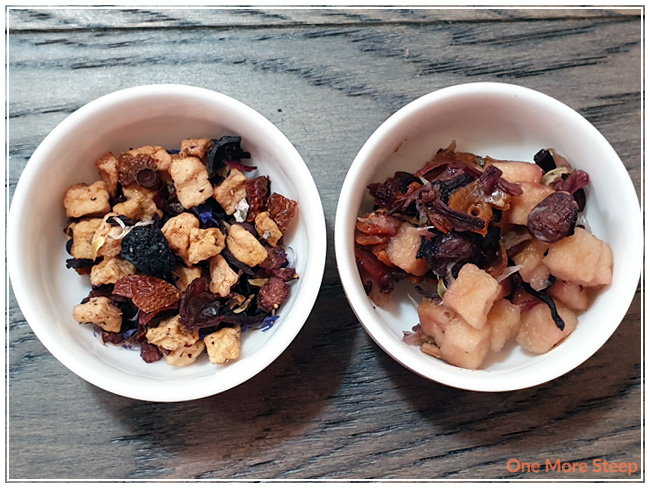 My Overall Impression

I loved Adagio Teas's Berry Creme Compote. I think this tisane has such great flavours – both for the nose and for the mouth. There's a great blend of fruity ingredients that makes for such a tasty cup. I would recommend having it iced or cold steeped, and consider going half-and-half with some lemonade or a splash of lemonade – or perhaps even a lemon wedge on the size. It'd be quite tasty indeed! And I think that the berries would balance really well against the lemon.
Curious about the cup rating system? Click here to learn more.