Blueberry Muffin by DavidsTea
Fruit Infusion / Flavoured
$7.98 for 50g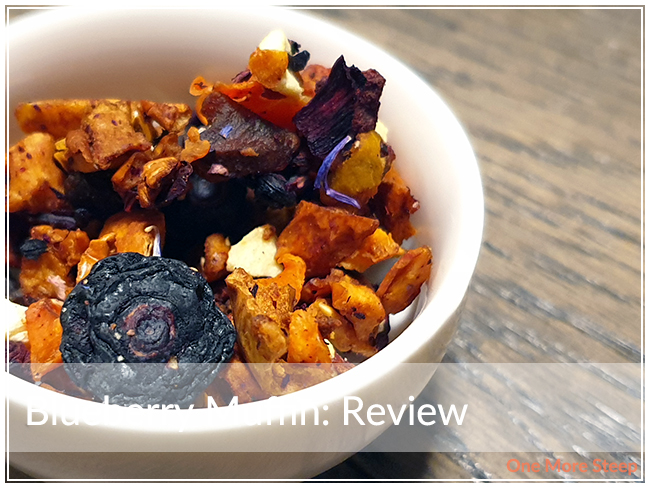 First Impressions
Blueberry Muffin was a tisane that caught my eye when I was putting in an order online with DavidsTea. I figured that I'm always on the look out for new fruit tisanes to try out iced, so why not? I do like berries, so Blueberry Muffin was hopefully going to tick the boxes. Blueberry Muffin comes in a sealed, resealable silver pouch with a bright label on the front. I'm not sure if I'm the only one, but I'm not a fan of the super tiny print on the labels because I just find them hard to read at times, especially if I don't have the best lighting available when trying to look at what's in it.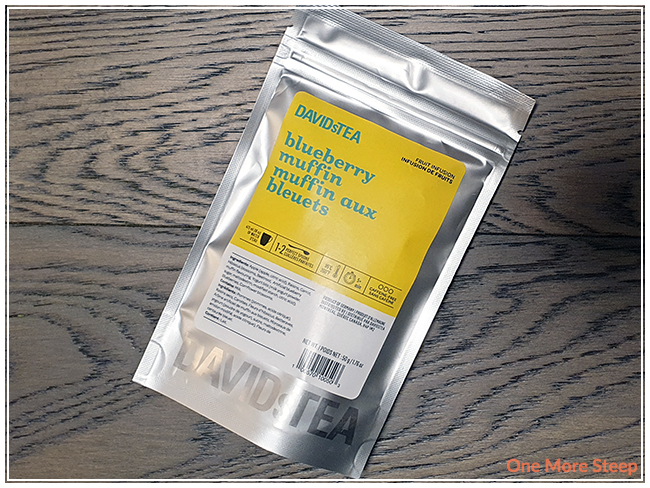 That said, Blueberry Muffin was very fragrant when I opened the pouch and scooped some out. There's a lot of fruit in this blend, and it has a very berry-forward aroma. I can even pick up on some dairy notes, which I attribute to the yoghurt in the blend. Blueberry Muffin consists of: apple, raisins, carrot, hibiscus blossoms, beetroot, artificial blueberry muffin flavouring, yoghurt bits, blueberries and cornflower blossoms. Before reading the label, I had zero clue that "blueberry muffin flavouring" was a thing – but I guess we learn something new every day! I wonder what other type of products an artificial blueberry muffin flavouring goes into?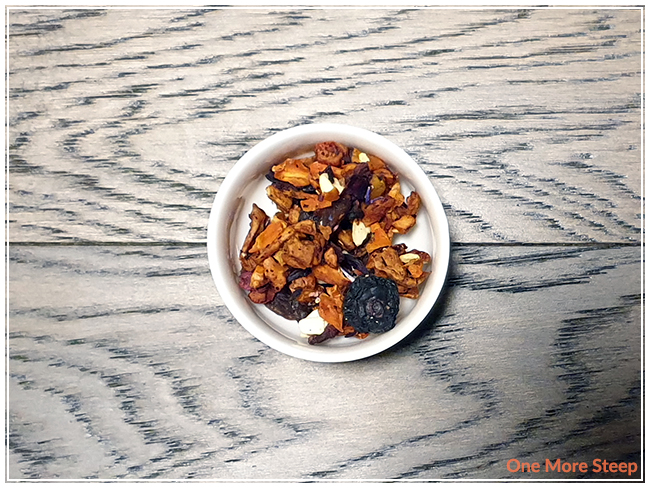 Preparation
DavidsTea recommends steeping Blueberry Muffin in 95C (200F) water for 5+ minutes. I opted to do an initial steep of 7 minutes.
First Taste
Blueberry Muffin steeps to a nice pink colour, it reminds me a bit of the colour of watermelon juice. I would attribute this particular shade to the carrot, hibiscus blossoms and the beetroot. The aroma of the tisane is definitely fruit forward, and it smells sweet. It does actually taste like a blueberry muffin, which is both surprising and not considering that a blueberry muffin flavouring is in the blend somewhere. There is a subtle tartness at the beginning of each sip, which I would think is from the hibiscus.
I tried it both hot and iced, and I would say that I preferred it iced over hot. Having Blueberry Muffin hot just didn't do it for me, but iced was certainly a treat. It tastes like a muffin with a nice level of sweetness to it.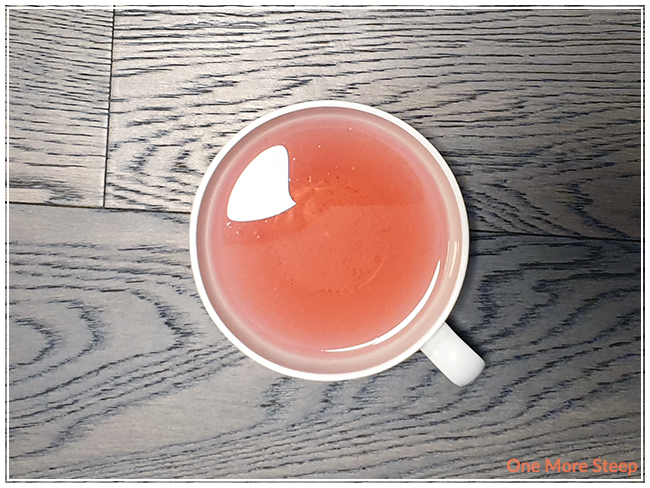 A Second Cup?
As with most tisanes, resteeping Blueberry Muffin did not work out as it just didn't have that flavour. I think that that flavouring was really sapped out with the initial steep, which is a shame since it was surprisingly good.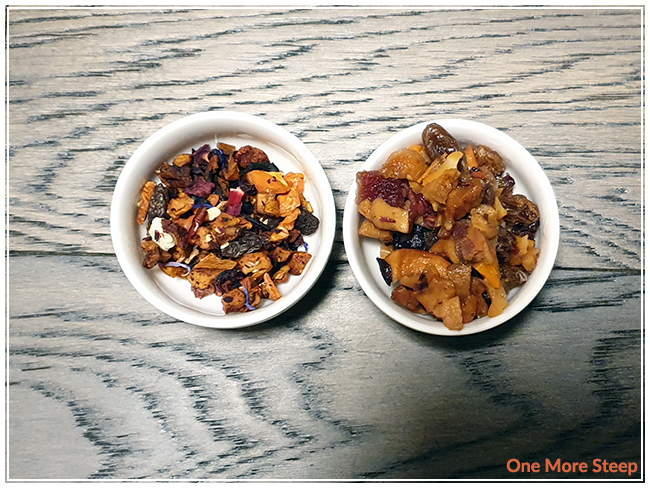 My Overall Impression

I liked DavidsTea's Blueberry Muffin. Part of me really wants to love this tisane, because it really does taste like its namesake, but at the same time, how much of that flavour that I enjoyed was from artificial flavouring? And how is blueberry muffin flavouring even a thing? It's definitely a mystery to me, but I did enjoy the flavour and wish it was more natural than artificial. I think I'll be using this as iced tea for sure, and perhaps mixing it with some lemonade since blueberry and lemon is such a delightful flavour combination and I think the sour of the lemonade will balance well with the tartness of the hibiscus.
Curious about the cup rating system? Click here to learn more.