Sugar Plum Berry Bars by Dessert by Deb
Black Tea / Flavoured
$6.00 for 25g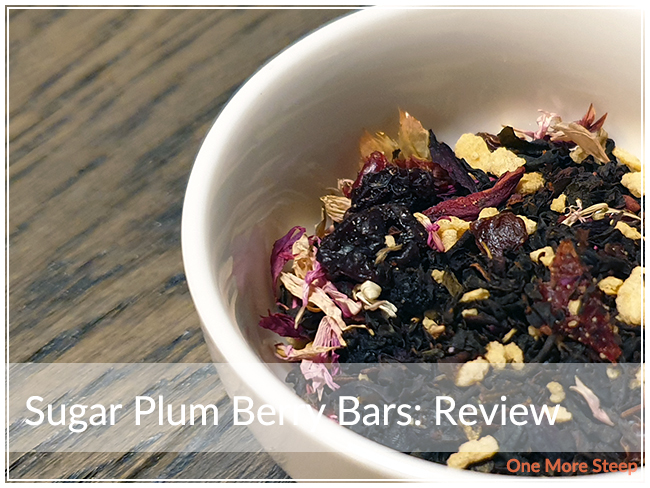 Sugar Plum Berry Bars came as part of my November/December subscription box from Dessert by Deb.
First Impressions
The first thing I noticed about Sugar Plum Berry Bars (besides the name designed to trip me up) was the pale pink pouch. Very lovely and just has a nice aesthetic behind it (I love the colour pink). Sugar Plum Berry Bars comes in a sealed, resealable pouch, with a colourful label on the front of it with the ingredients and steeping instructions printed on it. The idea of berry bars makes me think of like apple crumble tarts or square, just with berries instead of apples (and cinnamon!). So I've got it in my head what I'm expecting this to smell and taste like.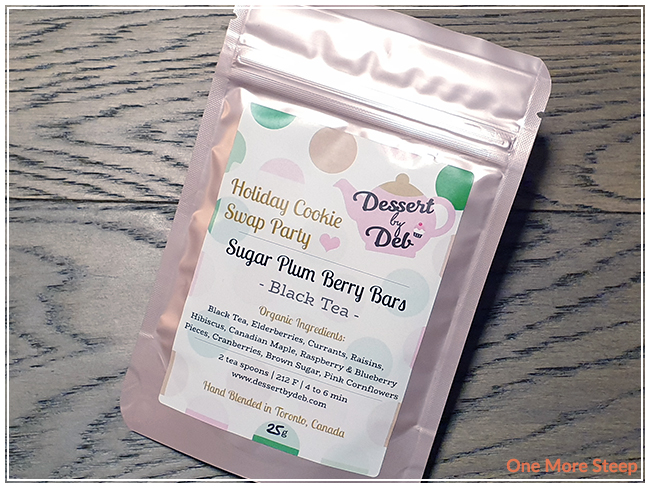 Sugar Plum Berry Bars consists of organic: black tea, elderberries, currants, raisins, hibiscus, Canadian maple, raspberry and blueberry pieces, cranberries, brown sugar, and pink cornflowers. The aroma is very strongly berries, and reminds me a lot of a mixed field berry jam (which is delicious, by the way). And I can also make out the brown sugar and maple, which really lends itself to reminding me of a baked good. The one thing that would really make it stand out as a baked good/dessert would be the addition of vanilla (which I also love).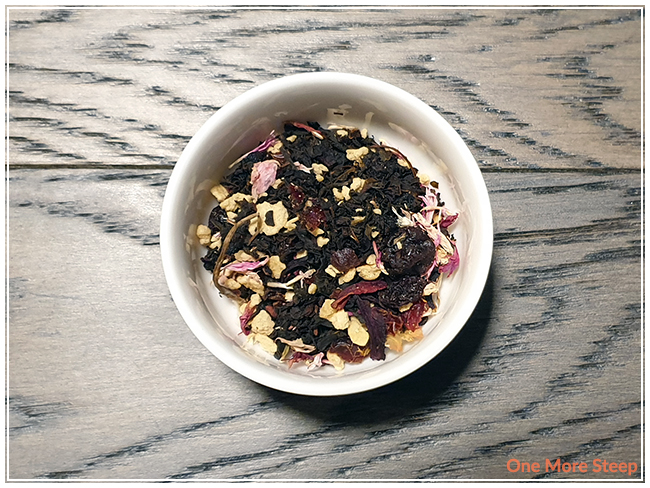 Preparation
Dessert by Deb recommends steeping Sugar Plum Berry Bars in 212°F (100°C) for 4 to 6 minutes. I opted to follow the steeping instructions and do an initial steep for 5 minutes.
First Taste
Sugar Plum Berry Bars steeps to a golden orange that has a pink hue around the edges of my cup – which is so difficult to photograph but I wish I had been able to do so because it was just so pretty. The flavour of this continues to remind me of mixed berries – it has a moderate amount of sweetness to it, thanks to the brown sugar, fruity ingredients, and maple. I get a lot of molasses sweetness, which I think is thanks to the brown sugar, and I find that it's just very pleasant. It's fruity, and I get a bit of astringency at the tail end of each sip with an almost malty flavour that's playing second fiddle to all the fruity flavours from the black tea base. I'm pleasantly surprised that I can taste it, albeit being overwhelmed by all the fruity flavours. I do like the blend of berry flavours though, because it just has a nice balance of fruity goodness to it.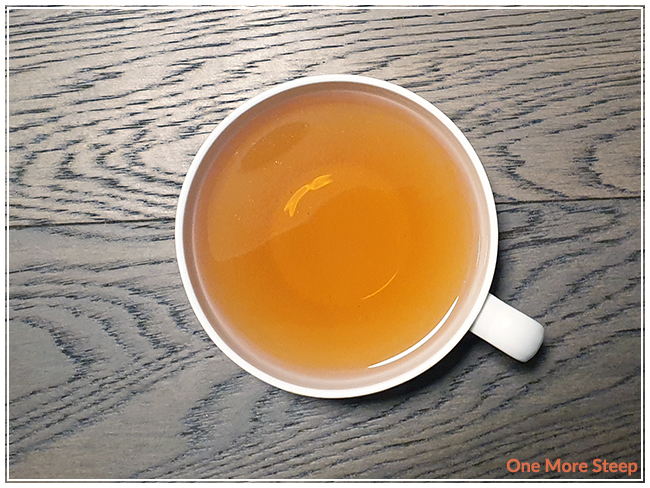 A Second Cup?
I attempted to resteep Sugar Plum Berry Bars and I was disappointed in it – but not surprised – because the berry flavours were lacking. With almost all ingredients that aren't tea, the flavours are just harder to come by when it's not the initial steep. I would recommend Sugar Plum Berry Bars for just the initial steep.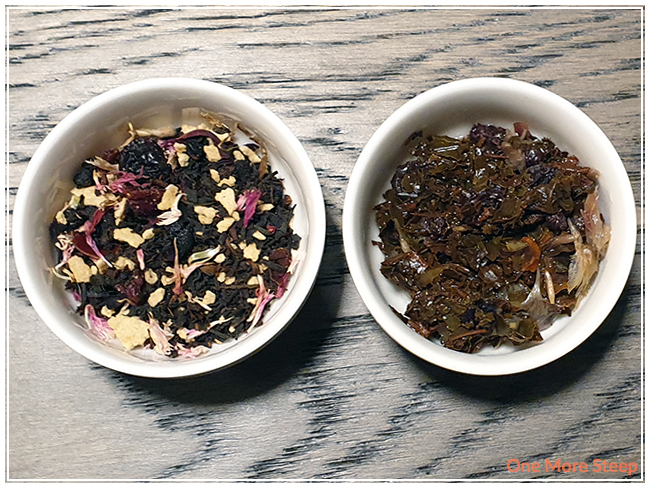 My Overall Impression

I loved Dessert by Deb's Sugar Plum Berry Bars. It just does a beautiful job of invoking the idea of a berry crumble dessert and I think it tastes pretty good! I like the amount of sweetness that the tea has, and think that if you were going to add anything to it some brown sugar or a splash of vanilla would be just the ticket to really make it the perfect dessert. I think it's a fun black tea blend, and I really liked the fact that I could taste the black tea base! This could be nice as a tea latte, but I had a lovely time sipping it as a straight cup of tea.
Curious about the cup rating system? Click here to learn more.