Sheng (raw) Pu'er by Teakan
Pu'erh Tea / Straight
$30.00 for 66g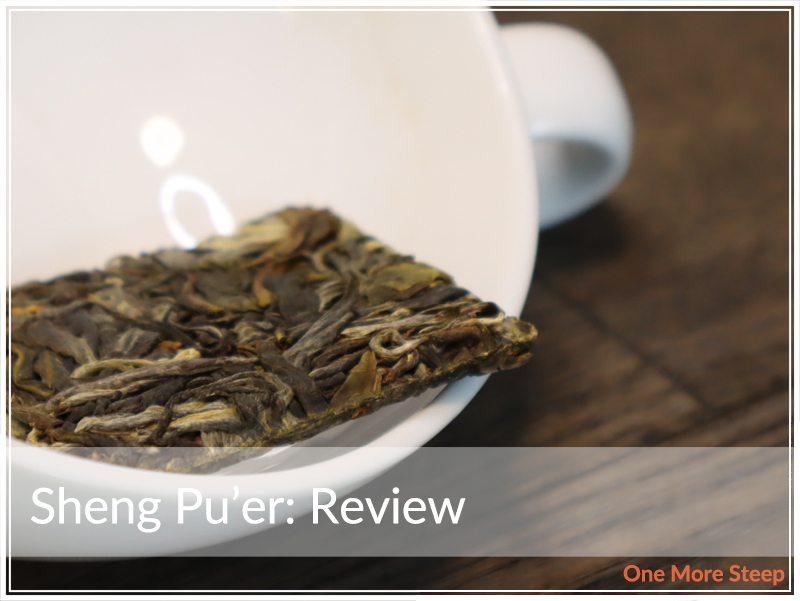 Sheng (raw) Pu'er is part of Teakan's Volume 3 Exploration Kit, a collection of five single origin teas. Sheng (raw) Pu'er makes up 16g of the 66g kit.
First Impressions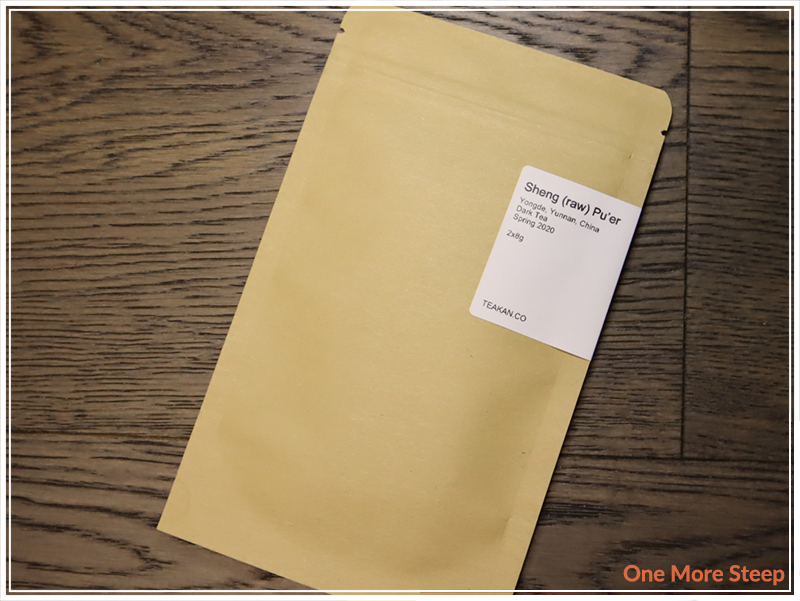 Sheng (raw) Pu'er comes in a sealed, resealable kraft paper pouch. There is that familiar labelling from Teakan, and I'm sad that this is the last of the teas from Volume 3 for me to review. I saved the pu'erh for last because I find pu'erh teas to be the most intimidating. I know a lot of people either really love or really dislike pu'erh and I'm one of those people who sort of falls in the middle. I love some pu'erh, and think others are kind of awful and lead to a terrible taste in my mouth.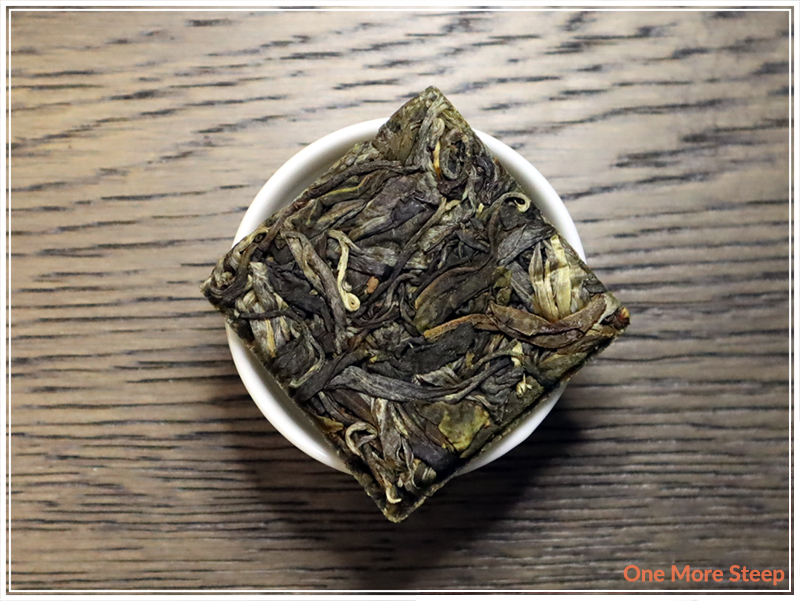 Sheng Pu'er comes in a flat square puck. The colouring of the leaves is quite pretty  – there's a huge variation in colour from pale cream to greens and browns. It's honestly really quite nice to look at. Sheng Pu'er is from Yongde, Yunnan, China and was harvested in spring 2020 – so it hasn't had a very long time to age. The tea itself has a very strong aroma to it – it reminds me a lot of dark green leafy vegetables (think gailan, broccoli, brussel sprouts).
Preparation
Teakan recommends using 2.5g for western style steeping, using 90°C (194°F) water for 3 minutes or 4g for gongfu style steeping, using 90°C (194°F) water for a rinse, followed by a 10-15 second steep.
If you don't have a scale, it's pretty easy. As each puck is 8g, you'll either use approximately ¼ for western style steeping or ½ for gongfu style steeping. I opted to do western style steeping and did an initial steep for 3 minutes.
First Taste
Sheng Pu'er initially steeps to a nice yellow colour. It has a strong aroma that is earthy, floral, and still reminding me of dark green leafy vegetables. The flavour is surprisingly floral, with an earthy/mushroom-y flavour to it. There is an interesting mouthfeel to it, it's full-bodied, with an almost drying texture in my mouth. The tea itself has a bit of an astringency that lasts from mid sip to the aftertaste. The mild umami notes from the mushroom notes really give it a savoury kick.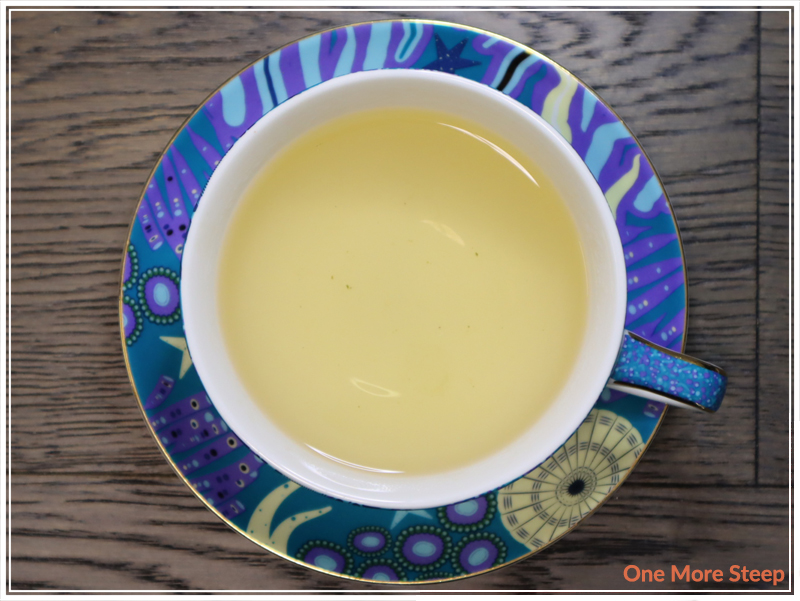 A Second Cup?
I resteeped Sheng Pu'er five times, adding an additional 30 seconds for each subsequent steep. The colouring of the tea itself got darker, becoming a deep, almost brownish orange. The flavour of Sheng Pu'er gets more earthy and vegetal, and less floral. That astringency I found in the initial steep continues throughout and doesn't put me off (surprisingly).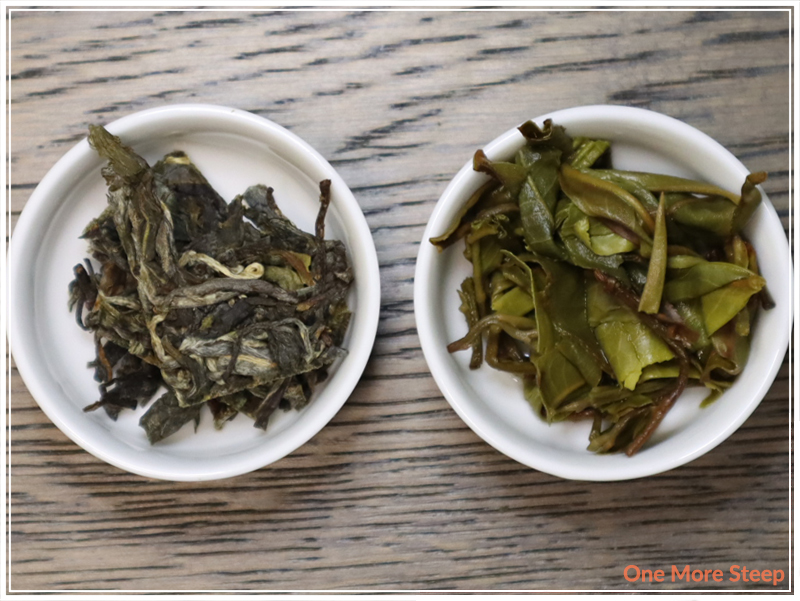 My Overall Impression

I liked Teakan's Sheng Pu'er. I'm not a huge pu'erh tea drinker – and this is something that I completely own up to. That said, I did enjoy drinking Sheng Pu'er and the ability to resteep it and taste it as it subtly shifts in flavour was a real treat. I don't think it's one that I'll have stocked in the tea stash, if only because pu'erh isn't something that I routinely reach for (maybe that'll change one day, and then I'll be kicking myself for not having more of it).
Curious about the cup rating system? Click here to learn more.