Hojicha Chocolate Cream Pie by Dessert by Deb
Green Tea / Flavoured
$6.00 for 25g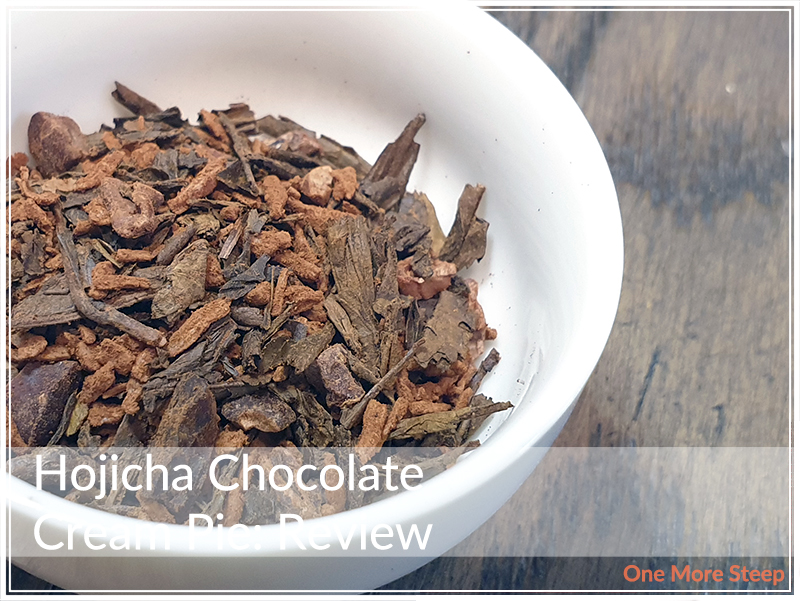 First Impressions
Hojicha Chocolate Cream Pie came to me as part of my Dessert by Deb subscription box. It came in a purple-pink metallic pouch that's clear on one side with information about ingredients and suggestions to drink as a latte (don't mind if I do…). When I first saw it, I didn't see the words 'hojicha' and I thought it was a rooibos blend at first. But you know what they say about first impressions and judging a book by it's cover…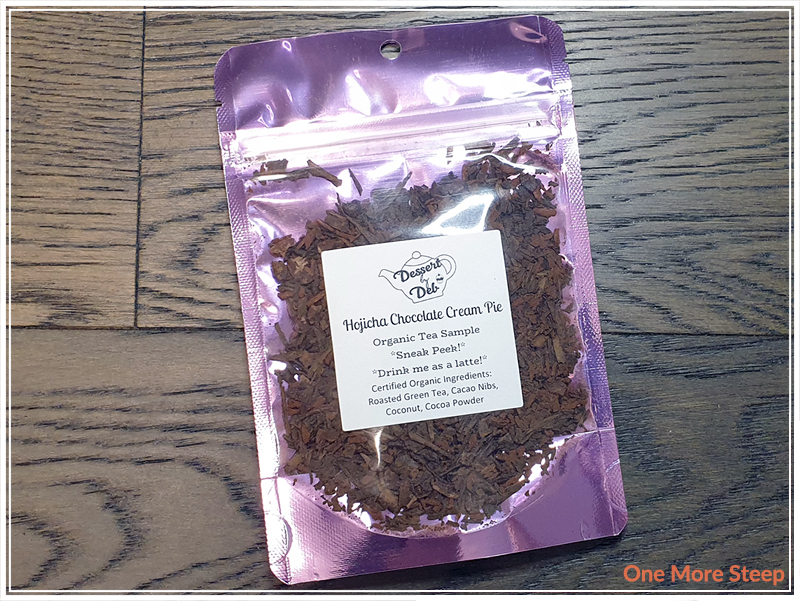 Hojicha Chocolate Cream Pie consists of organic: roasted green tea, cacao nibs, coconut, and cocoa powder. The aroma of the dry leaf to me is strictly chocolate and coconut. It smells like candy and I'm pretty excited about that. I think that the coconut got pretty covered in the cocoa powder, because I don't see it present at all.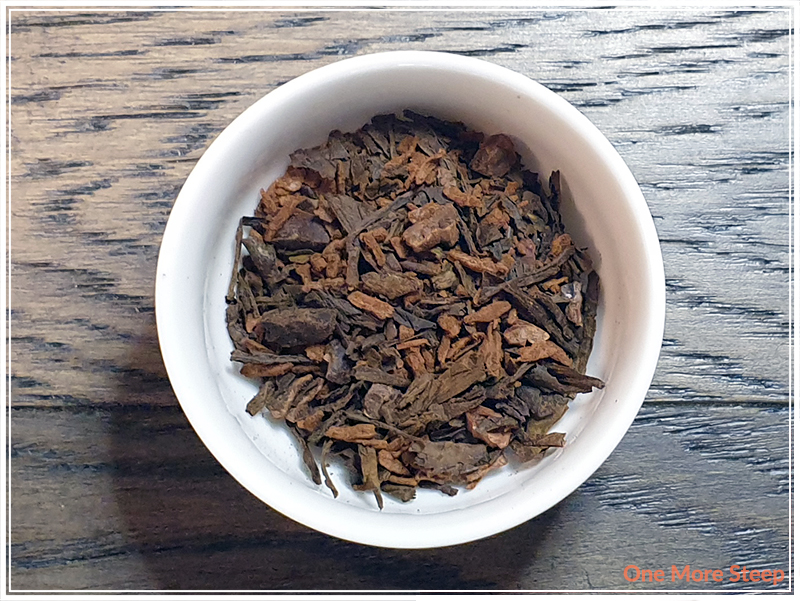 Preparation
While there were no steeping instructions on the sample packaging, I was able to find steeping instructions on the Dessert by Deb website.
Dessert by Deb recommends steeping Hojicha Chocolate Cream Pie in 205°F (96°C) water for 5 to 6 minutes.
First Taste
Steeping Hojicha Chocolate Cream Pie was… interesting. There's an obvious oil slick across the top – thanks in part to the cacao nibs and coconut. The oils themselves are not harmful, if not a bit aesthetically unpleasing. Hojicha Chocolate Cream Pie steeps to a deep brown, it's a bit murky, which I attribute to the cocoa powder and cocoa nibs. The aroma is strongly chocolatey with hints of coconut. I don't smell the hojicha too much, as I think the cocoa just has a stronger aroma. The flavour is interesting – there's some roasted notes, chocolate, and hints of coconut in the background. I'm not fond of it on its own.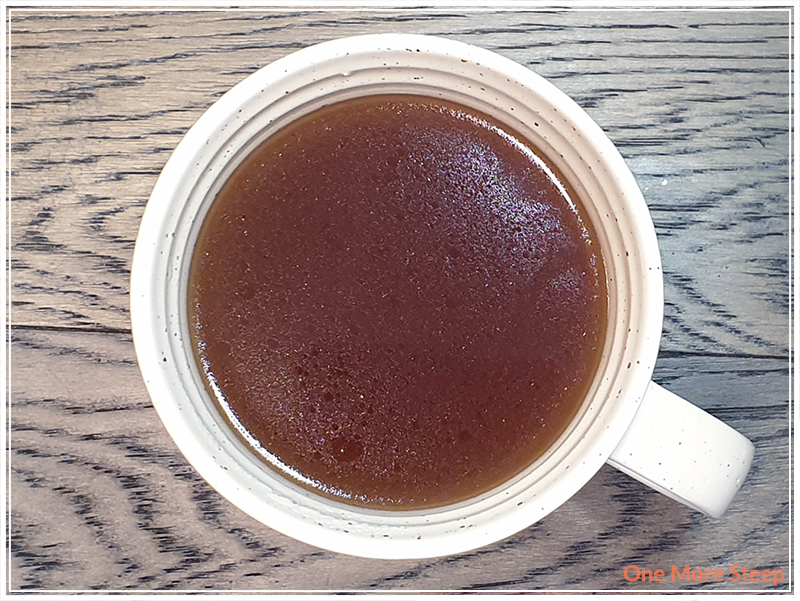 As Dessert by Deb did recommend having Hojicha Chocolate Cream Pie as a latte, I opted to do that because that's how it's intended to be consumed. I heated up, and frothed soy milk and turned my cup of Hojicha Chocolate Cream Pie into a tea latte. It certainly adds a nice level of creaminess to it, the addition of soy milk turns it into a liquid dessert. The level of chocolate flavour comes out really well and is more like a milk chocolate flavour as a tea latte. The roasted notes from the hojicha do come through nicely, and adds a nutty flavour to it.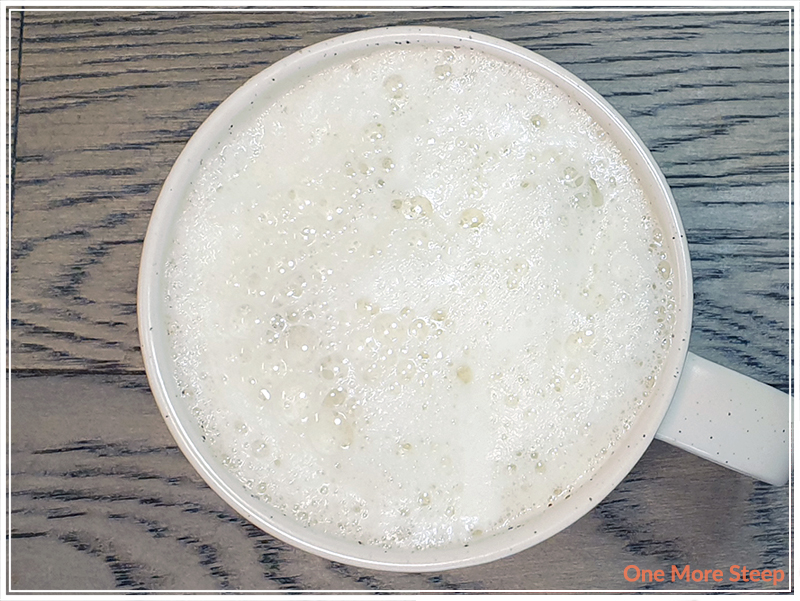 A Second Cup?
I resteeped Hojicha Chocolate Cream Pie once, adding an additional 30 seconds for the resteep. I found that the flavour wasn't quite up to snuff in comparison to the initial steep, especially on the chocolate front. Although, check out the coconut that's visible after the initial steep and the cocoa powder is washed off of it!
My Overall Impression

I loved Dessert by Deb's Hojicha Chocolate Cream Pie as a tea latte. I unfortunately didn't enjoy it straight, but it was great as a tea latte and definitely made for a nice chocolate treat with the roasted notes from the hojicha. It had a nice flavour, and I do like a nice dessert tea from time to time.
Curious about the cup rating system? Click here to learn more.