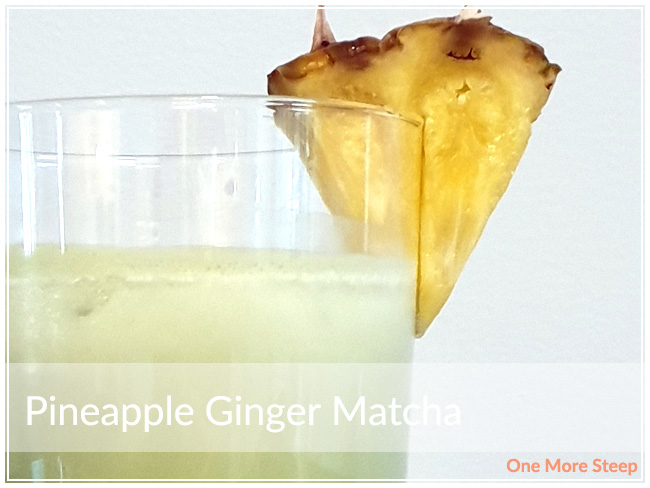 Now if you're a fan of Starbucks, you may be familiar with their Pineapple Matcha Drink. It intrigued me and I've had it two or three times so far, but I find that it's never properly made (clumpy matcha!) and can be a bit too sweet. But I really enjoy the flavour combination because it's delicious and definitely makes me feel like I'm somewhere else which is currently important to me (and a lot of other people) because it's summer and I think we all had different plans for this year than what has unfolded so far.
Luckily, it was super easy for me to figure out what they put in it, since their website provides a list of ingredients. So I knew that they used a pineapple ginger syrup, matcha, coconut milk and ice – how hard could it be, right? I'm a fan of making simple syrups – I use them a lot in my drink recipes because they're so easy to make. This isn't any different, because with a little bit of know-how, and a touch of fresh ginger, you too could be sipping on a made-at-home Pineapple Ginger Matcha… all without going through the drive thru at your local coffee shop and without ordering delivery!

Pineapple Ginger Matcha – Serves 2
½-1 tablespoon Ginger Pineapple Simple Syrup (see recipe below)
4 teaspoons matcha¹
250ml hot water²
500ml unsweetened coconut milk
Fresh pineapple, for garnish³
Ice
¹ I used Whisk Premium Matcha's Everyday. You can use the matcha of your choice, but I would steer away from matcha blends or sweetened matchas.
² Heat to the instructions for your particular matcha; usually it's not boiling.
³ Don't sweat it if you don't have fresh pineapple on hand, canned would work just as well!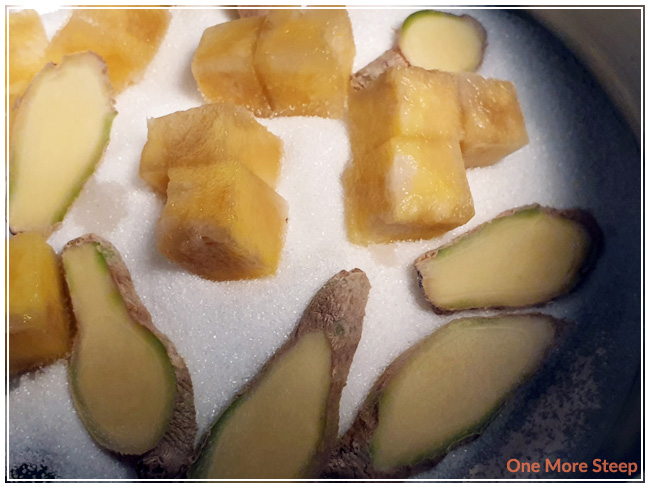 Pineapple Ginger Simple Syrup Recipe
1 cup water
1 cup sugar¹
½-1″ fresh ginger root²
Pineapple core, cubed³
¹ I used granulated white sugar.
² I used an approximately ½" piece of fresh ginger root.
³ For a fresh pineapple, the core is generally quite hard to eat because it's so fibrous, but it has a lot of flavour! So I cut out the core, cubed it, and tossed that into my sauce pan for the Pineapple Ginger Simple Syrup.

Prepare Pineapple Ginger Simple Syrup
Put all ingredients together in a small sauce pan over low heat.
Allow the syrup to come to a simmer and allow it to cook until it takes on a nice golden colour.
Strain out solids as you pour the simple syrup into a clean container.
Allow to cool before use.
Store in the fridge.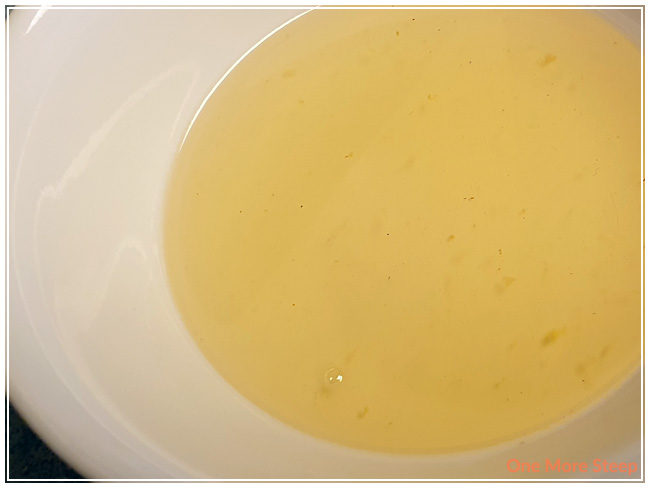 Prepare Pineapple Ginger Matcha
Add ice to your glass.
Add Pineapple Ginger Syrup, you can always add more if it's not sweet enough to your liking.
Prepare matcha – I shook up approximately 125ml water with my matcha in a shaker cup for each serving, pour into glass.
Fill the rest of the glass with your coconut milk.
With the garnish, cut a small slit in the pineapple wedge so it can sit on the rim.
Admire the pretty layers before taking a straw to the drink to mix it up.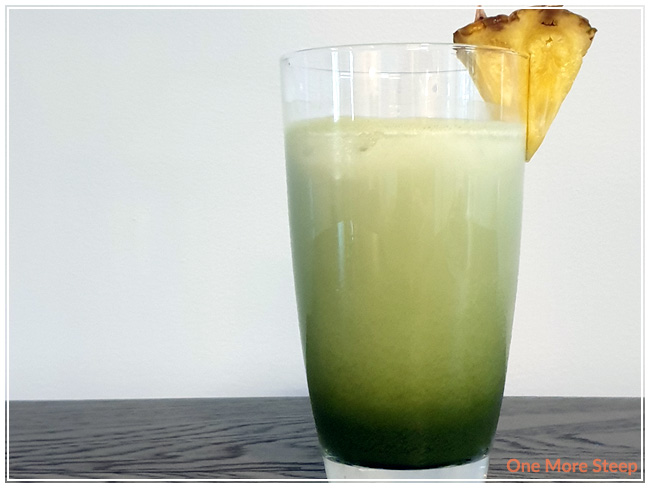 If you make this Pineapple Ginger Matcha, I'd love to see your photos! Be sure to tag me on Instagram (@onemoresteep #onemoresteep) or comment below with a link to the photo!